Image courtesy U.S. Department of Transportation.
January 23, 2009
San Francisco environmentalists and sustainable transportation advocates have entered a period of cautious optimism – the state of California is finally getting ready to tell communities that they should disregard previous automobile-centric guidelines, called level-of-service or LOS, when complying with environmental provisions of CEQA, the California Environmental Quality Act.
"If you look at the way we're using LOS now, it really privileges the automobile," said Tom Radulovich, BART Board Director and executive director of Livable City, a San Francisco organization dedicated to the creation of sustainable communities.
Current LOS guidelines encourage communities to evaluate new transportation and development projects according to their impacts on average speeds of automobiles. Projects that negatively impact the speed of automobile traffic – such as a bicycle lane, a widened sidewalk, or a new bus lane – are assessed on their potential negative impact on automobile congestion and air quality.
"CEQA is a Reagan-era piece of legislation," said local bicyclist, and transportation and land use policy wonk, Marc Salomon. "When [Governor Ronald] Reagan signed CEQA, Ricardo Montalban and others were driving huge, eight-cylinder cars that ran on lead fuel. The pollution from cars driven in San Francisco would end up over Berkeley and Livermore."
New CEQA guidelines are intended to shift the focus of transportation planning away from the mobility of automobiles towards sustainability, perhaps including the creation of financial mechanisms to support mass-transit investment through mitigation fees, and the implementation of changes to encourage bicycling and walking as viable alternatives to automobile transportation.
Concerns About Global Climate Change
Though new cars emit less particulate pollution today than they did 40 years ago when CEQA became law, there are new environmental concerns.
"There have been tremendous improvements in air quality in almost every respect," said David Fairley, a statistician with the Bay Area Air Quality Management District. "But in Greenhouse Gases 101, the first thing you learn is that the amount of carbon dioxide produced is directly proportional to the amount of gasoline used and the number of vehicle miles traveled [VMT]."
The number of vehicles registered in San Francisco now stands at about 450,000, a number that is expected to grow. And in recent years the American fleet-wide miles-per-gallon (MPG) average has dropped as car drivers have switched to gas-guzzling SUVs. Cars emit on average 20 pounds of carbon dioxide for every gallon of gasoline burned, resulting in five tons of greenhouse gases per car, per year. Hybrids, though an improvement over non-hybrid vehicles, are not that much better – if a hybrid gets 40 MPG, then it is still producing 5,000 pounds of greenhouse gases per year on average, according to Fairley.
Greenhouse Gas Mitigation Efforts and the LOS Obstacle
Concerns about global climate change are prompting mitigation efforts at state and local levels. In September 2006, Governor Arnold Schwarzenegger signed into law AB 32, the Global Warming Solutions Act of 2006, and locally some urban planners and sustainable transportation activists are working to engineer greater equality for alternative, sustainable, modes of transit, efforts that today continue to be stymied by antiquated LOS guidelines.
"There are several problems with LOS," said Rachel Hiatt, senior transportation planner with the San Francisco County Transportation Authority (SFCTA) who participated in a January 22 forum sponsored by the San Francisco Planning and Urban Research Association (SPUR). "LOS metrics, as used by many communities, are a great measure of the delay of car travel, but they do not capture the environmental impacts of carbon emissions, and they do not measure safety."
The irony, said Radulovich, is that after World War II, "the San Francisco street system was completely co-opted to favor cars, and environmental law has been a barrier to re- prioritizing other modes of transit."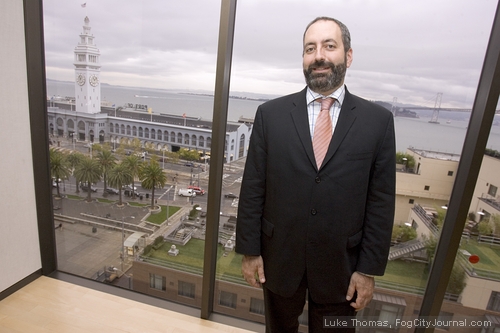 BART Director Tom Radulovich
"Under LOS, the only way to mitigate traffic congestion is to make driving easier," which makes walking, bicycling, or improving mass transit through the implementation of bus rapid transit, for example, harder, Hiatt said. In addition, LOS is inconsistent with San Francisco's Transit First policy and its Climate Action Plan, which call for a reduction in total miles driven and an overall reduction in carbon dioxide emissions to 80 percent of 1990 levels by the year 2012.
"The Governor's Office of Planning and Research is now recommending that communities rely on Auto Trips Generated [ATG], or vehicle miles traveled, and the removal of parking as an impact in evaluating compliance with CEQA," Hiatt said.
A Nexus study is currently underway to consider changes to local CEQA compliance. The Mayor's Office of Economic Development, the San Francisco Planning Department, the SFCTA, and the San Francisco Municipal Transportation Agency (SFMTA) are all participating in the study, which is expected to be completed later this year. After that, it is hoped the San Francisco Planning Commission will recommend to the Board of Supervisors passage of an ordinance that transforms the way the City and County of San Francisco complies with CEQA.
An Ordinance to Fund 21st Century Transit Options?
Currently, developers of non-residential projects pay per-square-foot transit impact fees based on the assumption that new developments generate traffic, including increased Muni ridership. Thus, the transit impact fee revenue goes to the SFMTA. Some participants at the SPUR forum seemed to favor an ordinance extending that impact fee to the developers of residential projects as well.
However, the mentality that dominates San Francisco planning and development communities is one in which new residential or mixed-use developments are considered beneficial to the city, but the true costs of those developments – such as their impact on local and regional mass transit systems – are hidden from the general public, said Radulovich. He thinks developers should be assessed more of the true costs of their projects to benefit mass transit, including BART.
"I hope the study considers a regional impact fee," said Radulovich, who added that BART is facing a $1.7 billion shortfall over the next 30 years for maintenance alone.
"Using an impact fee approach is going to be a major political debate. What's an appropriate impact fee?" asked Jason Henderson, an assistant professor of Geography at San Francisco State University who also participated in the forum. Free-market neo-liberals, he said, would want the fee to be lower, but people who traditionally identify themselves as progressives will want the fee to be higher.
"How about computing the costs to Muni for each additional car space?" suggested Salomon. "I'm a bicyclist, but I know that most drivers aren't going to bike. But they will get on Muni if it works."
However the new guidelines are adopted to comply with CEQA, Henderson said, "I'd like to see a 10 to 15 percent mode shift in transportation in the next five years" to walking, bicycling, and mass transit."
Luke Thomas contributed to this report.