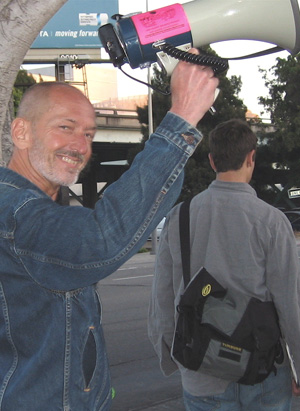 South of Market activist Jim Meko
officially declared his candidacy yesterday
for the 2010 District 6 Supervisors race.
By Luke Thomas
January 24, 2009
Revered South of Market land use activist Jim Meko filed papers Friday with the department of elections officially declaring his candidacy in the 2010 race for District 6 Supervisor.
"November of 2010 is a long ways off but, given the realities of endorsements and fundraising, that's just the way modern campaigns work," Meko wrote in a statement.
Meko was born and raised in St. Paul, Minnesota and moved to San Francisco in 1977. His activism began when tensions arose between SoMa residents and the entertainment industry over the impacts of late night drinking establishments on the community. Those tensions were eventually mitigated when Meko and other residents reached out to the entertainment industry to seek mutually agreeable compromises.
Meko is also chair of the SoMa Leadership Council, a community-based organization he started in 2000 that seeks to promote a "community-based planning process that seeks to enhance the vibrant mixed-use qualities of the neighborhood, to the benefit of everyone who lives, works and plays in South of Market."
Meko also helped to draft legislation that created the influential San Francisco Entertainment Commission, a body on which he currently serves.
District 6 is regarded as one of the most diverse districts in San Francisco encompassing the Inner Mission, Tenderloin and South of Market neighborhoods, as well as Treasure Island and downtown.
Sitting District 6 Supervisor Chris Daly, who was elected to the Board in 2000 and will have served three terms before he is termed out in 2010, said of Meko's candidacy: "Jim Meko is the latest well-known progressive to pull papers to run for District 6 Supervisor. While this speaks well to the depth of progressive politics here, District 6 is in no way a safe seat. Downtown will make a serious challenge to steal this seat away."
"In 2010, progressives should rally behind the strongest progressive candidate (or candidates) to ensure that our seat stays in progressive hands," Daly added.
As in previous contests for open seats on the Board of Supervisors, the District 6 race is expected to become crowded and contentious. Meko joins former Building Inspections Commissioner Debra Walker, who filed her declaration of intent to run in November. Other serious contenders rumored to be considering candidacies include journalist Paul Hogarth and former Milk Club President Brian Basinger.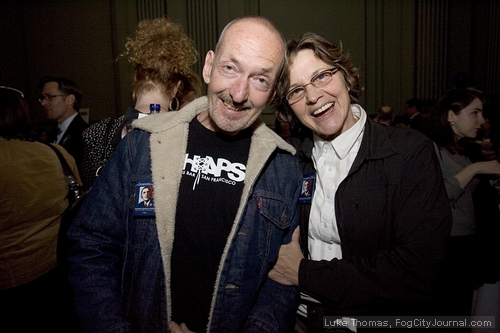 Jim Meko and Debra Walker at a Democratic Party fundraiser
and celebration of President Barack Obama's historic inauguration.
Reached for comment, Meko told Fog City Journal his email inbox is filled with congratulatory letters of support for his candidacy.
"It's really encouraging and uplifting," Meko said. "I have forty emails, so far, all congratulating me on my candidacy."