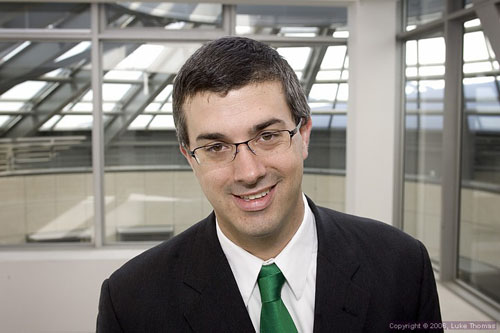 "
District 6 Supervisor Chris Daly
Photos by Luke Thomas
By Chris Daly
February 3, 2009
Last month when the new Board of Supervisors was seated, the Mayor and newly elected Supervisors went out of their way to talk about a new spirit of cooperation between the legislative and executive branches of government in City Hall. New Supervisors collectively penned, "We are committed to ushering in a new tone of cooperation and unity in San Francisco." Meanwhile, the Mayor responded, "I look forward to working with all of you collaboratively," and invited the Supervisors to his home for cocktail party. Even Newsom pit bull, Nathan Ballard called it a "lovefest."
While many have picked up the "New Era" talking points, the Newsom administration has not veered from their old ways. In fact, the first order of business for the new Board of Supervisors was a Mayoral veto of relatively sedate legislation to require conditional use authorization for elimination of dwelling units. The Board "cooperated" with the Mayor by failing to override the veto with 7 votes (8 are needed).
Newsom followed this up with 2 Friday afternoon vetoes, continuing his tradition of burying his dirty work in the Friday evening news cycle. And the content doesn't disappoint. In possibly the dirtiest pay-to-play act by a Mayor since Willie Brown juiced the votes for a big contributor at Bryant Square, the Mayor did his part to convey a significant public benefit to one of his biggest political boosters, Gus Murad.
A Newsom appointee to the Small Business Commission, Murad hosted Newsom's New Year's Eve fundraiser kick-off, at his Mission District club, Medjool. Newsom's campaign took in a stunning $76,416 on that all-important last day of the filing period! Interestingly enough, there is no record of payment to Murad or Medjool for Newsom's use of the facility. In addition, Murad donated $1000 to Newsom's 2003 campaign, $3000 to Newsom's flagship Care Not Cash, and another $1000 to Newsom's "Let's Really Work Together" committee. Murad has also financed Newsom protégés, including Phil Ting, Doug Chan, Hydra Mendoza, Joe Alioto, and Ahsha Safai.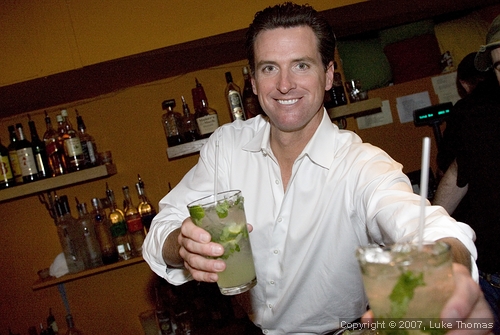 Mayor Gavin Newsom serves mojitos during a fundraiser
for his mayoral re-election bid, held by Medjool owner Gus Murad.

Gus Murad with Ruby Rippey-Tourk.
Murad's business partner in his New Mission Theater project is said to be James Gallagher of Achill Beg Construction. Gallagher contributed $500 to the Mayor's election effort and $8000 to the No on E campaign against my proposed increase to the City's parking tax. Last fall, Gallagher gave $1500 to the notorious San Francisco Coalition for Responsible Growth.
All these donations appear to have paid off. An error by the Planning Department coupled with Newsom's veto, will grant Murad an addition 20 feet of height in his New Mission Theater project. While I'm not sure the value of public benefit that will be conveyed, I'm sure that it's worth many times the total in political contributions he made over the years. Not only does this raise serious ethical concerns, it probably merits an investigation.
Newsom's other veto comes against the Board's first effort this year to save taxpayer money in the City budget. While Newsom has already put into motion tens of millions of dollars in cuts to existing City services and nearly 400 layoffs, his veto pen will save his beloved "Community Justice Center" for now. Never mind that Newsom's own budget instructions recommended cutting new initiatives that had not started, and never mind the voters who rejected Newsom's measure to lock in funding. Never mind Newsom's cuts to the very same services that the Community Justice Center was going to refer people to, and never mind the new spirit of cooperation at City Hall!
New spirit of cooperation my ass — this is the same old shit.