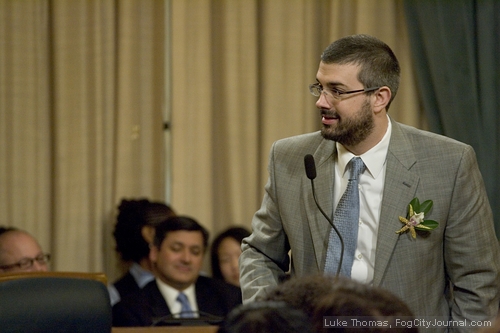 Supervisor Chris Daly sent a Letter of Inquiry to City Attorney Dennis Herrera yesterday
asking the question: "Is there a conflict of interest?"
with Newsom administration Planning Advisor Michael Yarne.
Photos by Luke Thomas
By Luke Thomas
February 11, 2009
Following on the heels of last week's Board of Supervisors meeting during which Supervisor Chris Daly rose to condemn Mayor Gavin Newsom's questionable judgement in vetoing legislation that would have corrected a planning department error, a "typo" that directly benefits Newsom political booster Gus Murad in his bid to secure a spot-zone height concession for a development project in the Mission District, Daly yesterday announced he has sent a Letter of Inquiry to the Office of City Attorney Dennis Herrera to investigate a potential conflict of interest with Development Advisor Michael Yarne.
"I wouldn't be doing this today if it wasn't for the debacle last week on Mission Street," Daly said, referring to the four votes from Supervisors Sean Elsbernd, Michela Alioto-Pier, Carmen Chu and Bevan Dufty that sustained Newsom's veto.
Yarne works for the Newsom administration in the Mayor's Office of Workforce Development, "coordinating planning and certain planning and land use issues on behalf of the administration," Daly said. Yarne also serves on the board of directors at the Friends of San Francisco City Planning (FOCP), a non-profit organization that receives "significant contributions from those with development interests in San Francisco."
Yarne dismissed Daly's assessment of there being a conflict of interest in his dual positions, calling his charge "political football."
"It's unfortunate because it's wasting city resources," he said.
"The reason FOCP was formed was precisely to create an ethical means of allowing there to be funding to help the [Planning] department in areas that it can't get funding for," Yarne added.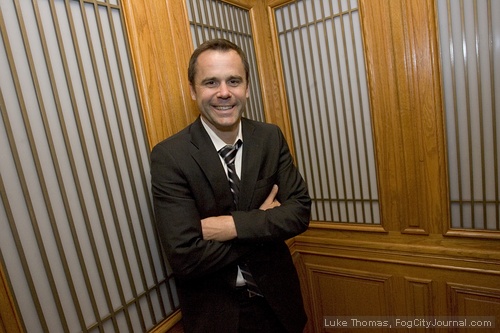 Michael Yarne
Yarne said FOCP generates its funding from an annual fundraising event that includes members of the Planning Department, community groups, and private development interests.
Through a grant application process, those funds are then used to fund education and training for city planners as well as underwriting the costs for planners to attend national planning conferences. He said the annual fundraiser is FOCP's only source of funding.
"The idea that there's anything nefarious or untoward or dirty, is just politics," Yarne said.
Adding to Yarne's claim, Newsom spokesperson Nathan Ballard said, "There is no conflict of interest. Daly's accusation has no merit whatsover."
SoMa land use activist Jim Meko, however, disagrees.
Meko, who also serves on FOCP's 15-member board with Yarne, said a legal opinion from the City Attorney is warranted.
"There's no doubt that the Mayor's Office of Economic and Workforce Development has begun to exert an enormous amount of influence over planning policy in this city," Meko said. "It certainly wouldn't hurt to have the city attorney weigh in as to the legality and propriety of Mr. Yarne holding both positions."
City Attorney spokesperson Matt Dorsey said he could not confirm or deny his office is in receipt of Daly's Letter of Inquiry, a standard practice in such matters.
"Because of attorney-client privilege, the City Attorney may not comment or acknowledge requests for legal advice from our clients," Dorsey explained, adding that if a conflict of interest is determined, the conflicted party will be notified.