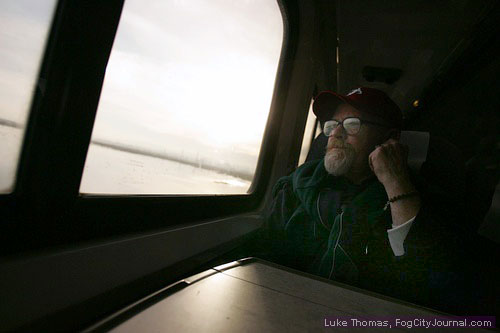 h. "Court Jester" brown.
Photo by Luke Thomas
By h. brown
February 29, 2008
Alioto-Pier banished, Daly re-armed – Let the games begin!
I love crunching numbers and reading the entrails of recently eviscerated politicians still emitting steam into the chilly air over the gory floor of the Board of Supervisors. You can learn a lot that way and, if you're really good, around once every blue moon you can predict something in advance ('even a blind hog finds some acorns') and then run around yelling: "I told you so! I told you so!!".
Isn't that what life's about? Anyway, here's a breakdown of Peskin's re-structured Board committee assignments and my thoughts on what they mean.
Budget & Finance
Chair: Was Peskin, now will be McGoldrick
Vice Chair: Was Ammiano, now will be Elsbernd
Member: Was Dufty, now will be Mirkarimi
Temporary members for Budget season: Daly and Chu
Notes: All members of the committee are new this year. Peskin balanced it with Chu (who has lots of cash analyst skills) and Elsbernd representing the wealthy, Daly and Mirkarimi repp'ing the poor and Jake telling stories about Philadelphia and Paris.
Evaluation: Committee may have moved a hair to the left. Elsbernd, Mirkarimi and Chu are running for re-election and Jake is termed out. Fireworks will come as Daly crosses swords with Elsbernd and Chu who will try to put all the burden of the budget shortfall on the backs of the poor.
Land Use and Economic Development
Chair: Maxwell (unchanged)
Vice Chair: Sandoval (unchanged)
Member: Daly replaces McGoldrick
Notes: Sandoval is termed out and will use the rest of the year campaigning and grandstanding (vote 'NO' on him). Daly and Maxwell will work together better this year than they have before. Just a hunch. They serve the poorest areas and they both want to be Board President next year and want to polish their resumes.
Evaluation: Committee will move a little left but not much. The added firepower of having Daly there could be offset by deals Lennar (did you see that they are being courted by "an investment group from the United Arab Emirates" (Chron business section this am?) … Lennar can continue to have Maxwell in their pocket and buy Sandoval project by project but Daly will make them answer tough questions at committee level. Look for Maxwell to continue to spread her wings like a mother hen over assholes like Matt Franklin when Daly asks them anything tougher than: "Are you having a nice day?".
Government Audits and Oversight
Chair: Peskin replaces Elsbernd
Vice Chair: Ammiano replaces Alioto-Pier
Member: Sandoval replaces Daly
Notes: Again, Tom and Gerardo are running for office in November and Peskin is in desperate need of something, anything if he's to have a legacy that goes beyond: "He starved the parrots of Telegraph Hill."
Evaluation: I see the move here as waaaay to the left because this is Aaron's last stand. If Alioto-Pier has it her way, it will be at the SFPD horse stables in Golden Gate Park (the Mayor will push to keep the Board out of the Board chambers during 'renovation'). I expect holy war here as Peskin drags out audits, old and new, and tears the Mayor and his friends new orifices aplenty. I hope so.
Rules
Chair: Dufty replaces Ammiano
Vice Chair: Daly replaces Elsbernd
Member: Ammiano passes gavel to Dufty
Notes and Evaluation: Oooh boy. "This one could be very interesting," as Wyatt Earp said to Doc Holiday at the OK Corral. Will Dufty stay mad at the Mayor over Leal? Will Ammiano do the same? I'll say that I sure hope so, but who knows? Two of three of these members could refuse to pass ANY of the Mayor's appointments onto the Full Board of Supervisors for approval. Imagine that.
City Operations and Neighborhood Services
Chair: Chu replaces McGoldrick
Vice Chair: McGoldrick replaces Chu
Member: Elsbernd replaces Alioto-Pier
Notes and Evaluations: This one shouldn't change politically unless this new seeming split between Elsbernd and the Mayor's Office turns out to be real. If so, watch for Sean to become suddenly less willing to give away public facilities to the wealthy. Best thing that could happen here is that Elsbernd becomes more like Kopp (Quentin, I don't know Mara) and for a credible Progressive candidate to challenge Chu in D4 (you listening, Barry?).
Public Safety
Chair: Mirkarimi (unchanged)
Vice Chair: Sophie (unchanged)
Member: Bevan replaces Chu
Notes and Evaluations: I've ajudged that this committee will move a hair Left or more. It all depends on Dufty. He's shown a willingness to challenge the cops that you'd never see from Chu. Clearly the City needs an entirely new Patrol Assignment Schedule and only the Mayor can make this happen. If the murders stay at same rate this one could fly off the charts too. This is Mirkarimi's chance to find City and State structures to protect our Medical Marijuana Dispensaries.
City and School District
Location: Outer Siberia. Say 'hi' to Michela Alioto-Pier if you ever get out that way. I think they'll be meeting in the stables with the Board.
Thanks to Gary Jimenez, SFPD Captain, Tenderloin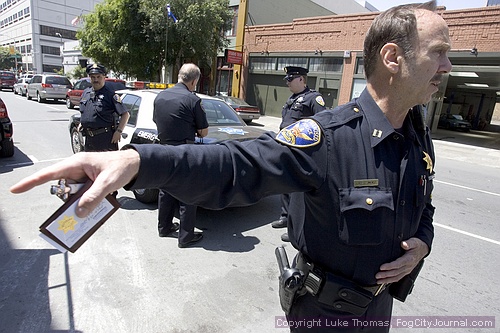 SFPD Tenderloin Captain Gary Jimenez
The triangular sidewalk that surrounds the triangular structure that is the Renoir Hotel which is across the street from my humble SRO window has been damned near free of drug dealers and fencers-of-stolen-anything for 48 hours now. I thank you as do all of the 204 residents of my building at 44 McAllister. Allowing a nest like that to exist directly adjacent to 2 structures housing mostly disabled adults is not moral or ethical (it's been there 150 years?).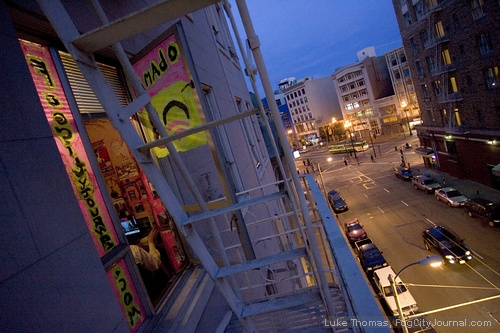 Obama for President!
I'm volunteering to phone-bank for Barack Obama Saturday. Can you believe that? You should too. Let's overwhelm Texas for free. This is the most exciting political movement of my life and it is only growing stronger. Send the man $10 and join our only hope.