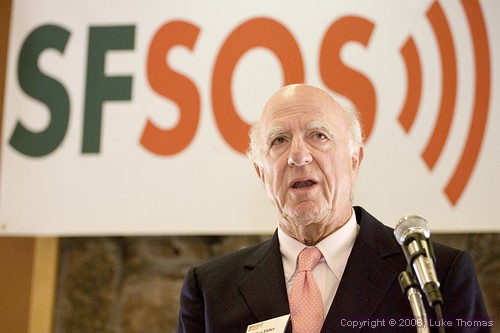 Republican billionaire and Gap Founder Don Fisher.
Photo by Luke Thomas
By Luke Thomas
February 26, 2009, 2:00 pm
Architectural renderings depicting an amended conceptual design of Gap Founder Don Fisher's art museum proposal have been released exclusively to the San Francisco Chronicle, a Fog City Journal inquiry has revealed.
The renderings will become part of a much-anticipated Presidio Trust environmental impact report (EIR), due to be released to the public as early as next week.
"We promised the renderings to John King at the Chronicle several months ago," confirmed Ground Floor Public Affairs consultant Alex Tourk, who is representing Fisher, 81, in his quest to erect a contemporary art museum in his name, despite vociferous opposition from San Francisco residents and preservation groups.
That opposition was expressed in July when as many 800 residents attended a public hearing held by the Presidio Trust on the merits of Fisher's proposal.
The Presidio Trust is also interested in erecting a movie theater complex and a hotel in the historic national park.
The timing of Fisher's release of the renderings to the Chronicle suggests Fisher is attempting to win over early support for his amended proposal ahead of the release of the EIR. King, who has written "gushing" articles in support of Fisher's proposal, according to a source, is considered an advocate for the project's development in the Presidio.
Though the San Francisco Board of Supervisors does not have jurisdiction on matters related to federal land use, it passed a resolution in January supporting the development of Fisher's museum within the City and County of San Francisco.
"The Fisher Art collection would be a valuable public addition to the civic well-being of San Francisco," the resolution authored by Supervisor Michela Alioto-Pier states, and urges the city to "work with the Fisher family to evaluate alternative locations for the museum within the City."
But despite San Francisco's expressed opposition to the commercialization of public land for private self-interest, Fisher remains ardently committed to developing his museum in the Presidio where land costs would be a fraction of comparable costs to develop the project in downtown San Francisco.
Update, 5:19 pm: According to a reliable source, the Presidio Trust will release the EIR documents to the public later today on its website.  Earlier today, the Presidio Trust said the report was not ready to be released.
"The documents have not been released," Presidio Trust spokesperson Andrea Parker told FCJ. "I don't have an exact ETA. They're not at the printer yet."
The EIR documents available here.