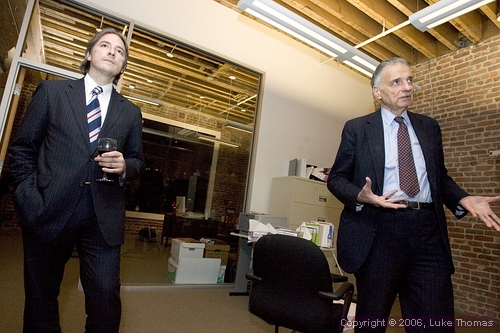 Ralph Nader and Matt Gonzalez
Photo by Luke Thomas
By Susan King, special to Fog City Journal
Editor's Note: Susan King is an elected member of the San Francisco Green Party County Council and a spokesperson for the California Green Party.
February 29, 2008
These past few days, there has been much speculation on what the Nader/Gonzalez campaign ticket means for the Green Party and the impact on the outcome of the presidential race.
First, let me clear up some common misconceptions.
Nader does not equal the Green Party. While he ran as the Green nominee in 1996 and 2000, his 2004 and, as of now, 2008 campaigns, will be as an Independent. In 2004 the Green Party nominated David Cobb, and it appears likely that we will nominate former Democratic Congresswoman Cynthia McKinney in 2008.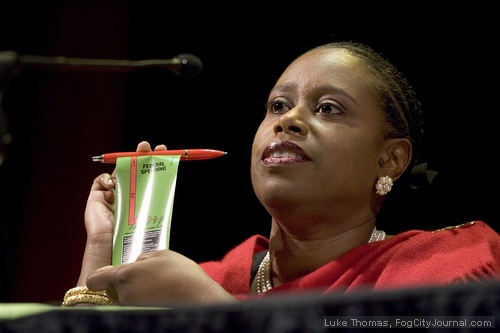 Cynthia McKinney
The Bush presidency has been blamed on the Green Party, based on the examination of a handful of votes in Florida won by Nader that might have gone to Al Gore. Those who cry 'spoiler' conveniently chose to overlook the rampant disenfranchisement of African American voters in Florida (and other states), the fact that a Bush campaign staffer was Florida's Secretary of State and his brother was Governor, the impact of the butterfly ballot, hanging chads and mis-counted votes, and the fact that Gore failed to win his home state of Tennessee and the President's home state of Arkansas which would have made Florida's outcome inconsequential. Moreover, there are many of us who believe that Gore actually won, and a partisan Supreme Court picked Bush over the will of the voting American public.
In the face of this, Greens have articulated the notion that it is anyone's right to run a candidate for president, and Green/Independent/third-party presidential bids add to the public debate and give voters more options. In a twist of irony, it is now the Greens that have to deal with the impact of a Nader candidacy on our own presidential bid.
The Green and Independent presidential campaigns' impact on this race will be determined by each candidate's ability to attract voters. If the Republicans win this year, it is because they ran the best race, or they cheated. I put neither of these options past them.
The real challenge the Green Party faces this election cycle does not revolve around who we chose as our nominee, or how many votes we ultimately get, but how we behave towards one another during this potentially contentious campaign season. We can continue to rub salt on the open and gaping wounds of the divisive 2004 race, or we can unify our movement outside of the presidential campaign.
One of the Green Party's 10 key values is Respect for Diviersity, which can and should include diversity of opinion within our ranks. Whether Green/Independent voters support the Nader/Gonzalez ticket, the Green Party nominee or – recognizing the inherent flaws of our electoral system – focus on building the party at the grassroots level and stay away from third party presidential campaigns this year, we must recognize our shared values and comport ourselves in professional and civilized manner that enables us to regroup in 2009, to work together on our collective vision of a more just and sustainable world.