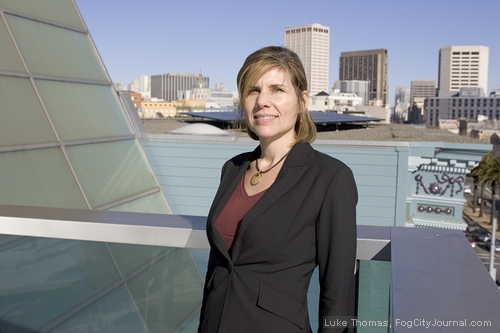 Hope Johnson
Photos by Luke Thomas
By Hope Johnson
March 17, 2009
Pelosi – Throw the Book at Her
Which book? Manufacturing Consent: The Political Economy of the Mass Media, of course!
Madame Speaker, in her infinite wisdom, requests the Department of Justice allow local newspapers more flexibility to merge in order to save The Chronicle. Pelosi believes anti-competition laws should include television and internet media in defining competition faced by newspapers.
In this time of economic uncertainty, Madoff, and a corporate history including the Enron fiasco, do we really need to further limit the people controlling the media?
Propaganda model lesson time from Herman and Chomsky.
Few find value in a failed Chron; however, any news unfavorable toward the owners of a media source is susceptible to censorship and biased reporting. Diversified ownership is key to ensure what might be subject to censorship in one publication receives props in another.
Besides, Nancy, newspapers and your idea of their "new" competition, television and the internet, are already owned by a small minority. Think Rupert Murdoch.
The Bush administration used terrorist attacks to limit our freedom. Is this an attempt at using the economic crisis to help the affluent limit our information?
Best Political Mind Prediction Redux
Predicted first comment on viewing new Willie Brown Way street signs? "Hey, check it out, San Francisco really is liberal. They've switched from honoring great writers on street names to honoring criminals and con men!"
As one SF resident, who requested anonymity, said of the name change, "Totally unacceptable, unless, of course, it terminates in Madoff Circle."
Gav, you want to name a street after the guy who used his weekly column to praise a man about to raise college tuition fees during one of the worst economic crisis in our history. What's the kickback?
Oh, Won't You Stay Just a Little Bit Longer
At his office party on Friday, District 11 Supervisor John Avalos described the odd feeling of moving from legislative aide to being on the inside of the Board Chambers railing separating electeds from the public.
"That separation exists but I'm trying to break it down as much as possible," Avalos explained.
And that he did at Wednesday's Budget and Finance Committee meeting.
It's never seemed fair the Mayor and department heads aren't required to listen to public comment on their proposed program cuts, especially as we face devastating losses this year.
Imagine Rec and Park Department General Manager Jared Blumenfeld's surprise when Avalos said, "I would like to ask a few questions as well but after public comment."
"I think it would be good if you're able to respond certainly to our questions, but then some of the things that are brought up in public comment as well at the end," Avalos instructed Blumenfeld.
And, just like that, finally, the Mayor's office had to not only stay for their fair share of public comment but also listen carefully. There was a test at the end!
Kudos to Supe Avalos for offering a hopeful spirit to worried commentators and, hopefully, starting a pattern of everyone involved in budget cuts getting an earful.
Stay tuned. Oh, yeah, and happy St. Paddy's!
Fun Fact
FCJ's multi-talented Elaine Santore captured live the solidarity protest for Tristan Anderson at the Israeli Embassy. Check it out, here.