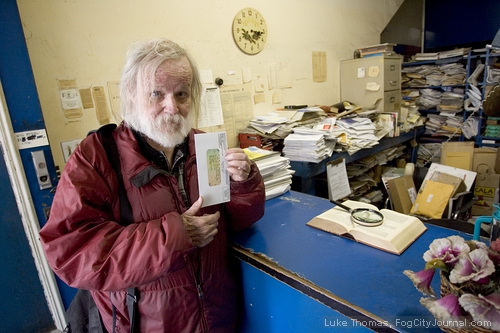 Joe Jackson, 70, is a retiree living on a fixed income
in a Single Residence Occupancy hotel in San Francisco's Tenderloin district.
Due to USPS fiscal shortages and service cutbacks, low-income tenants like Jackson
are forced to pay for private mail service to guarantee mail delivery.
Photo by Luke Thomas
By Luke Thomas, first published at NewsPlink.com
March 29, 2009
Joseph Jackson has lived at the Coast Hotel for the last 20 of his 70 years. It's not a hotel in the usual sense — it's a single room occupancy (SRO) establishment. So instead of bell hops and room service, there's a desk clerk in the lobby. Those clerks determine the quality of life for many of the residents. They also have a lot to do with who gets their mail.
Jackson hasn't been getting important mail. Checks from the government, reimbursing him for heating costs, went missing two months in a row. His beloved science magazines haven't made it, either. And before she died, his mother said she mailed him a letter. It never arrived.
"You have tremendous turnover among the desk clerks," says Jackson. "Some of these people are not very well educated, or they're illiterate." So he is supporting a planned lawsuit against the United States Post Office, brought by San Francisco's city attorney, to require delivery of mail to individual mail receptacles at residential hotels.
Such a move brings up very basic questions, like what, exactly, the difference might be between a hotel and an apartment building, and why one might get direct delivery to individuals in an apartment but not in an SRO hotel.
In a memo last December, Noemi Luna, the Postmaster General of San Francisco, was very clear that it no longer mattered. Citing "current fiscal shortages," she wrote that "the Postal Service will not offer individual mail receptacle delivery" to any SRO that had not been getting such service for less than 90 days. A few SROs, it seems, had managed to install regulation boxes by the city's imposed deadline in 2007. The rest, like Jackson's residential hotel, didn't comply and are expected to continue to rely on the traditional open pigeon holes.
"It's not a black and white issue," said James Wigdel, spokesperson for the postal service. "I can't say this defines an apartment or this defines an SRO. But at face value, an SRO is a hotel according to the postal service."
Jeff Buckley, a tenant organizer in San Francisco's scruffy but historic Tenderloin district, finds the entire business "discriminatory against poor people." When the mail carrier comes by, he says, "They get buzzed in, and they drop a big bundle of mail on the first or second step." From there, the bundle is at the mercy of the on- duty desk clerk. He feels the pending law suit could have been avoided had there been a regulatory body that enforced the city's, and now the state's, requirement to install individual mailbox receptacles. Besides, "the Post Office fought this from Day One," he adds. He wants SROs to be recognized as legitimate housing stock for members of the lower middle class like Jackson, who worked as a janitor for many years after he quit his post office job.
The City Attorney is currently gathering evidence for a possible argument based on First Amendment rights. "The fact that they live in an SRO hotel doesn't make them any less entitled to receive mail than someone who lives at the Four Seasons," said City Attorney spokesperson Matt Dorsey, referring to a new luxury highrise hotel and condominium tower. "This is more than a minor inconvenience — for many of the tenants, the loss of a check or a form for their medical care can be devastating."
A call to the Four Seasons revealed that neither hotel guests nor condominium tenants had the compliant mail receptacles required by the Postal Service for delivery. A mail truck pulls up to the loading dock and the mail is then under the care of the private staff, as with the SROs.
The difference is, of course, the expectation of prompt and reliable service.