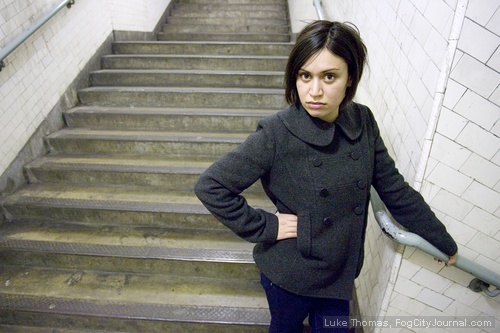 Elaine Santore
Photo by Luke Thomas
By Elaine Santore
March 3, 2008
Nader and Gonzalez take political bromance on the road
Matt Gonzalez used to be just a politician, but now his name has become the equivalent of word vomit in progressive circles. Once somebody mentions his name at a party, people can't stop talking about him. Hey, I'm the last person in town to tell anybody to take the high road. I, too, have been guilty of the word vomit:
"Like a bad perm, Ralph Nader and Matt Gonzalez just won't go away."
"Ralph Nader took a strong stance on renewable energy by recycling Matt Gonzalez."
On the flip side, there's also what Green Party spokesperson Erika McDonald calls "The Matt Mystique." Marc Salomon calls it a "cult of personality." Luke Thomas and I call it "drinking the Kool-Aid."
Matt's kind of a big deal in San Francisco. People know him. (Yes, I just recycled a catchphrase from 2004 – it seemed apropos.)
Both sides agree Gonzalez is a brilliant political mind of unusual intelligence and charisma, albeit with some fatal personality flaws. The same can be said of Ralph Nader.
But in a presidential campaign season that's relied heavily on identity politics, personality, and character studies, Nader's Debbie Downer approach to campaigning could prevent him from getting his message across. It's a sharp contrast to Sen. Barack Obama's gospel of hope and change.
Nader and Gonzalez are running to promote electoral reform and push the Democratic candidates, particularly Obama, to the left.
Their effort may be futile, but they're offering voters a solid progressive platform and an alternative to the two-party system.
However, Obama is unlikely to move to the left before he secures the Democratic nomination. And the GOP is likely to viciously attack Obama if he moves any farther to the left during the general election.
Gonzalez' supporters seem to have found a new home in Obama's campaign. One supporter started a group on Facebook called "Former Gonzalez Campaigners for Obama." Fog City Journal contributors Supervisor Chris Daly and Tanene Allison are members.
"In many respects, the Obama campaign in San Francisco this year had much the same feel as the Gonzalez campaign in 2003. In fact, it was hard not to reminisce with Gonzalez-backers who hit the streets of San Francisco for Obama this year," Daly wrote in his latest column.
(Side note: am I the only one who's grateful for Daly's re-introduction of "Peter Fucking Ragone" to the SF blogosphere? As Babs once sang: "Memories, light the corners of my mind…")
The Nader-Gonzalez union showed some trouble in paradise during an interview on KQED's Forum on Feb. 29. One caller blamed Nader for the Iraq war, causing the 74-year-old consumer advocate to scream, "This man is a political bigot!" Thankfully, Gonzalez interjected and smoothed the situation over.
The comment was out-of-line, but Nader should be used to those accusations by now. And going apeshit on the average Joe isn't a very good look.
Breaking News: Celebrities love Obama
Somewhere in the midst of the Nader-Gonzalez show, Will.i.am produced another star-studded video for presidential candidate Sen. Barack Obama.
This video features several Spanish-speaking celebrities to target the Texas primaries.
Once again, Bob Brigham didn't recognize any of the celebrities in the video (except for one actor from "Friday Night Lights"). But he sensed that they were in fact famous. These are the celebrities I recognized:
Zoe Kravitz, actress, daughter of Lenny Kravitz.
Jessica Alba, pregnant actress.
Ryan Phillipe
Susanna Hoffs
Regina King from the movie "Ray."
Kerry Washington from the movie "Ray."
Taboo from the Black Eyed Peas.
Malcom-Jamal Warner from "The Cosby Show."
Freddy Rodriguez, actor, "Ugly Betty" and "Six Feet Under."
John Leguizamo
Macy Gray
Tyrese
Eric Mabius, actor, "Ugly Betty."
George Lopez
Luis Guzman, actor, "Boogie Nights." Talking head on VH1.
I'd be impressed with this video if Kanye West was in it. Why hasn't Kanye endorsed Obama? They live in the same city.