By Hope Johnson
April 16, 2009
At Tuesday's Board meeting, Supes Elsbernd, Alioto-Pier, Chu and Dufty tested the cojones of their colleagues.
At least, I believe that's what they thought they'd be doing.
Instead, they revealed their own willingness to allow powerful, privileged families and special interests to take what they want, when they want. Oops.
The posse banded together to remove from Rules Committee the review of applicants for the Golden Gate Bridge Highway and Transportation District board. The explanation offered, in the words of Elsbernd, "I want to make it quite clear that this is going to be a labor seat. I don't want the opportunity for someone who is not from the house of labor in this seat."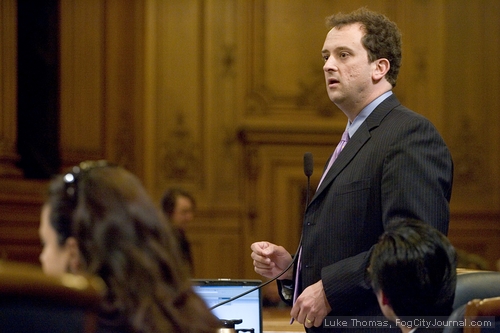 Supervisor Sean Elsbernd
WTF? Bold-faced nonsense. That might have happened, had they left it with Rules. Members had all committed to choose a labor rep for the seat, and were patiently waiting for labor leaders to provide better qualified applicants.
Sure, it's not the way it's usually done, asking for qualified rather than politically connected candidates. Gee, this whole Obama change thing has gotten into everyone.
"We as a country have to make current choices with an eye on the future," President Obama said Tuesday during his economy speech at Georgetown.
What was the motivation behind the move? Why did labor refuse to work with the committee and submit new applicants?
By all appearances, it was an attempt to back the progressive supes into a corner, creating a panic vote or risk being tagged anti-labor.
Not to worry. Daly, Mirkarimi, Chiu, Avalos, Campos, and Mar didn't fall for it.
Their response was, now, I am paraphrasing a bit here but, basically, "Suck it."
And they chose a transportation specialist. Imagine that. On a highway and transportation board. The horror…..the horror…..
Belaboring the Point
Rumor has it FCJ had a hand in upping the ante on the Bridge District appointment discussions. So, we'll move on to a new subject next time. For now, enjoy a few quotes from Tuesday's debate.
"I find terms like green and smart growth to be overused, and almost meaningless in how they are applied."
– Supervisor Bevan Dufty
"We live a double life in a way."
– Supervisor Michela Alioto-Pier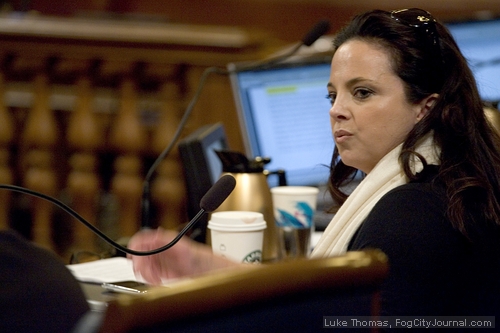 Supervisor Michela Alioto-Pier drank way too much Starbucks coffee.
"There have been numerous conversations, I'm sure, between members of the board of supervisors and leaders and organized labor."
– Supervsior Chris Daly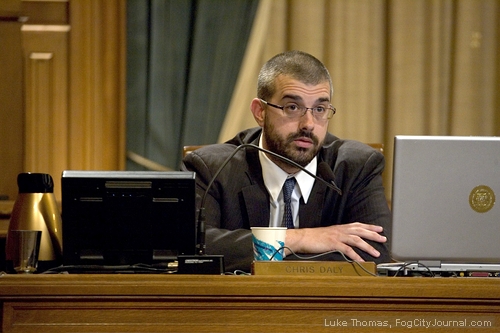 Supervisor Chris Daly cool under fire.
"Now, as someone who has actually sat on it, this is one of those, one of those appointments that you do not go into, knowing all of the information about the bridge board."
– Michela Alioto-Pier
"I expressed interest in working with organized labor to find common ground on a labor appointment. That didn't work out. That's unfortunate. I feel bad about that. But that is not solely this Board's, the Rules Committee, or my responsibility. That is a shared responsibility of a failure to meet halfway."
– Supervisor Chris Daly
"Although Mr. Snyder is very well qualified and we have heard labor says this is it, it doesn't mean we should stop these conversations just because we are all sort of tied up in this controversy."
– Supervisor Michela Alioto-Pier
"As I look out and see my brothers of the union sitting out there, I think they should look at themselves as well and realize they are in this position for a number of reasons. One reason is because of the way they have conducted themselves for a long period of time. When I look out there, they are certainly not very reflective of our city and the people that our city represents."
– Supervisor Sophie Maxwell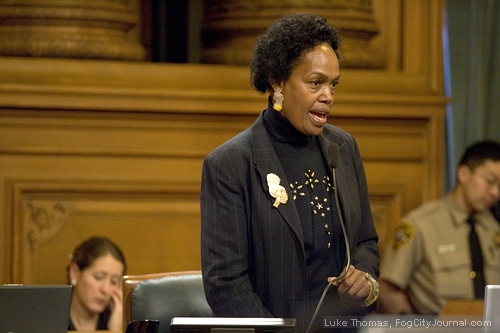 Supervisor Sophie Maxwell
Fun Fact
Click here to be directed to the Chron's story on the Bridge District appointment. Busted! There's a link to FCJ in the third paragraph.