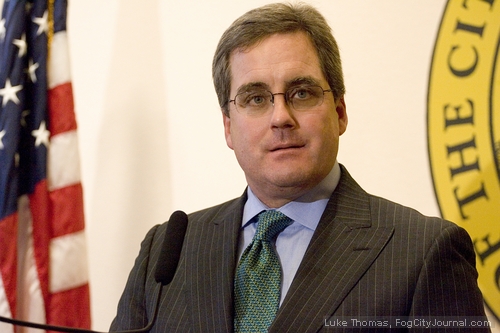 San Francisco City Attorney Dennis Herrera.
Photo by Luke Thomas
By Luke Thomas
April 16, 2009
San Francisco City Attorney Dennis Herrera today sent a formal letter of demand to the U.S. Attorney's office outlining his intent to file suit against the U.S. Postal Service (USPS) "for unconstitutionally depriving tenants of single room occupancy hotels, equal and adequate mail delivery in San Francisco."
In a five-page letter addressed to U.S. Attorney's Office Civil Division Deputy Chief Andrew Y.S. Cheng, Herrera's said, "The City of San Francisco strongly objects to the United States Postal Service's decision to deny tenants of single room occupancy residences an equal and adequate method of mail delivery."
San Francisco Postmaster Noemi Luna informed the City in December that due to "fiscal shortages," the USPS would no longer deliver mail to individual SRO tenants' mailbox receptacles, in direct contravention of USPS regulations.
"Under the Postal Service's own regulations," Herrera said, "SROs are apartment buildings, and they are entitled to the same method of mail delivery—to individual locked boxes—that is afforded to all other tenants in all other apartment buildings."
Following a three-month investigation into the impacts of Luna's policy change, Herrera said SRO-addressed mail is being delivered in bags and left near entryways or on unattended desks, "with no concern for the obvious danger that the mail will be stolen or misdelivered or otherwise 'disappear.'"
Herrera said the amended USPS policy "unfairly discriminates against the City's lowest income tenants by denying them services provided to all other apartment dwellers," and violates SRO tenants' First Amendment right to receive mail.
Herrera said unless the USPS reinstates SRO mail delivery to individual locked-boxes, he will file suit in federal court on May 1.
"Mail service is not a privilege for the wealthy," Herrera stated, "and the San Francisco Postmaster's decision to cut costs by treating SRO tenants differently than other City residents is unfair and cruel."
More Info
Post Office to the Poor: No Mail for You?
Office of City Attorney Dennis Herrera