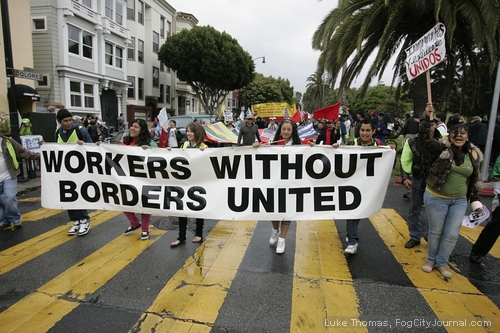 San Franciscans took to the streets Saturday
to rally support for workers' rights and immigration reform.
Photos by Luke Thomas
By Luke Thomas
May 2, 2009
Undaunted by inclement weather and fears of Swine Flu contagion, as many as 1500 San Franciscans used the traditional International Labor Day observances yesterday to rally support for workers' rights and immigration reform.
Several elected officials, labor reps and members of the International Longshore and Warehouse Union (ILWU) Local 10, joined the procession billed as "Workers Without Borders – United in Struggle" at Dolores Park for a speakers rally before marching under rain-drenched skies to Civic Center.
"We need to make sure the City and County and San Francisco remains committed to being a sanctuary city and that the rights of immigrants are protected," said Supervisor David Campos who, himself, was an undocumented immigrant when, at age 14, he emigrated from Mexico to the US. "We have a local government that is turning over undocumented youth to ICE (Immigration and Customs Enforcement), and that is unacceptable."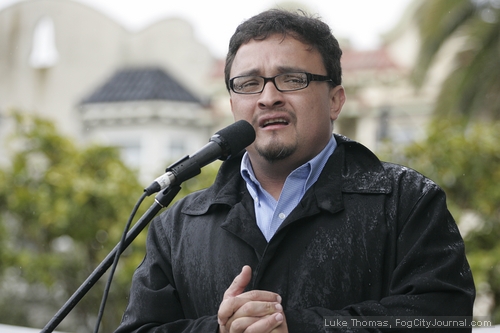 Supervisor David Campos
According to Campos, Mayor Gavin Newsom has turned his back on the City's 1989 voter-approved Sanctuary Ordinance that prohibits police and other City agencies from inquiring into immigration status, or providing assistance to federal immigration enforcement authorities unless required by federal or state law, or by warrant.
Newsom's shift away from protecting undocumented immigrants from federal persecution and racial profiling followed a series of politically explosive San Francisco Chronicle articles that reported the shooting deaths of three family members in the Excelsior District by an undocumented immigrant in June 2008. The articles focused on tying the Bologna family shooting tragedy to the city's Sanctuary Ordinance with the effect of whipping up anti-immigrant hysteria and generating condemnation of the ordinance.
During a meeting of the Democratic County Central Committee (DCCC) in March, a resolution demanding Newsom redirect law enforcement efforts "away from criminalizing the immigrant community and to uphold constitutional due process laws," passed overwhelmingly.
But Newsom remained unsympathetic and disputed the resolution's premise, despite reports of increased traffic stops involving ethnic minorities by local law enforcement following a separate shooting incident in the Mission District.
"Our law enforcement officials do not engage in the conduct alleged by this resolution," Newsom spokesperson Nathan Ballard said.
Those undocumented immigrants identified during traffic stops who are reported to ICE – whether they have committed a crime or not – have been subsequently deported without trial.
"Early on, our preference was to see if the mayor's office would do the right thing and change its policy – and we have been trying to work with them to see if they're open to that," Campos said during an interview. "At first they indicated that they were, but it's pretty clear right now to us that they're not going to change their policy – and because of that, we're now proceeding to change the policy through legislation."
Campos said he will be meeting with his colleagues on the Board of Supervisors and advocacy groups in the coming days and weeks to hammer out prescriptive legislation to restore the Sanctuary Ordinance provisions and to force Newsom to comply with the law as approved by the electorate.
"It is important for us to make sure that we're strategic about how we approach this," Campos continued, "but we think we can put together a legislative solution that makes sense from a policy standpoint, and from a legal standpoint."
"It's too bad that it's going to take legislation, and there was hope that maybe the mayor's office would reconsider without it, but that's not where they are right now," Campos said, adding "You cannot get elected to statewide office without the support of our community, and how the Latino community in San Francisco is being treated will be something the people in Southern California and other parts of the state will want to know, and I think that it's important for us to keep an eye towards that."
California State Assemblymember Tom Ammiano told the umbrellaed crowd: "I know that San Francisco is a sanctuary city. I want California to be a sanctuary state."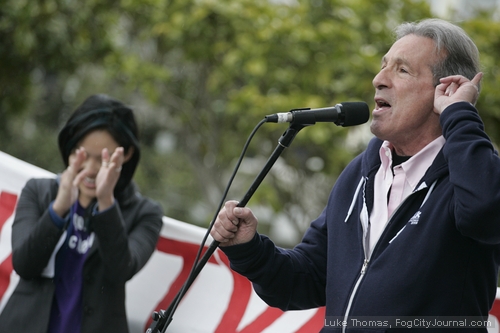 Assemblymember Tom Ammiano
And without citing radio personalities Michael Savage and Neal Bortz by name for using the spread of the Swine Flu virus to renew anti-immigrant rhetoric, an animated Ammiano had this to say: "The swines who brought in the flu are not immigrants. Las cochinas who say that people who are not citizens, infect other people – that is total bullshit and hysteria."