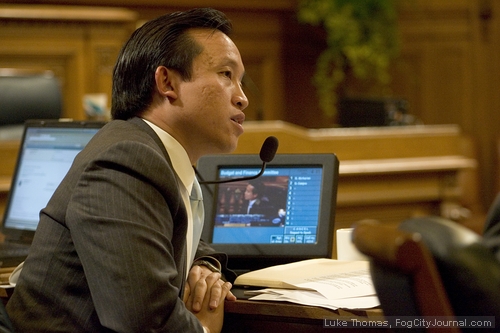 Supervisor David Chiu threatened the use of a procedural motion to reject
the SFMTA's proposed fare hikes and service cuts due to a $129 million SFMTA budget shortfall,
but then renegged yesterday by tabling his own motion.
Photos by Luke Thomas
May 13, 2009
I spent a better part of 48 hours from Friday through Sunday on the phone with transportation policy wonks from Wingaersheek to Wasilla – well, not really, but you know what I mean – and then penned my piece on how the San Francisco Municipal Transportation Agency (Muni or the SFMTA) could mitigate its money miseries.
And comedy of comedies, we erred, and did not run my story, brimming with suggestions for sticking it to car drivers, those scourges of environmentalists worldwide.
So what happened?
You know – or if you didn't I'm going to tell you – there's this global economic crisis going on, and local, state, and national tax revenues are in the proverbial trenches, sucked into the vertiginous black holes of high finance, troubled assets bailout programs, and CEO bonuses. Could be related to the fluctuations in gas prices last year – and probably is – but most analysts are focusing on the deregulation of banks and investment industries over the past several Reaganesque decades.
That means that local, state, and national governments are being forced to raise revenues or cut programs or some combination of both.
And thus we arrive at the Frisco fracas. First Mister Mayor/Candidate for California Governor Gavin Newsom said San Francisco is facing a budget shortfall somewhere in the neighborhood of $400 million, out of discretionary budget of something like $1.2 billion. That's a big hunk of dough. The supervisors – four of whom are new to the Board – toyed with the idea of a special election with revenue raising measures, but Newsom did not want to risk his political future through support for revenue-raising measures.
Then the SFMTA, which manages both our local mass-transit and our Department of Parking and Traffic, announced a fiscal shortfall of $128.9 million out of an annual operating budget of over $800 million. On April 7, its Board of Directors, all mayoral appointees, declared a fiscal emergency, allowing the directors to waive California Environmental Quality Act reviews in their decision-making – but you wouldn't know from the way they are operating that there is actually a fiscal emergency.
At a special meeting on April 30, SFMTA Executive Director Nat Ford and SFMTA staffers presented amendments to the two-year budget that the Board of Directors had voted on the year before. The budget included drastic cuts in bus and light rail service, fare increases, recommendations for the renegotiation of the work orders the SFMTA has with other departments such as the police department, and citywide increases in parking meter fees of 50 cents per hour.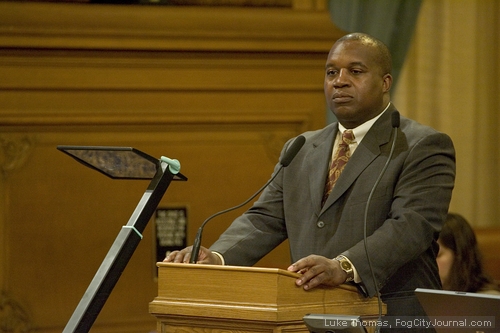 SFMTA Executive Director Nathaniel Ford
It also included recommendations to start operating parking meters on Sundays and on weeknights until 10 pm.
Ouch! When the mayor and Supervisors Carmen Chu and Bevan Dufty – and Dufty has mayoral ambitions – got wind of the proposals to expand metering to Sundays and after hours, they shrieked like banshees. In fact, they actually tried to get the staffers to excise the recommendations to charge for parking on Sundays and after hours, but the staffers didn't budge.
Go staffers!
So it was up to SFMTA Board of Directors Chair Tom Nolan – who was probably beginning to feel the mayor's vise tightening around his you-know-whats – to mumble a proposal to amend the amended budget to excise the proposal for expanded operation of parking meters. And he did, and the directors voted for the revised budget, six to one.
That was a loss of $9 million that could have been used to restore service, a member of the public pointed out. And a staffer noted that, in fact, transit riders would be feeling the pain of the fare increases and service cuts four to one more strongly than would car drivers during the 2010 fiscal year.
I asked Director Malcolm Heinicke, after the meeting, why he had decided it was ok to excise the proposals to expand parking enforcement. He told me he was interested in revisiting the proposal but at that time, "No one was holding a gun to our heads" – and then the directors slipped into Room 200 for a party with Mister Mayor.
No one was holding a gun to their heads?
The city is in the hole $400 million plus, and our public transit agency, the lifeblood of the city, is in the hole $128.9 million alone, and Heinicke doesn't think a metaphorical gun is being held to their heads? Not to mention global climate change and war for oil. I don't get it.
Wonk wonk …
The next morning, the wonks got to wonking. All-round policy wonk/bad ass Marc Salomon started a Facebook group called Transit for San Francisco, Greg Dewar of the N-Judah Chronicles started a Facebook group called Save Muni, and even the moderate think tank SPUR got in on it and produced a letter with suggestions to be sent to Ford with $21.4 million worth of savings suggestions (including expanded parking enforcement).
The next meeting was the May 6 Budget and Finance Committee meeting where Ford and staff were to present their amended budget to five members of the Board of Supervisors. They did, and Board President David Chiu did all us future-thinking self-proclaimed progressives proud by proposing a motion to reject the SFMTA budget. Termed-out former president of the Board of Supervisors President Aaron Peskin could be seen running around City Hall making sure that all his ducks – supervisors whom he would count on to support Chiu's resolution – were in a row. And they were. Chiu's motion passed four to one, and was sent to the full board with a motion to reject.
Bullshit wins the day
Peskin, who had served on the Board for eight years, four of them as Board president, had told me over the phone, "The Board has [to have] the courage and the fortitude to say 'bullshit'."
He told me that he wanted to make sure that the additional $26 million that the voters had dedicated to the SFMTA through the passage of Prop A in 2007 was his highest priority, and that if the SFMTA did not come back to the supervisors with a revised budget, that the supervisors could rewrite the budget themselves – they could cut the mayor's expensive 311 call service center and direct riders to use the less costly 511 instead, or they could cut the mayor's light bulb program.
I wrote my story, and we didn't publish it, and when the matter came before the full board on Tuesday, May 12, Peskin was nowhere to be seen. Yeah, he's short, but I'm still sure I would have seen him were he there. And he shoulda been.
The motion to reject the SFMTA budget was Item 8, and the supervisors got to it fairly quickly – but President Chiu postponed deliberation on the item, because …
One of the supervisors slipped up to me during the meeting and told me that the supervisors were in negotiations with the mayor over a giveback. The mayor was willing to give back $9 million, the supervisors wanted $20 million, and …
I ran out into the hallway to find my folks. One of them told me an SFMTA staffer had come up to him and said, "You're an advocate. What do you want?" We started texting our friends and fellow travelers, and posting messages on Facebook via iPhone saying 'contact the supes: tell them what you want, tell them you want a transit first city, tell them that the pain needs to be spread more equitably so that drivers get hit more' — after all, no one has ever suggested that Muni riders get to ride free after hours or on Sundays …
At about 5 pm, Prez Chiu called the meeting to order and announced that a compromise had been reached. The supervisors – supposedly representing Muni riders across the city – got a giveback of about $10 million.
Nat Ford presented the details:
– $2.8 million from renegotiated work orders, including an MOU to be signed within the next 24 hours between the SFPD and the SFMTA so that SF leadership is no longer in a position of not knowing …;
– $2.5 million in proof-of-payment program reductions. Explanation: Chiu noted at the May 6 meeting that the PoP program was costing the SFMTA about $8 million but it was only making a 'profit' of $350,000 in fare evasion fines. But then someone on the Car-Free Living discussion list pointed out that the purpose of the PoP program is not to make more for the agency through fine collection – but to speed up the boarding process, and in that respect, the $8 million is money well spent;
– $3 million in unspecified salary savings;
– $1 million in unspecified efficiencies; and,
– A dedication of $1 million to a study of what would happen were meters to operate in downtown commercial areas from 6 to 8 pm on weekdays, study to be completed in the next 90 days.
Then the supervisors got to speechifying and voting. Supervisor David Campos said he was utterly disappointed.
"We're still using $63 million for purposes that have nothing to do with transportation," he said.
Supervisor Ross Mirkarimi said, "We can't continue to fix Muni on the backs of its riders."
But Chiu himself made a motion to table his own motion, and at the end of the day, six out of 11 supervisors voted not to reject the budget.
Six ayes: Supervisor Michela Alioto-Pier, David Chiu, Carmen Chu, Sean Elsbernd, Bevan Dufty, and Sophie Maxwell.
Five Noes: Supervisor Eric Mar, Ross Mirkarimi, Chris Daly, David Campos, and John Avalos.
Bullshit! Say it ain't so, Chiu.
"Did we just die and go to hell?" Salomon asked me this morning.