By Luke Thomas
May 21, 2009
While the City and County of San Francisco faces an unprecedented $438 million budget deficit in the next fiscal year that begins July 1, a new "shared sacrifice" budget proposal is being considered by the City's legislature, a proposal that would save all city jobs and services from the guillotine.
Mayor Gavin Newsom, who is required to submit a balanced budget by June 1, is relying on individual unions and department heads to provide Newsom with the necessary concessions to balance the budget. So far, his effort in seeking union wage concessions has been largely unsuccessful. Though some unions are making offers at closing the budget gap, the offers are steeped in protection and self-interest, and do little to prevent hundreds of expected layoffs.
The new proposal takes a "community" approach to solving the City's budget crisis, sharing the deficit pain among all city employees through an across-the-board salary cut, mandatory workday furloughs – or a combination of both – to balance the budget.
Unless the unions agree to a shared sacrifice, hundreds of city employees face the prospect of indeterminate months of unemployment, foreclosure, or worse – destitution and homelessness in a recession that has not yet seen its bottom.
Of the City's $6.5 billion annual budget, $3.3 billion (49.4 percent) is dedicated to employee salaries and fringe benefits. If every employee agreed to a wage cut, or mandatory workday furloughs, their jobs would be saved, and important city services, including Muni, would be preserved whole.
Initial estimates suggest an across the board salary cut between 13 and 17 percent would be enough to balance next year's budget, though revenue measures being proposed for the November ballot could lower these estimates by as much as 5 percent or more.
FCJ spoke to several supervisors on all sides of the political aisle about this proposal yesterday. Though there appears to be some disagreement on how the salary cuts could be made equitable, there is consensus that individual self-interest must be replaced by community sacrifice if we are to avoid severe hardships for hundreds of city employees who will otherwise be axed.
Here's what they had to say:
District 5 Supervisor Ross Mirkarimi:
"It's a wise idea. It asserts a level of compassion and collaboration that I don't think exists now. But in desperate times, more than ever, this would be an excellent time for leadership, particularly in Room 200, the mayor, to help amass this level of consciousness and what it means to alleviate our significant problem."
"This is the same theory that we're applying to the set-aside reform, and that's not going to go anywhere because, in the set-aside issue, entitled funding is protected funding and, so, if people feel that funding is threatened, they then deflect back to their self-interest."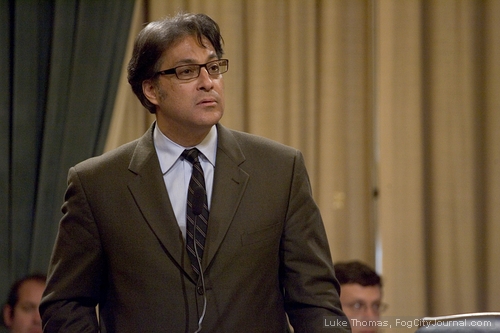 Supervisor Ross Mirkarimi
District 11 Supervisor John Avalos:
"People have their own reasons for doing things or not doing things – and personal self-interest is often how we make all make our decisions on things."
Avalos said he likes the idea of employees who are on the high end of the salary scale to "give back more" than those employees on the lower end of the salary scale.
"If you're making over $150,000 a year, that's a great salary to have, even in San Francisco."
Avalos said the only way such a proposal could be forced upon City workers is if the Mayor declared a state of emergency, but Newsom spokesperson Nathan Ballard told FCJ yesterday that Newsom is not planning, at this point, to use this chartered provision.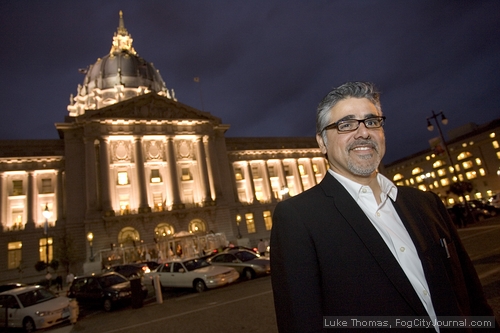 Supervisor John Avalos
District 6 Supervisor Chris Daly:
"You'd need every bargaining unit to agree, which is harder to do than to actually pass a revenue measure."
"I have not given up on revenue. I don't think we should give up on a revenue measure, and we should hold the mayor's feet to the fire and demand that he show us leadership."
Question: Are we a community that's willing to share the pain, or are we a community of individuals that's just out for ourselves?
"We're out for ourselves," Daly lamented.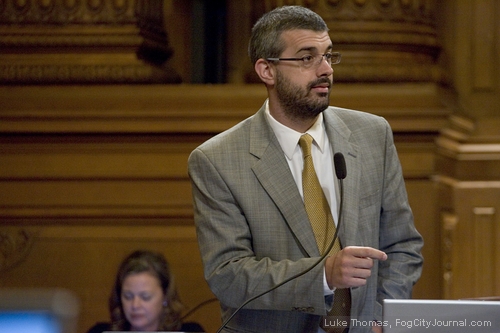 Supervisor Chris Daly
District 9 Supervisor David Campos:
"A lot of people would rather see their salary cut to avoid a co-worker being laid off."
"I think that you have to provide some assurances that the City will do its very best to avoid layoffs and to minimize the impact."
"The main concern that I would have is that it's not done across the board where everybody is treated the same, because there are some people in bargaining units (unions) that are overpaid. I think that you have to have some equity in how that's allocated."
"But I think the idea, the notion that we maintain the level of service that we have, and that we protect peoples' jobs, is that we do an equitable reduction in salaries in recognition that times are tough – and we can go back to the existing salaries when the economy gets better. I think that's a concept that makes sense. I certainly would be open to that."
"There is a lot of anxiety that comes with this process and people are really scared, and rightly so, especially people who have families."
"I think a lot of people would be receptive to it. I don't know how workable it is. At this point you have to think outside the box and be creative."
"There may be some people that won't want to do that, but I do think that, as a city, it makes sense to, as general matter, to pursue that policy."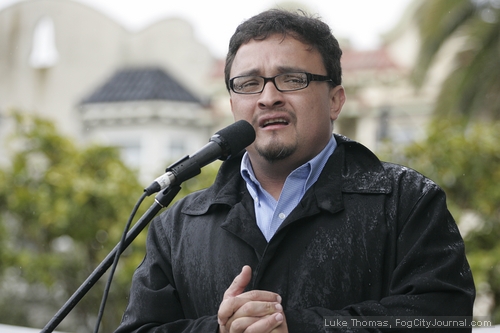 Supervisor David Campos
District 8 Supervisor Bevan Dufty:
"This is the most humanistic approach that you could take, but it obviously cuts across lots of laws and charter provisions and so forth, but it doesn't mean it's impossible."
"It's the mayor that has to negotiate certain things. It's clear that Mayor Brown would have taken the bull by the horns, so to speak, and sat people down and at the table and personally cut an agreement."
"I think that it's been challenging. Certainly a relationship is a two way street and I think the mayor and SEIU have not had a good relationship for some time, that it's been my intent to have a good relationship with SEIU and I have worked at it, but I don't have the responsibility that the mayor does in terms of negotiating."
"We're at a point where the enormity of the problem is such that I think that we just have to not be distracted by the finger pointing and really just try and buckle down and figure things out, and that's a lot easier said than done."
Dufty said some of the labor organizations prefer the concept of mandatory workday furloughs "because it doesn't affect their bottom line from a pension standpoint, that it protects them in the long term."
Dufty said layoffs would exacerbate the "stalling" of San Francisco's local economy.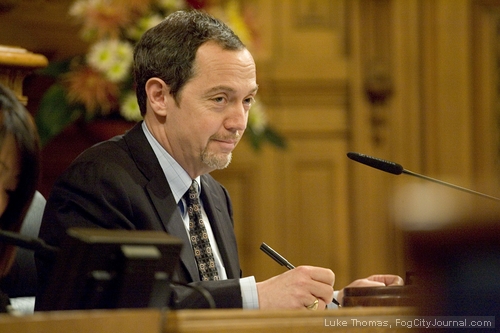 Supervisor Bevan Dufty
District 7 Supervisor Sean Elsbernd:
"The bottom line is this can't be done by legislative or executive fiat. This can only be done in conjunction with our public employees, and I guess the message has not been clear enough what is on the other side."
Elsbernd said an equitable across the board salary cut would require buy-in from the unions. He said he didn't think there's enough time left in this budget cycle to make the changes, but encouraged the proposal concept to be applied to mid-year cuts.
"We're not done when we pass this budget. We are going to be in this mess for a long time to come, so let's be forward thinking. We can't do anything for June 1, but we can probably do something for the September-October mid-year cuts."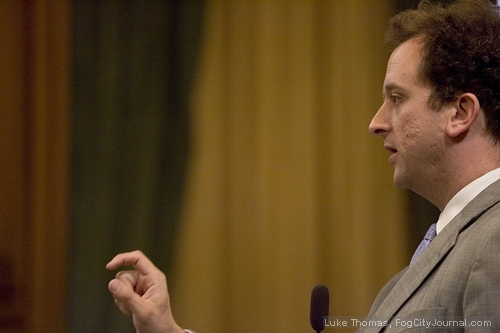 Supervisor Sean Elsbernd
And the final sets of quotes are from San Francisco Labor Council Executive Director Tim Paulson, who has the unenviable task of mediating consensus between all the unions.
SF Labor Council Executive Director Tim Paulson:
"The rank and file are going to make the choices that they need to make for their own particular unions."
"The City hasn't really been asking for that much at the bargaining table, so there's no reason for them to go that far."
"Whether or not it's SEIU Local 1021 or the firefighters, or the electricians, they're doing their math to figure out what's the best way to share the pain based on what the City is asking."
Paulson said the SF Labor Council has undertaken some polling that shows support for certain revenue measures.
"We've done some polling, as has the business community and the mayor's office – there are taxes that people would swallow because they care about our City."
"It was all going to be based on one big package and when SEIU, in the confusion and the craziness voted down the contract, everything went out the window."
"It's all up in limbo now because the biggest union (SEIU Local 1021) voted the offer down."
When asked if the union rank and file members fully grasp the consequences of layoffs in this recession, Paulson said: "I don't think all of them have realized the consequences, but ulitmately they will make the right decision."
"The City could be in the best place economically and politically if everybody just worked together."
"It's difficult. There's a very short time line to bargain – and the rank and file, I hope, will ultimately make the right choices to save jobs and services."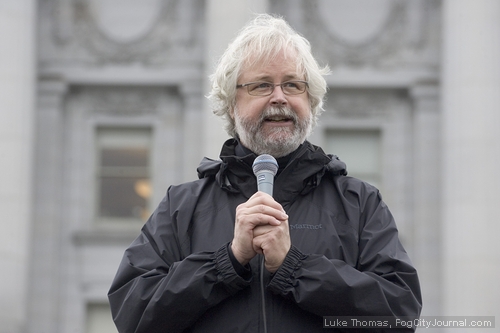 Tim Paulson