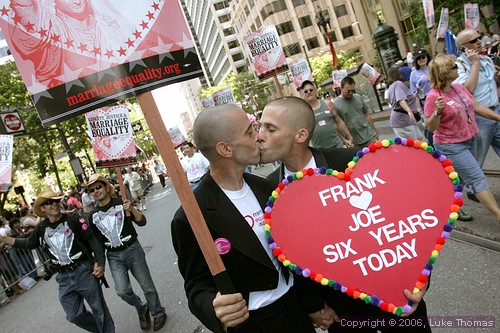 From Judicial Council of California
Editor's Note: For an analysis of how the Supreme Court might rule, check out Melissa Griffin's excellent summary.
May 22, 2009
San Francisco—The California Supreme Court today announced that it will issue a written opinion in three cases challenging the constitutionality of Proposition 8 at 10 a.m. on Tuesday, May 26, 2009. (Strauss v. Horton, S168047; Tyler v. State of California, S168066; City and County of San Francisco v. Horton, S168078.)
On Tuesday at 10 a.m., the opinion will be available on the California Courts Web site at this link: http://www.courtinfo.ca.gov/opinions/.
Proposition 8, a state ballot initiative, was approved by a majority of voters at the November 4, 2008, California election. Proposition 8 added a new section to the state Constitution which provides that "Only marriage between a man and a woman is valid or recognized in California."
The day after the election, three lawsuits challenging Proposition 8 were filed directly in the California Supreme Court.
On November 19, 2008, the court agreed to hear those cases. The court directed the parties to brief and argue the following issues: (1) Is Proposition 8 invalid because it constitutes a revision of, rather than an amendment to, the California Constitution? (2) Does Proposition 8 violate the separation of powers doctrine under the California Constitution? (3) If Proposition 8 is not unconstitutional, what is its effect, if any, on the marriages of same-sex couples performed before the adoption of Proposition 8?
Briefing in the Supreme Court was completed on January 21, 2009. Oral argument was held on March 5, 2009. For more information, including online briefs, see the California Courts Web site: http://www.courtinfo.ca.gov/courts/supreme/highprofile/prop8.htm#amicus.