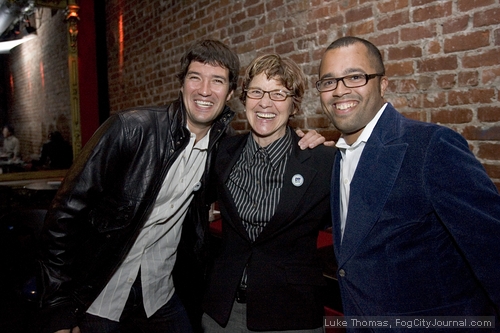 Flanked by friends Erich Pearson and Bill Barnes,
Building Inspections Commissioner Debra Walker yesterday kicked off
her fundraising campaign for the 2010 race for District 6 Supervisor.
Photos by Luke Thomas
By Luke Thomas
June 4, 2009
Highlighting her two decades working on land use issues, San Francisco Building Inspections Commissioner Debra Walker yesterday kicked off her fundraising campaign for District 6 Supervisor.
"It's very early in this campaign," Walker said to 30 supporters at the Cat Club, "but this district is vital, where most of the change happens around development. What happens here really sets the future of this City."
District 6 is regarded as one of the most politically diverse districts in San Francisco, encompassing the Inner Mission, Tenderloin and South of Market neighborhoods, as well as Treasure Island and downtown.
Affordable housing priority
Listing affordable housing as one of her top priorities, Walker said, "We don't build nearly enough affordable housing. We have an advocate in Supervisor Chris Daly in affordable housing and I commit that I am going to be as effective, if not more so, in fighting for affordable housing construction in San Francisco."
According to Walker, much of the new housing development in the district has been market rate housing at prices unaffordable to working families and most San Franciscans.
"Seventy to eighty percent of our population needs rents below what the market will bear," she said. "We don't house our population by building super market rate housing."
Walker pledged to work with the development community "to get their buy in" and to make "the argument for [federal] stimulus money for affordable housing."
"We need to build," she said. "We ought to be focusing the stimulus money on our infrastructure needs, not infrastructure needs that are defined in Sacramento, or in Washington."
A need for public sanitation services
According to a 2009 citywide homeless count report, District 6 is home to 1,167 unsheltered homeless persons. Walker pledged to fund public toilets and public baths where those in need could take showers, launder clothes, receive haircuts and have access to other homeless related services.
"When people are living out of shopping carts, your options are [limited]," she said. "If you don't want people urinating on the streets, you put in more public toilets."
Endorsements
Walker has so far received endorsements from Supervisors David Campos and Eric Mar, Senator Leland Yee, Assemblymember Tom Ammiano and former Senator Carole Migden. She said she expects to receive the endorsements of several unions including California Nurses Association, Carpenters' Local 22 and other unions related to trade and construction.
"I'm confidant I'll get the trades," she said.
As in previous contests for open seats on the Board of Supervisors, the 2010 District 6 race is expected to become crowded and contentious. So far seven candidates – Jim Meko, Mathew Drake, Jeff Gustavson, John Markham, Mark Schwartz, David Villa-lobos and Walker – have filed papers with the Department of Elections indicating their intentions to run.
Referring to the city, state and nation's economic woes, Walker said, "This is going to be an extremely challenging time in this district and the city."
"I'm the person that can actually make things work a little better in this district and lead us into a better future," she said.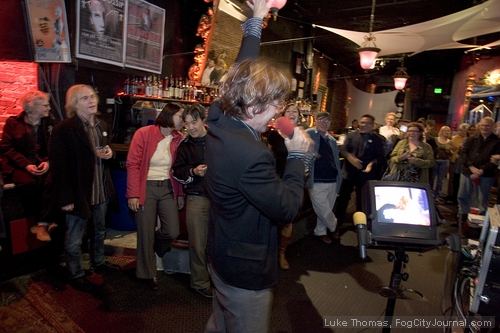 Walker kicks off her fundraising event singing "Anticipation" by Carly Simon.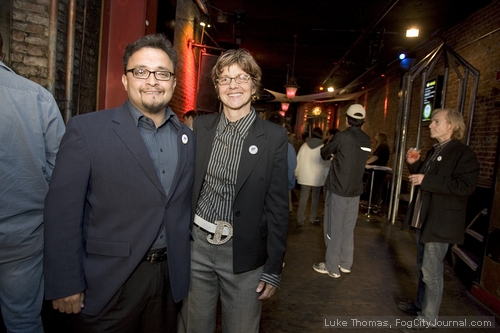 Walker with District 9 Supervisor David Campos.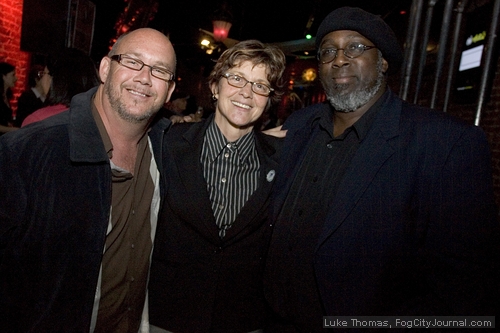 Walker with open source voting systems sentinel Brent Turner
and Eric "Doc" Smith.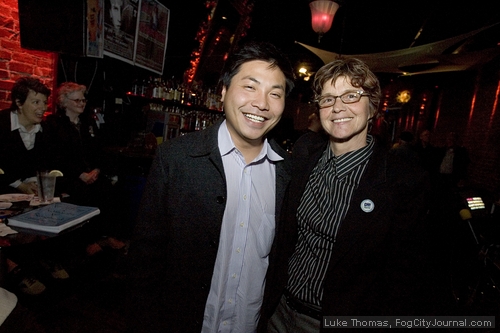 Walker with Community College Board Trustee Steve Ngo.

Walker with John and Michael Nulty.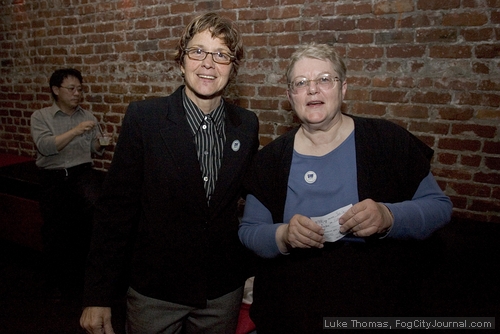 Walker with land use attorney Sue Hestor.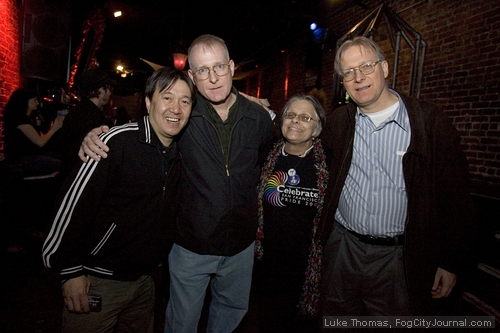 Cat Club proprietor Eric Chung with the Nulty bros.
and Terrrie Frye.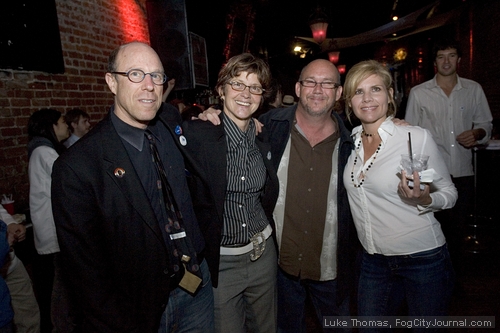 Ken Tray, United Educators SF, Walker, Brent Turner and Hope Johnson.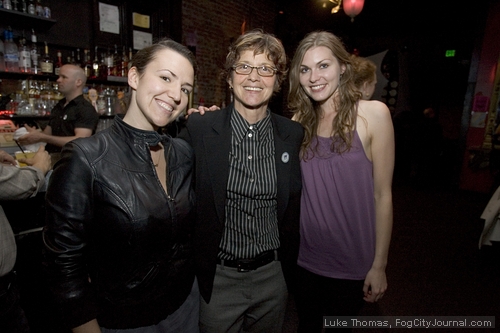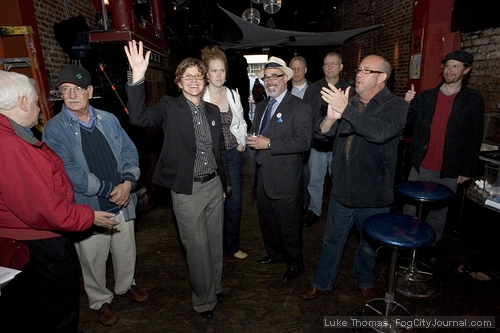 More Info
Debra Walker Bio