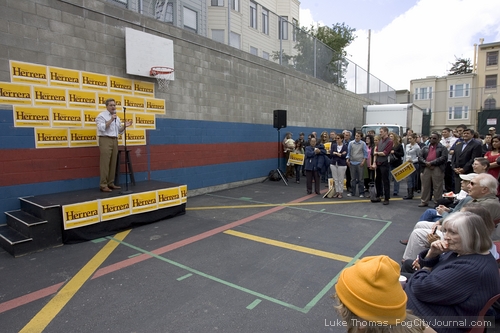 City Attorney Dennis Herrera held his re-election campaign kickoff event
yesterday at the Boys and Girls Club of San Francisco.
Photos by Luke Thomas
By Luke Thomas
June 7, 2009
City Attorney Dennis Herrera kicked off his re-election campaign for a third term yesterday during a fundraiser benefiting the Boys and Girls Club of San Francisco, a non-profit organization on which he currently serves as board member.
"Over the course of the last eight years I have recommitted to make sure our office is relevant to the people that we serve, and I am out there every day to make a difference for all San Franciscans," Herrera said.
"That's what's rewarding to me about the job. That's why I want to keep the job, and that's why I'm announcing my candidacy for a third term as your City Attorney," he said.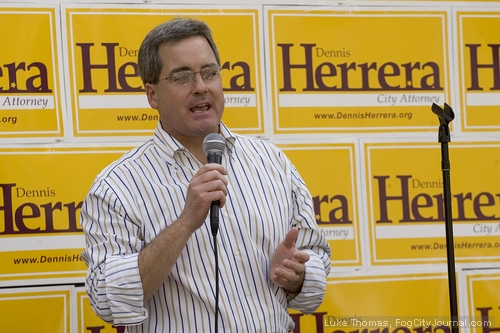 City Attorney Dennis Herrera
Running unopposed, Herrera announced his campaign would seek to obtain 13,000 signatures from registered San Francisco voters by July 22 to get his name on the November ballot.
The event, which was co-billed to raise awareness for the launch of the Boys and Girls Club's summertime program, attracted as many as 250 residents and politicos, including Democratic Party Chair John Burton, Senator Leland Yee, Assemblymember Tom Ammiano, Board of Supervisors President David Chiu, Supervisors John Avalos, Eric Mar and Ross Mirkarimi, Treasurer Jose Cisneros, former Senator Carole Migden, former Supervisor Jake McGoldrick and former Police Chief Tony Ribera.
San Francisco Giants Executive Vice President and Chief Operating Officer Larry Baer, San Francisco Labor Council Executive Director Tim Paulson and Burton provided short speeches in support of Herrera's candidacy.
Former Gavin Newsom administration Deputy Chief of Staff Alex Tourk is managing Herrera's re-election campaign.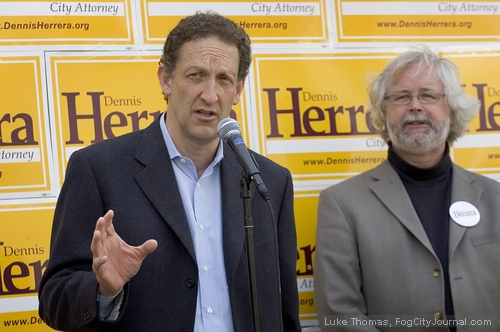 Larry Baer and Tim Paulson.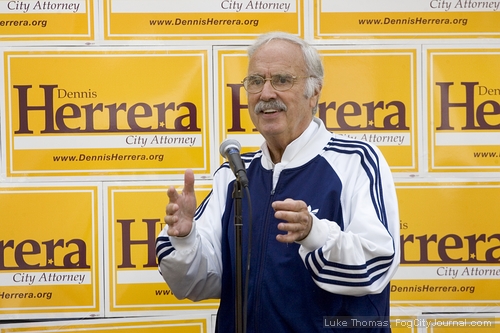 A joking Democratic Party Chair John Burton:
"It's really great to be here for Dennis as he kicks off
his very tough campaign for re-election."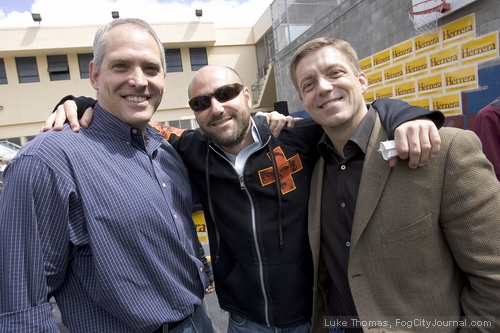 Dennis Herrera campaign manager Alex Tourk (center)
with Jeff Soukop and Jeff Anderson.
Herrera was born in Bay Shore, New York in 1962 and was admitted to the California Bar in 1989. In 1993, under then President Bill Clinton, Herrera was appointed Chief of Staff for the US Maritime Administration in Washington, DC.
Herrera got his start in San Francisco politics in 1996 when former Mayor Willie Brown appointed him to the City's Transportation Commission. In 1997, Brown appointed Herrera to the Police Commission. A year later, Herrera was elected Police Commission President. In November 2001 Herrera was elected City Attorney.
Accomplishments
Considered politically Progressive, Herrera filed the first government litigation in American history challenging the constitutionality of discriminatory marriage laws. His efforts paid off when the California Supreme Court in May 2008 overturned a ban on same-sex marriage. The ban was reinstated in November 2008, however, when the California electorate passed Proposition 8, limiting marriage between a man and a woman.
Herrera co-challenged the constitutionality of Proposition 8 but failed to convince six of seven California Supreme Court justices that the rights of a minority class must be protected over the whims of the majority, or that marriage equality is an inalienable right. The court did, however, protect the legal status of an estimated 18,000 marriages performed before the passage of Proposition 8.
In 2006, Herrera took bold steps to address violent crime by securing gang injunctions against seven known criminal organizations. He has also pushed for protections for tenants facing eviction and foreclosure due to the economic recession, and he successfully defended former Supervisor Tom Ammiano's landmark universal heath care legislation against stiff opposition from the Golden Gate Restaurant Association.
Criticism
But despite his many accomplishments, Herrera has also been criticized.
In September 2006, Herrera invalidated a 33,000 signatures petition that would have shifted decision-making power into the hands of San Francisco voters over Bayview Hunters Point redevelopment. Herrera said he invalidated the petition because it lacked all the "critical" documentation "incorporated by reference."
His critics took a different view, accusing him of using political discretion to protect development interests over the interests of city residents.
Herrera has also come under fire from open government advocacy groups that have accused him of undermining transparency in government enforcement provisions set forth by the passage of Proposition G in 1999, and for providing supportive legal advice to Mayor Gavin Newsom in his refusal to release meetings and calendar related documents.
And in a recent interview with Fog City Journal, Herrera discounted the effectiveness of suing the U.S. Navy to compel an immediate and comprehensive cleanup of the toxic-laden Hunters Point Shipyard, a Superfund site that contains to this day unquantifiable levels of carcinogenic toxins and radioactive materials. The site continues to pose a serious health risk to Bay Area residents.
Endorsements

Herrera has so far earned endorsements from State Senator Mark Leno, State Senator Leland Yee, Assemblymember Tom Ammiano, Assemblymember Fiona Ma, District Attorney Kamala Harris, Sheriff Mike Hennessey, Public Defender Jeff Adachi, Treasurer Jose Cisneros, Assessor Phil Ting, Supervisor John Avalos, Supervisor David Campos, Supervisor David Chiu, Supervisor Carmen Chu, Supervisor Chris Daly, Supervisor Bevan Dufty, Supervisor Sean Elsbernd, Supervisor Eric Mar, Supervisor Sophie Maxwell, Supervisor Ross Mirkarimi, Community College Board Member Natalie Berg, Community College Board Member Milton Marks III, Community College Board Member Steve Ngo, San Francisco Police Officers Association, San Francisco Fire Fighters, Local 798, and DCCC Chair and Former Supervisor Aaron Peskin.
"If you want a City Attorney's office that will continue to be a force for change," Herrera asked his supporters. "If you want a City Attorney that will continue to fight for equality, justice and fairness, and if you want me to continue to lead that fight and make a difference in the lives of ordinary San Franciscans, I need your vote, I need your help."
"I need your support and the Boys and Girls Club needs your help, too," Herrera added.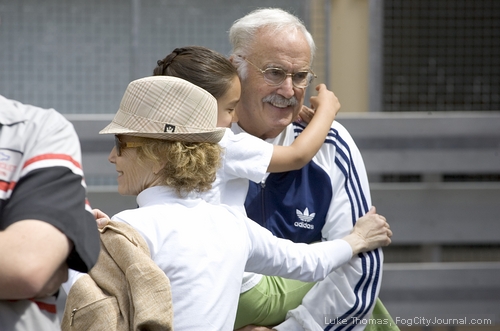 Former Senator Carole Migden
with California Democratic Party Chair John Burton and his granddaughter.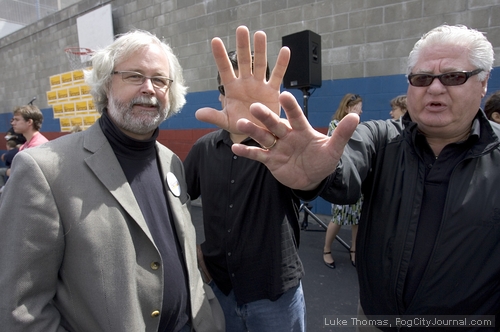 Tim Paulson with a camera shy Larry Mazzola Jr. and Larry Mazzola Sr.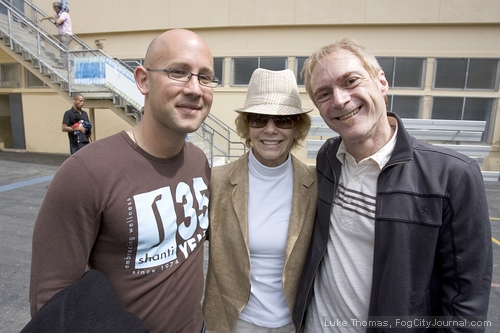 District 8 candidate Rafael Mandelman, Carole Migden and Michael Goldstein,
who announced to FCJ he is running for Community College Board Trustee.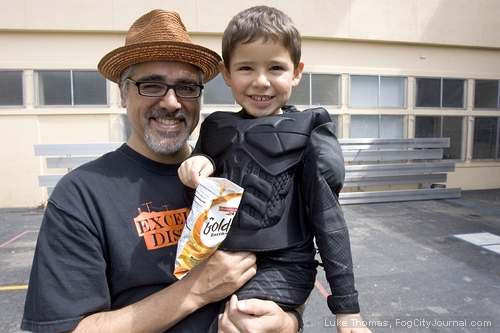 Supervisor John Avalos and son.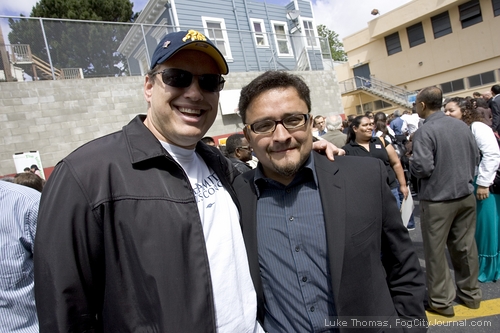 Tenth Congressional District candidate Adriel Hampton
and Supervisor David Campos.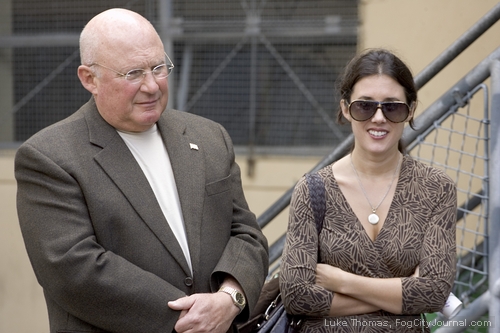 Former SFPD Chief Tony Ribera and daugther.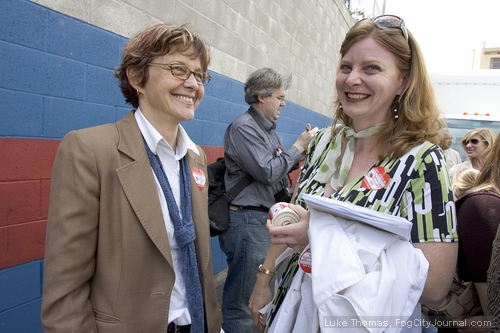 District 6 candidate Debra Walker with civil rights activist Molly McKay.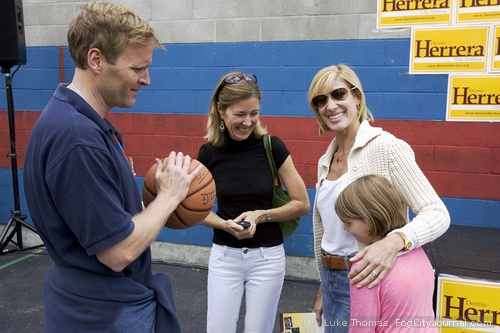 District 2 candidate Janet Reilly (right) with Ann Herrera and family.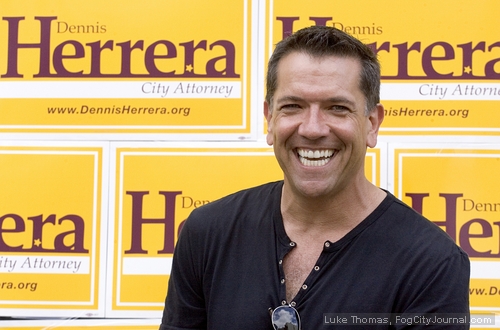 City Attorney spokesperson Matt Dorsey.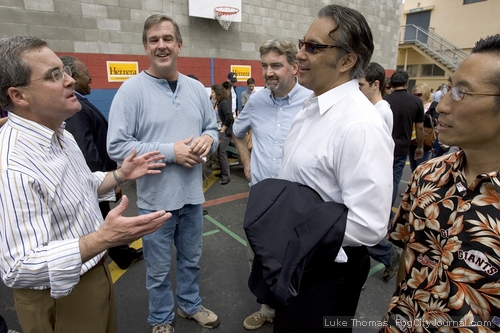 Dennis Herrera with Supervisors Ross Mirkarimi and Eric Mar.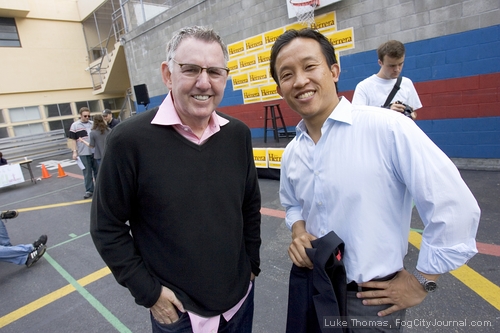 Board of Supervisor President David Chiu with Clint Reilly (left).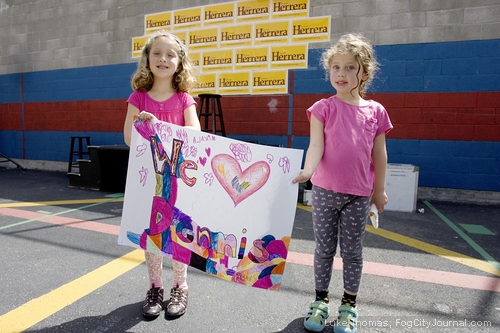 "We heart Dennis."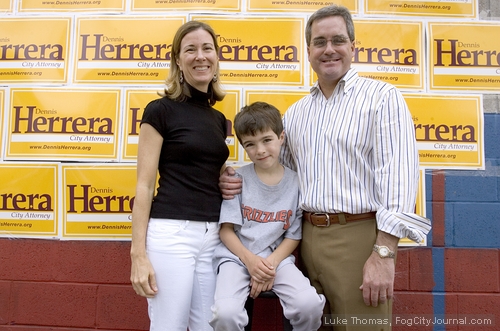 Dennis Herrera with his wife, Ann, and son, Declan.