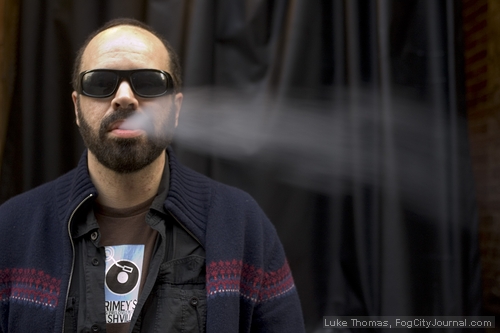 Adam Franklin returned to San Francisco June 12
with his new band Bolts of Melody.
Photos by Luke Thomas
By Shivu Rao
June 19, 2009
Singer/Songwriter/Guitarist Adam Franklin, best known for his work with Swervedriver, returned to San Francisco last week to play at Slim's with his new band Bolts of Melody. Franklin and his band are on North American tour supporting the stalwart Australian band, The Church, who are touring behind their 27th album entitled 'Untitled #23.'
Incidentally, Bolts of Melody is also the name of Franklin's 2007 solo album and the name of a book of poems by the American poet, Emily Dickinson, posthumously published in 1945.
Fog City Journal caught up with Franklin following an interview conducted during the San Francisco stop of the successful 2008 Swervedriver reunion tour at the Fillmore. In this session we discussed the recording process, meeting up with Marty Willson Piper of The Church, forming his new band and the multi-tasking required to record three albums, one with Magnetic Morning (his partnership with Interpol drummer Sam Fogarino) entitled 'A.M.' (2008), and two solo albums, 'Bolts of Melody' (2007)m and 'Spent Bullets' (2009), and touring with Swervedriver, Magnetic Morning and now, Bolts of Melody.
We were lucky to catch Franklin at a moment like this, when the range of his musical and songwriting skills are on display with three bands, three tours with different bands in support of three albums, all in the last 24 months or so.
The Interview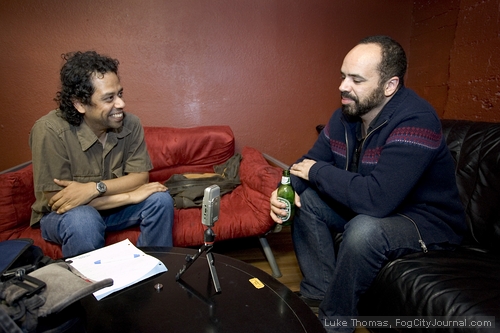 FCJ music correspondent Shivu Rao interviews Franklin at Slim's.
FCJ: Here we are backstage at Slim's in San Francisco with Adam Franklin of Swervedriver and now, Bolts of Melody. Its great to see you back in our town.
AF: Always great to be back in San Francisco.
FCJ: I guess the place to start would be the present. How did you hook up with the Church? Did you listen to them as a kid?
AF: No, I didn't listen to them when I was younger. I guess how it happened was a few years ago, I got invited to be on a Church tribute album, you know, when all these tribute albums were coming out. A couple of years ago in New York, a friend of Josh's (Josh Stoddard of Bolts of Melody) walked in with a guy with a beard, we got introduced and got to talking. This guys name was Marty Willson Piper (of the Church). And I said, "Ah, you're English", it was the accent of Liverpool. We started talking about Liverpool Football Club. While we were chatting, people started coming up to us and saying 'you guys have known each other, that's the way it sounds'. After a while we sort of looked at each other and I said, "I guess you're in a band, right?" and he says, "Yeah, you as well? What band are you in?" I say, "Swervedriver" and he says, "Oh yeah, I have a record of yours." And I go, "What band is yours?" He replies, "The Church" and to that I told him that I was asked to be on the Church tribute album. I guess that's how it happened. But we ended up being on the same label as well (Second Motion Records).
FCJ: In fact we (Marty and the author) had the same conversation about Liverpool Football Club earlier as well. Any comments on how Liverpool Football Club are doing?
AF: Well, er…well obviously they went the whole season with only two defeats and still didn't manage to win the league (English Premier League).
FCJ: Too many home draws…
AF: Yes! They beat (Manchester) United and Chelsea both home and away and still didn't win the title. I felt that Rafa Benitez left them off the rein later in the season. When earlier on those home draws should have been victories. I think Liverpool (Football Club) is in a bit of a mess at the moment, really.
FCJ: Financially you mean…
AF: Yeah, well the two owners kind of screwed up. And also, they shouldn't sell Xabi Alonso…keep him! Keep him! (laughter)
FCJ: Well its going to be hard to compete with a £80 million transfer budget (referring to the record transfer fee paid for Manchester United's Christiano Ronaldo). Well, anyway, we still think they're great.
AF: Yeah…
FCJ: How is this tour going for you?
AF: Its been great, we've only done two dates so far. We flew to San Diego from various parts of the globe, or mostly the country.
FCJ: Where are your band members from?
AF: Toronto, Nashville and New York City, so we kind of came in from different directions.
FCJ: Can you tell us their names and the instruments they play?
AF: Yeah, Josh Stoddard plays bass, he also plays bass in Magnetic Morning. Locksley Taylor on guitar and Mikey Jones on the drums. And Mikey also plays drums in Josh's own band, 'the Still Out'.
FCJ: So you guys were friends…
AF: Yeah, Lee (Locksley) is from the band Sianspheric who played with Swervedriver and they're from Toronto. So we kind of did gigs together years ago and stuff and a split single with Sianspheric and Toshack Highway. Lee played bass for a while and then guitar. So yeah…
FCJ: In terms of the dynamic, performing and collaborating, how is it different from Swervedriver?
AF: Its probably not dissimilar in a lot of ways, I mean, I guess its mainly my songs. I suppose the main difference is in the way the album is recorded. This new album (Spent Bullets), was recorded from my original demos. So like, a different drummer, Jeff who played on the album, was basically playing along to the demos. That's a different aspect in terms of recording.
FCJ: From a listeners point of view, the music that you're doing now is quite different from the Swervedriver material, more of a subtle approach in terms of arrangements. A little less straight ahead rock 'n roll. Obviously its reflecting on your development as a songwriter. Are you drawing from a different set of ideas?
AF: Hmm…obviously its going to be different, because the Swervedriver songs were written ten years ago. Everything sort of moves along and you get into new different sounds or other kinds of music, different influences come into it, yeah. I mean essentially its the same, there isn't any particular change in the process of songwriting.
FCJ: Some musicians refer to a muse, a sort of constant, a source, do you work that way as well?
AF: Oh, well I suppose there's a muse or three flying around, you know (laughter)
FCJ: You're lucky you have more than one, then…(laughter)
AF: (Laughter)
FCJ: The last year has been busy for you. Tell us about it.
AF: Well we went into straight into another tour right after the Swervedriver tour with Magnetic Morning. Although we (Swervedriver) did a London show first.
FCJ: How did that go down?
AF: It was great actually, you know. It was probably the best London show. Sold out the Scala. The Scala is an old converted movie theater in the King's Cross. It was closed down in the 1970s because they showed 'A Clockwork Orange' which had been banned in England.
FCJ: We talked about 'A Clockwork Orange' the last time as well.
AF: Oh really?
FCJ: Speaking of which, are you living in England now?
AF: Well I have been in England this year, but I don't feel like I'm living anywhere at the moment. Sort of between spaces.
FCJ: Okay. Coming back to the Swervedriver tour for a moment. Obviously the tour was a success and got the band in the public eye in a positive way. The question then to be asked is are there any plans for that band in the future?
AF: I really don't know and that's the honest answer. I can't really say, I think some of the people in the band maybe can't commit to so many things so we'll have to see how it pans out, really.
FCJ: You wouldn't mind if it transpired?
AF: Yeah, its good for me but then again, I'm always doing the same thing (writing, performing). Its great having all these different projects on the go, you know.
FCJ: Sure.
AF: I just got back from doing a 'Sophia' tour as well. I don't know if I mentioned that band the last time. That's a band I've played with on and off for the last twelve years. There was a Swervedriver/Sophia split release. This guy, Robin Proper-Sheppard, who is from San Diego but has lived in London for the last fifteen years, myself and Steve (Steve George) from Swervedriver played very early on in Sophia. But Sophia never plays in the States, does stuff in Europe mainly. It was cool, we used to tour in a bus. A string quartet on stage, about ten people onstage. It was cool.
FCJ: Did you arrange any of the stuff?
AF: No I don't do any of the writing. I just come in and play Robins stuff. The funny thing with the strings early on when we toured with Sophia a few years ago, no members of the band were smoking Marijuana, but the whole string section was. It was sort of a reversal of what you might expect (laughter). The string section were the stoners (laughter).
FCJ: (Laughter) Coming back to a topic we discussed previously, the relationship between the creative side of music and the side that allows for that creativity to be expressed. There have been comments made on the craft of music suffering due to the load of duties on musicians today who are compelled take on other tasks as part of the process. Whats your take on this idea?
AF: Hmm, yeah. Well, obviously you have to know your strengths and weaknesses. All the guys I know get a little system together. Whether its Robin or myself, we will have a 'go-to guy' for mixing or recording, you know. For example, on the latest album, we did the drums in a rehearsal studio, because its cheaper than a recording studio and then a friend of friends studio in Toronto where we did the guitars. The production was done in my friend Charlie Francis' house in Cardiff, Wales. And the mastering was done by Tim Turan in Oxford. These guys are actually working out of their own homes, you know. It came to a point when people realized that they didn't have to spend the kind of money they did back in the early 1990s for example. But also the technology has developed as well so people can access it without too much trouble.
FCJ: Well I guess what makes this formula work is that you know these guys capabilities and they know your preferences from an aesthetic viewpoint, right?
AF: Exactly, a sort of a rapport. We know what sound we're going for. So much money was spent back in the day, like videos for A&M that cost fifty grand or whatever. Recording sessions that were just wasteful with money flying out of the window.
FCJ: In what way do you mean?
AF: Well, its down to being the bands problem really. Back in the day, you'd mix one song one day and everyone would get their cassette of the song to take home. The next day, you mix another song and at end of the day the engineer would say, 'do you want a copy to take home?, if so, give us your cassettes (referring to the ones handed out the day prior)'. And sometimes you would have left it at home. So you get a new cassette and of course the cost of cassettes go on the bill for studio. It all starts building up.
FCJ: Also there's the case where if one member of the band didn't like the mix, the lag time needed to fix it is much shorter today versus back then.
AF: Yeah well, today you can send stuff back and forth. For example on the Magnetic Morning stuff, Sam and I did a lot of the demos on Garage Band and Logic Studio or whatever. Then we went to Electric Lady studios in New York. It was ironic that here we were at Electric Lady dropping in stuff that we had recorded at home.
FCJ: That was for post production stuff?
AF: Well for 'Spent Bullets' and the Magnetic Morning album 'A.M.', some of the songs were precisely from the original demo. Back in the day, you'd do a demo on your Portastudio you know, Swervedriver songs or whatever. And then you'd do it (again) in the studio and it would be a whole different recording because you're not building on the original template because you couldn't re-do it so much. But now of course, you can build on a template. Record onto your computer when you get the idea and the final recorded thing is still based on some of those ideas. I quite like the fact, for example, there are tracks on the album where there are guitars that were actually there when the song was first written. 'Winter Girls', the fifth song on the album, there are acoustic guitars on there that were recorded actually at Sam's house in the winter of 2007 or something. So some of the stuff I originally played on that is on the album.
FCJ: That's great, so the process rotates around the original idea.
AF: Yeah that's right.
FCJ: Magnetic Morning is your collaboration with Interpol drummer, Sam Fogarino, over the last year?
AF: Yeah. Well first of all, last year I went to Australia and did the solo tour (in support of the 'Bolts of Melody' album). Then we recorded the drums for 'Spent Bullets'. Then I guess it was Coachella with Swervedriver and the whole Swervedriver tour. After the Swervedriver tour, we did the guitars for 'Spent Bullets'. After that, I went down to Georgia and recorded the whole of the Magnetic Morning 'A.M.' album. And then to England, where I mixed the 'Spent Bullets' album. It was quite interesting as it was running into the next thing. And then by the time we did the Swervedriver show in London, both those albums had been recorded, you know. But 'Spent Bullets' was yet to be mixed. It was great actually, the process.
FCJ: And all of them sound different. Different vehicles for your creativity.
AF: Yeah, yeah…
FCJ: Basic question, what does 'Spent Bullets' mean in this context?
AF: Well I'd seen that written many times on the back of album sleeves. Its Elliot Smith's publishing company you know, Spent Bullets. Somehow it kind of relates to the songs as spent shells lying on the ground, you know.
FCJ: Okay. And they'd been shot at the time of recording?
AF: Yeah something like that (laughter). And not many of them are going to hit, or be hits in the conventional sense.
FCJ: The one that resonates with me is 'Two Dollar Dress'. The word I'd use is psychedelic.
AF: Right, right, yeah…psychedelic is always going to be a word that I'm not going to shy away from (laughter). Actually that might be my guys sound checking. I ought to go and check it. Hold that thought…(leaves to soundcheck)
FCJ: Sure thing.
After the soundcheck, we join Adam in the alley behind the club, where he is relaxing with a cigarette and a beer. He seems happy with the soundcheck. We conclude our chat.
FCJ: So the last time I got the impression that you were comfortably situated in New Jersey and did a lot of your creative work there. This time, you are a rock 'n roll nomad. Which mode do you prefer?
AF: Hello doggy… (a large dog is being friendly nearby). That's a big mutt (laughter). You know, just between places.
FCJ: Is that metaphorical as well as physical? (laughter)
AF: I don't know, physical I suppose at least (laughter).
FCJ: Sustaining a career over the long haul, how do you think of it?
AF: Well you know, musicians keep on keepin' on. Obviously everyone goes through peaks and lulls, its natural.
FCJ: Sure, so what the analogy then? Is it a journey or an elevator or what would you say? (laughter)
AF: (Laughter) The journey of life? The elevator of life? (laughter). That's good.
FCJ: On that philosophical note, Adam, thank you for the interview.
AF: Thank you.
Bolts of Melody went on to play a great set combining the latest material from 'Spent Bullets' with songs from the 2007 album, 'Bolts of Melody'. The set was well received and served as a fitting warm-up for the main event, The Church, who played hits from their three-decades long career.

Franklin and Bolts of Melody perform "Theme from LSD."
Franklin played his 1962 Fender Jazzmaster using its tremolo bar to mesmerizing effect. Josh Stoddard was solid on the Epiphone semi-hollow bass. He held the melody down as Franklin and Taylor combined forces to create a warm, inviting layer. Locksley was well into it with his Fender Jazzmaster as well. It was a Fender Jazzmaster attack backed by a numerous English-made amplifiers. Mikey Jones kept it all pumping along on a set of Mapex drums.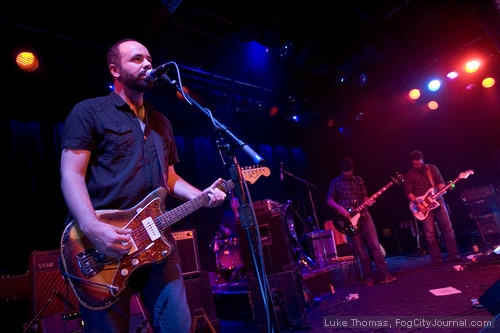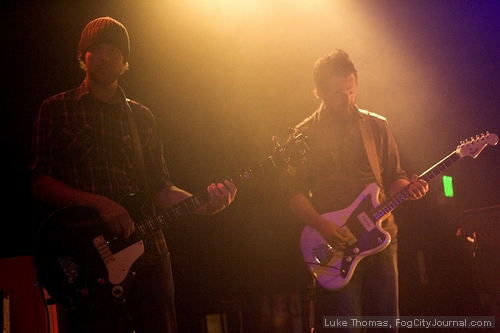 Josh Stoddard (bass) and Locksley Taylor (guitar).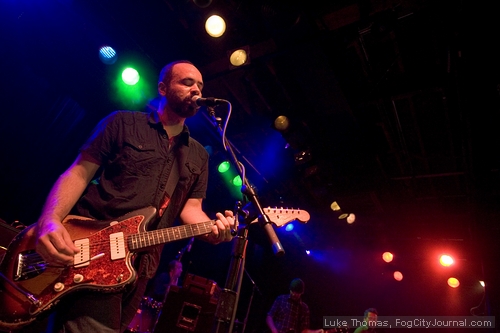 Adam Franklin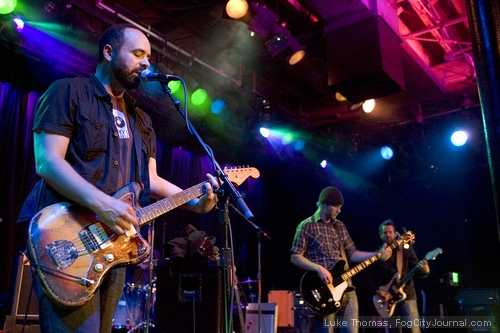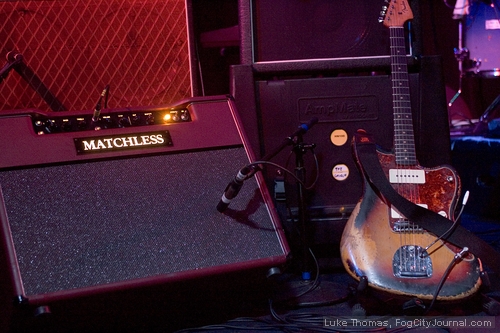 Franklin's rig includes a Matchless tube amp and a 1962 Fender Jazzmaster.
More Info
BOLTS OF MELODY BAND
Adam Franklin – Vocals, Guitar
Josh Stoddard – Bass
Locksley Taylor – Guitar
Mikey Jones – Drums
BOLTS OF MELODY SET LIST (Slim's, June 12)
Champs
Winter Girls
Autumn Leaf
Morning Rain
Seize The Day
Bolts of Melody
Mary Gunn
Big Sur
Theme From LSD
Ramonesland
LINKS
Adam Franklin and Bolts of Melody
http://www.toshackhighway.com/
Swervedriver