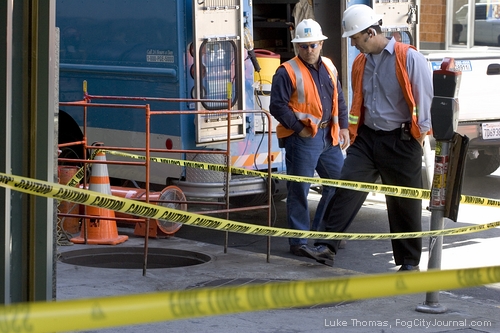 PG&E crews examine an underground vault following an explosion this morning
at the heavily trafficked intersection of Market and 4th streets in downtown San Francisco.
Photos by Luke Thomas
By Luke Thomas
July 6, 2009
For the fourth time in as many years, a PG&E underground vault exploded this morning at a busy intersection in downtown San Francisco.
At 10:10 am, at the corner of 4th and Market streets, a loud subterranean explosion followed by plumes of acrid gray smoke triggered panic among passersby, shoppers and tourists.
Fire crews arrived quickly on scene and used Co2 to prevent another possible inferno that followed a similar PG&E vault explosion in the Tenderloin, June 5.
PG&E spokesperson Joe Molica said today's incident is under investigation but was unable to confirm what may have caused the explosion or what type of electrical equipment is installed at the location.
Molica said one business is without power.
No injuries have been reported.