An artist's impression of the proposed 55 Laguna Project development.
By Nicholas Olczak
The Board of Supervisors approved an Environmental Impact Review of the 55 Laguna Project this week, moving plans for residential and community development of this Hayes Valley site a step closer to construction.
If the project goes ahead, the former UC Berkeley extension campus will be developed to provide 330 units of rental housing, over 20 percent of which will be affordable to low income groups. Many would argue that such residential provision is crucial at a time when lower income citizens are being 'priced out' of city living.
District 5 Supervisor Ross Mirkarimi, who shepherded the project through its early stages, stated that "San Francisco does not do affordable housing as well as it should. We need a more measured strategy built into large projects."
"The fact that [the 55 Laguna Project] is all rental housing, the fact that we were able to increase the affordability from 16 percent to 37 percent is already a milestone, is a significant marker of success."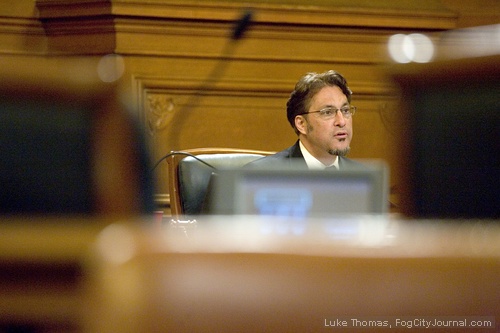 Supervisor Ross Mirkarimi
The project will also provide 85 residences which will be welcoming to members of the Lesbian, Gay, Bisexual and Transgender community through partnership with Openhouse, a non profit LGBT senior services organization.
"There has never been this in San Francisco," commented Supervisor Mirkarimi.
However the current development plans have provoked significant opposition from groups who highlight the loss of historical landmarks.
Of particular concern is the potential demolition of Middle Hall Gymnasium – the oldest building on the site – and Richardson Hall annex. Destruction of these buildings could result in the site being taken off the National Historic Register.
"The benefits of the projects do not outweigh the unacceptable and avoidable impact to historic resources," said Save Laguna Street Campus group spokesperson, Tamara Colby.
The group want the Landmarks Preservation Advisory Board to assess the project. They have proposed design modifications endorsed by the Office of Historic Preservation to retain Middle Hall Gymnasium and Richardson Hall annex for community use.
A spokesperson for project sponsors AF Evans said the "preservation alternative" was economically unfeasible – requiring approximately $69 million dollars of investment without return. He noted that 83 percent of the historic square footage is being preserved.
Supervisor Mirkarimi said he was responsive to preservation concerns and hoped the project sponsor would seek to maintain more of the site's historic buildings.
"I appreciate very much the pliability of where we've progressed in the stages of these negotiations," he said, "I would highly recommend that the project sponsor continues to find a way to improve upon the aesthetic design."
Supervisors' discussion of the project will continue later this month.