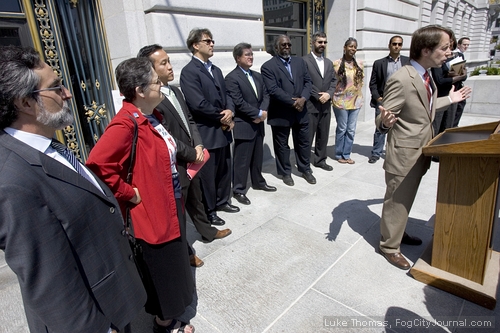 Assemblymember Dave Jones was joined Wednesday by a phalanx
of Progressive electeds in support of his candidacy
for California Insurance Commissioner.
Photos by Luke Thomas
By Luke Thomas
July 16, 2009
Following an unconfirmed rumor floated Tuesday suggesting Supervisor Michela Alioto-Pier has turned her political sights on the 2010 race for California Insurance Commissioner, San Francisco's politically Progressive electeds Wednesday responded with a preemptive rally in support of Assemblymember Dave Jones.
Jones, 47, represents Sacramento County in the California Assembly and is considered the Democratic frontrunner in the race to replace GOP Insurance Commissioner Steve Poizner.  A reform candidate, Jones said he "will hold the insurance industry accountable to the promises they make," adding that he supports a single-payer healthcare solution that will "cover all people, regardless of income and status in life."
"As your Insurance Commissioner, I will fight for single-payer," he said.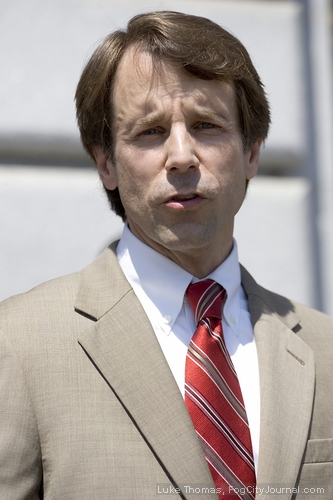 Assemblymember Dave Jones
City Attorney Dennis Herrera, Assessor Phil Ting, Board of Supervisors President David Chiu, Supervisors John Avalos, David Campos, Chris Daly, Ross Mirkarimi, Eric Mar, School Board President Kim Shree Maufus, Democratic County Central Committee Chair Aaron Peskin and representatives from the offices of Assemblymembers Mark Leno, Fiona Ma and Tom Ammiano, attended the rally organized on short notice by Peskin and Daly.
"Assemblymember Jones' candidacy for Insurance Commissioner has been endorsed by a wide spectrum of San Francisco elected officials," Peskin said, noting that Jones has also earned an endorsement from moderate Supervisor Sean Elsbernd. "Clearly, [Jones] is supported by folks across the political spectrum here in San Francisco."

DCCC Chair Aaron Peskin
Jones successfully spearheaded a campaign in 2006 to reform the state's conservatorship system serving thousands of California's oldest residents, and he passed a law that cracked down on unauthorized viewing of patients' medical records. He also pushed unsuccessfully to restrict businesses from storing sensitive consumer payment information and requiring state approval before raising health insurance rates. He also supports adopting inclusionary housing standards, ensuring that a specified percentage of homes built in new developments are affordable to moderate or low-income families.
"A reformer is needed to run the insurance commission of the State of California," Peskin stated. "We all know that for the past decade health insurance costs have increased by over 100 percent. We know that that office has been controlled by a Republican for the last many years, and we know Dave Jones has the track record to bring real reform to the insurance commission."
"I cannot think of a better candidate with a better resume and record of fighting for consumers," said City Attorney Herrera, adding that he has worked with Jones on the issue of gender rating, a practice of risk assessment employed by health insurers resulting in women paying 39 percent more for healthcare insurance than men.

City Attorney Dennis Herrera
If elected, Jones would manage the largest consumer protection office in the state. With a $200 million budget, the agency regulates insurance rates and enforces laws related to insurance.
Alioto-Pier, Newsom, and the CA-10/Garamendi factor
Alioto-Pier, 41, has for several months been linked with several unconfirmed rumors suggesting she is seeking statewide office before she terms out of office on the Board of Supervisors. Her spokesperson, Bill Barnes, downplayed the rumors as "speculation."
Alioto-Pier will announce her intentions for future office, if any, in due course, Barnes said, noting that the outcome of the November special election in the Tenth Congressional District (CA-10) may be the catalyst that will resolve uncertainties about her intentions.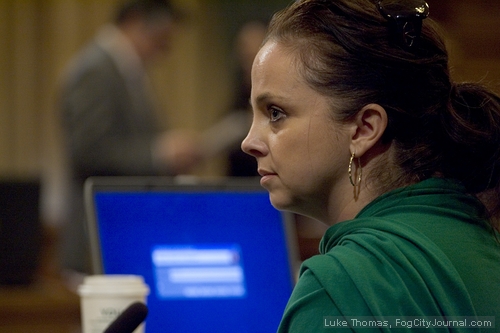 Supervisor Michela Alioto-Pier
Conventional wisdom suggests that should Lt. Governor John Garamendi lose the race to replace Rep. Ellen Tauscher in CA-10, he would likely seek reelection as Lt. Governor. As an incumbent, Garamendi would be a formidable opponent against any would be challenger, including Alioto-Pier who has twice run for statewide office (for California State Secretary in 1998 and 2002) and lost.
Others are speculating Alioto-Pier may be reading Mayor Gavin Newsom's gubernatorial tea leaves, foreseeing a continuing struggle to close a two-to-one fundraising gap and higher poll numbers enjoyed by California AG Jerry Brown, who has yet to officially declare his gubernatorial candidacy. Assuming Newsom cannot make inroads against Brown, and Garamendi wins in CA-10, Newsom may instead opt to run for Lt. Governor, placing Alioto-Pier in the awkward position of running against her longtime ally.
In essense, Alioto-Pier would be getting "bumped," suggested Supervisor Daly. "If someone is getting into this race because they're getting bumped out of another race – that would be ridiculous."
Hence, there maybe some truth to the latest rumor that has Alioto-Pier looking more opportunistically at the race for Insurance Commissioner, an office position Newsom is not expected to seek under any scenario.
Peskin believes the latest unconfirmed rumor is true, but said Alioto-Pier will not pose a threat to Jones' candidacy.
"Nobody in their right mind is going to take her entering the Lieutenant Governor's race, the Insurance Commissioner's race, or any other race outside Pacific Heights, seriously," Peskin said.
More Photos