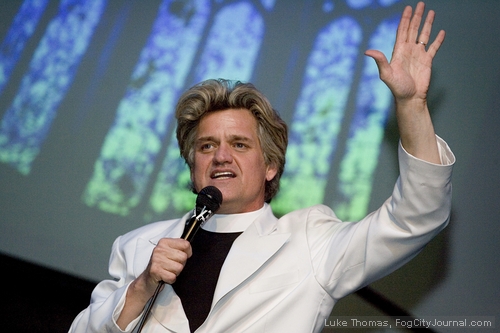 Reverend Billy Talen from the Church of Life After Shopping
is challenging Michael Bloomberg and corporate influence
over human affairs in the race for Mayor of New York City.
Talen, who is running as a Green, will be in San Francisco
Tuesday eve for a fundraiser at the DNA Lounge.
Photo by Luke Thomas

By Sunny Angulo and Andy Blue, special to Fog City Journal

July 20, 2009
Tomorrow night, the city of San Francisco will play host to an extraordinary man; a reverend, in fact.  A reverend who just happens to be running against billionaire incumbent Michael Bloomberg for the top seat in New York City.  The Reverend Billy (the stage name for Billy Talen) is plowing forward with a passionate campaign to win back the heart of New York City from Wall Street and the corporations that fuel it.
It's a bright spot of hope in an otherwise very dull race, where Bloomberg's billions have facilitated a total saturation of media and mental space.  A performance artist by trade, and an activist by choice (he's been arrested more than 40 times for protesting corporate greed), Reverend Billy speaks with a gentle wisdom, at times humorous, at times profound and even prophetic.
We sat down to talk with the good Reverend in anticipation of his fundraiser at the DNA Lounge Tuesday night.  A recent guest commentator on Fox News was defending the use of the word '"prophet" to describe someone the other day.  It was all sort of background noise, until he said this: "Well, a prophet is not someone who predicts the future through some magic ball; a prophet is someone who diagnoses the soul of a nation."  To sum it all up: two interviewers went in, one who happened to be a doubter.  By the end, it was two believers that left the interview, pumped that a prophet is working to heal an ailing nation.
Reverend Billy is no stranger to San Francisco or its very special brand of values.  In fact, he spent a good part of his life here and is a regular acolyte of Burning Man.
On San Francisco:
"I lived in San Francisco for almost twenty years and that means it's the place I've lived the longest in my life.  While I was there, I tried to learn about the kind of anti-corporate political art that was founded in laughter and music, and which defeated consumerism by being difficult to label.  So, I learned so much of what I know here in the Bay Area, at Life on the Water Theater Co. in Ft. Mason, and in pursuit of art at the Climate Theater on 9th Street.  The event on Tuesday has been organized by community people that have come forward, who volunteered their money to help rent the space and volunteered their time and energy.  The same thing in New York, where Joan Baez is headlining a celebration for us at the Highland Ballroom.  It's all about people lending their gifts, and she's volunteered her talent and love to this cause.  So, I just want to preach with the spirit in me, because I'm just being swept along on this wave.  It's not about me, it's about this movement."
Reverend Billy will be campaigning at Burning Man this year, so look for his white bus and gospel choir singing on the theme of "Evolution".  Burning Man has been a catalyst in his career and here he talks about how Burning Man began to get political, and the shift of consciousness that happened after Hurricane Katrina:
"I met Joan Baez at Burning Man, in 2005, right after Hurricane Katrina had flooded New Orleans in the middle of the week.  We go to the playa to be away from the news, but Katrina [became known] by word of mouth and by the newcomers arriving late, they told us of this thing that had happened.  So we went to the office, and Steve Raspa showed us that there were about 85 people that had bought advance tickets from the New Orleans zip code, and that only about half had arrived.  And then we started talking to the New Orleans natives that were there, and just trying to counsel them, and they were just so despondent and upset and worried, and so we said, "Well the first thing we have to do is we have to have an event." So we decided to have an event out at David Best's Temple, and he gave us his white bus, his double-decker white bus with the wrought iron design – which reminded me of the Latin Quarter – and we started going around in circles, collecting people.  And so we stopped the bus at one point, and there was Joan Baez.  And she stepped forward and said, 'Would you like me to sing?' And she looked exactly like she'd walked out of her living room in Woodside, California.  Whereas some of the others of us were wearing fluorescent bikinis and combat boots and goggles, there was Joan Baez looking exactly as if she was just there in her living room.  She seemed completely unperturbed by the wind whipping around and the biblical weather of the Black Rock City.  She was an apparition.  And so she came onto the bus and she sang Amazing Grace a cappella, so beautifully, so memorably; and that was the beginning of our friendship."
[At this point, one of our interviewers also remembers that moment and gets misty-eyed.  It is clear that this was a very powerful experience for those that were there.]
"Well, we had on the bus all these folks from New Orleans who'd lost their homes and their livelihoods, and we had Ed Holmes from the Mime Troupe and Saint Stupid.  And he was kind of keeping me calm, and just sort of whispering in my ear, "Calm down."  And I just, I realized that I was witness to a change in the Burning Man tradition.  The engagement with the world was changing, and Burners Without Borders was born out of that experience.  They went back to New Orleans, Tom Price and all those folks, they went back to New Orleans, and spent months and months working there and also went down to Peru when they had troubles there.  It's become an important part of Burning Man now to be political, and to be engaged in the neighborhoods and be engaged in the communities, the other 51 weeks of the year.  And no one forced that to happen – it was a consensus shift that took place there, that I think has been a good thing."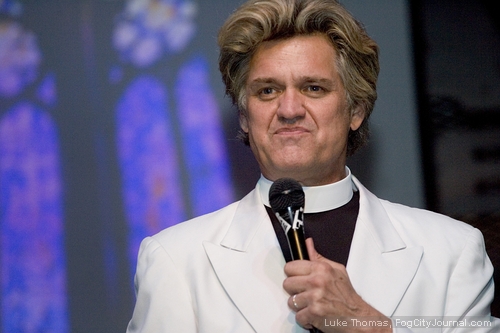 Enough about San Francisco and burner culture, then – we wanted to know how this combination of social consciousness and creative resistance was going to play out in New York City.  New York City is often looked to for a model on policies on crime, homelessness and development, especially after the tragedy of 9/11.  The iron rule of Guiliani has transitioned into a very slick rule by Mayor Bloomberg.  Reverend Billy talks about the future of New York City after the Shopocalypse:
"We've shopped ourselves to death.  The enormous shopping utopias that Mike Bloomberg had envisioned – just huge projects, some of them the biggest urban renewal projects ever seen in history – they're killing us.  One of them here in Brooklyn involved 16 skyscrapers, the Atlantic Yards Project, a very controversial project.  It's getting smaller and smaller over time, but that's because the community continues to rise up against it.  The government is in such a state of chaos out here in New York now, the community is actually becoming emboldened.  It's a very encouraging time for facing down abusive development.  In the case of Atlantic Yards, it was tax-payer financed and led by a billionaire, through a very narrow kind cultural design, really created for 28-year old stockbrokers.  Shopping, shopping, shopping – no street lights at all, all glassy, metal and stone hard fronts, with additional space for the 20,000 new cars expected everyday.
"We need new policies on the way we use energy, the way we cycle our energy and waste and water, and well of course, [this campaign] supports those green urban policies.  We're intrigued by the possibility of changing how we live in a 8.5 million person city.  The campaign slogan is 'The Rise of the Fabulous 500 Neighborhoods'.  It's our feeling that, on the one hand, we will change society, the economy, the government, by changing how we live.  On the other hand, our neighborhoods as they stand before they submit to the demon monoculture, the gentrification, the class A office building, the chain stores and the big boxes, the logos and the advertising, that Wall Street-financed tsunami that comes in like a second economy and destroys neighborhoods while mimicking them, these healthy neighborhoods are very close to sustainable economies in many cases.  The American radicalism that we so badly need right now is taking place in the everyday conversations between seemingly ordinary people.  They are radicals within their common sense.
"Last year at some point, all of the cranes and bulldozers just stopped, the globalized equity money, the money-market money that was fueling the invasion suddenly collapsed on itself.  And now people are standing up and looking around, and these half-built finger buildings are sticking up everywhere, and people are looking around and feeling acutely how close they came to losing it all."
Reverend Billy talks about his campaign in comparisons to that of Mayor Bloomberg:
"It's an unusual campaign.  It's quixotic, it's surreal, it's fascinating, we're walking around inside this hundred million dollar video game!  Mike Bloomberg's face is just pouring through all the mail slots, it's on all the screens in the bars and airports and the lobbies of all the buildings.  He's like the American version of Vladimir Putin or Mugabi or Saddam Hussein in his hey-day.   He just wants that third term so badly, you know?  He's spending more than $300,000 a week on this campaign.  He had to legally outmaneuver two popular votes, in which we decisively voted here that we did not want him to have a third term.  He's running against democracy itself.  He is the chairman of a corporation called New York, Incorporated.  We are his corporation here.  He runs this city that way.  Everything you look at: education, the parks, his attitudes about landlords and developers, it's all predicated on the consumer notion that all human life must be monetized, all human life must be assigned a value and placed on the market.  That's what he believes.  He's an updated version of the old Ronald Reagan trickle-down economy, he's a right-wing capitalist in disguise.  He's like Karl Rove in reverse: he's got a couple of social red herrings he throws out there. Like he's against smoking.  Okay, very good.  He's against handguns.  Okay, very good.  He's like Karl Rove in reverse, and even has Karl Rove people working for him.  People that work for Mike Bloomberg become rich.  He has aides that have become millionaires.  He has two Falcon 900 jets that he flies around the world.  He's the richest man in New York.
"In contrast, we have over 850 volunteers.  Our campaign headquarters is a converted art gallery in SoHo.  We're making movies and films, our own zine, a Reverend Billy newspaper.  It's a bunch of really energized people that would not have any place in Bloomberg world.  We know that we may be creating text and imagery in public space that is a cry in the wilderness, that will ultimately be a victory in the future for a person who becomes the mayor.  We're at such a conservative point now, that it is surreal.  Bloomberg has no opponents and he's pouring these glossy brochures into everybody's homes.  So we know that we're starting over, but this is a movement and we have to stand for something else."
Reverend Billy on the importance of the First Amendment:
"The seed to organizing change can be found in the First Amendment – we believe passionately that the public parks must remain public, and so the five freedoms guaranteed us with those 45 words, the freedoms of worship, press, speech, peaceable gathering and protest, we want a zero tolerance for any challenge to those freedoms.  And we find that in healthy neighborhoods they exist naturally.  The freedoms exist organically, because people inhabiting a street together, in the deli, and the stoops, and the small shops, and the local park, they give each other those freedoms as a kind of gift culture.  We watch out for each other, we are within each other's space, we take care of each other's loved ones when we can, we do what we can to help, we have unhurried conversations with each other in ways that are a kind of human economy.  I see the First Amendment as the basis for a neighborhood that's working, that's thriving.  In New York City, we have not recovered the First Amendment from the 9/11 tragedy.  In fact at this point, I've been arrested for reciting the First Amendment in Union Square! Two years ago, July 4th, I was reciting the First Amendment, and I was too close to a police officer, an old Giuliani guy by the name of Lt. Daniel Albano of the NYPD's legal division.  I had a manual bullhorn, not an electric one, but I was reciting the First Amendment, because they were proposing a limitation on people's abilities to use cameras or videotape within the city limits of New York City, and they were requiring that we get a permit if we used a tripod for more than 30 min. continuously, as well as get insurance for using cameras, in order to discourage people from using their basic rights.  It's New York City!  It's basic to the culture of New York, it was an outrageous expansion of police's ability to stop people from communicating and to stop the public arts.  I was reciting the First Amendment, and I can understand that it might have angered them, it's this flowery archaic language and it's all one sentence, and you can repeat it very quickly and repeat it over and over again – [laughing]- so I can understand if they were upset, but they arrested me and marched me off to the Tombs [The Manhattan Detention Complex].  I just have happened to have this famous civil liberties lawyer, Norman Siegel, standing right there when it happened.  When he was a young man, he worked with Martin Luther King, Jr, and he's just this illustrious hero in the world of civil liberties defense, and he was just standing there watching and bearing witness over everything, and as I was getting into the paddy wagon, he said, 'Reverend, I'll take this case.'  And the City ended up settling.
"The only fundamentalism I believe in is the absence of fundamentalism.  Amen.  That's what the First Amendment is: it keeps fundamentalism at bay.  And the most powerful fundamentalist religious organization that we have in modern American society is consumerism.  And that controls our behavior, it stands us in long lines waiting, it puts us in traffic jams, it's destroying our earth, it alienates us from each other, and it, more than anything I believe, is responsible for the demise of the labor movement in this country (which is now hopefully going to come back again).
"So freedom from consumerism is at the heart of our project."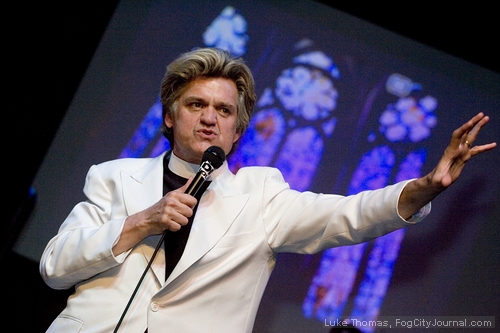 So, what of the detractors, people who say that asking American citizens to stop shopping is unjust and unpatriotic? At some point, we all have to walk out of our homes, and purchase something in the world.  We asked Reverend Billy how he would structure a smarter and saner model of commerce, and he defined freedom from consumerism in this way:
"Going to independent shops is usually a pretty clear choice, as opposed to chain stores and big boxes, and that's the big distinction.  Chain stores and big boxes are sweat shop companies, they're labor-busting companies usually; your dollar bill goes to some mysterious place when you give it to a Walgreens or a Starbucks.  Usually about half the money you give to a corporation listed on the New York Stock Exchange,  that has an outlet in your community, usually about 50% of your money just goes away, and you don't know where it goes.  You go to an independent shop that's in your community, and you see the people and the money that you just gave them.  And the human scale of that kind of an economy is all the difference.  We learn a lot from the Institute for Local Self-Reliance, for instance, they track the fortunes of independent businesses and try to help guide the mom'n'pop shops as they try to navigate through this Supermall Megaplex-dominated world.  However in the last 12 months, there has not been one supermall of note that has opened in the United States, and that's the first time that's taken place in over 40 years.  At the same time that that remarkable statistic is in front of us, there's another one, which is for the first time in 40 years there are more farmers than there were 12 months ago.  That's a lot of family farms coming back, that's lots of young people, this huge movement of young people, going back to organic farming.  And when I say change will come from how we live… this is what I mean."
Originally, back in the 90's, Billy Talen created his Reverend Billy persona with the help of a real-life vicar, friend and mentor:  Reverend Sidney Lanier.  Lanier was a cousin of Tennessee Williams and the vicar of St. Clement's, an Episcopal church in Hell's Kitchen that doubled as a theatrical space.  Talen worked as the house manager, and Lanier introduced Talen to the study of radical theologians and performers.  The Reverend on turning the hypocrisy and hate mongering of religious institutions on its head and the inception of the Church:
"We had a concept there where we were taking a right-wing, war-mongering, racist, homophobic character, the televangelist, from late night television (whose basically an Elvis impersonator), and taking that character and appropriating that character, the style, the dress, the hair, but then having progressive language then pour from that preacher's mouth.  After 9/11, it became much more complex.  Clearly, there were people in New York who left organized religion long ago, but after 9/11 were looking to be in rooms, and to be in groups, longing to hold hands, to hold candles, to sing, and to have fellowship.  But, we had at that point evolved a church that regarded a creator but did not permit a deity.  And we were at that point naming a new creator everyday.  We discovered very quickly by the crowds that had gathered around us that we had a service we could render, that we could love life together in a ritualized way, we could laugh and sing together, we could cry together, and then of course, we started marrying and burying people and baptizing children, and we became a community.  We became a post-religious church.  That became perfect for us, because when you resist consumerism, when you back away from the product, when you back away from the advertising, and you're not permitting the corporation to mediate between yourself and your own experience anymore, then your body starts releasing up into you these memories and dreams and fragments of meaning, and glories and traumas that you've been collecting all your life, but which the products have been stuffing away from you.  When you back away from a product, the product that you're addicted to for a few weeks or months, those stories that you've been collecting and creating your identity with, they tell each other, 'Oh, the way is clear.' And they rise up through you.  You know, like when you haven't been drinking for a month, and then you're walking through a park and suddenly you burst into tears, thinking you have memories you haven't had in years.  That kind of thing happens when you back away from the fundamentalism of consumerism.  So we had something we could talk about with the people after 9/11 that many of them decided that… 'That's my faith.  I'm backing away from consumerism.  That's what I'm going to do.'  And then it went through steps after Katrina and Rita that year.  Many Americans after Katrina and Rita discovered that what they buy has consequences. Many Americans witnessed… image after image in which the basis of our modern consumerism, our dependence on the fossil fuel, was exposed.  The images were pitted against the earth, and a breakthrough took place within the minds of Americans. And our audiences grew much larger after that."
Reverend Billy finished the interview with this nugget of hope, a plea for us not to get bogged down with doubt – but to believe!
"A lot of us are walking around with a feeling that it's all been done.  We think, 'Well, the brilliant people all had their careers.'  The Soujourner Truths, the Emma Goldmans, the Paul Robesons.  They lived their lives and they were brilliant, and they moved us and there wasn't enough.  And we're killing the earth, we're at war, we're poisoning ourselves, it feels as if nothing we could try right now would be new.  That's why there was such a kind of momentary euphoria with Obama: we felt like it was new for a moment.  And now we're realizing that he's very much a politician, and he has to be, and that's his role.  But, when we back away from this hypnotic market, this consumerism, and we embrace each other and dance with other, trade with each other, be of service to each other, when we start the act of that community, in that unity in that wholeness, things are new again."
Amen.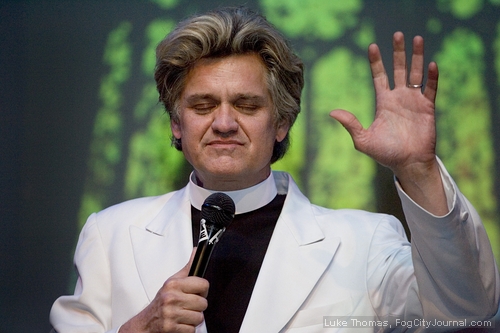 ELECTELLUJAH! – A SERMON AND CELEBRATION WITH REV. BILLY TALENÂ 
From the Church of Life After Shopping & the documentary "What Would Jesus Buy?"
Tuesday, July 21st, 7 – 10 pm
DNA Lounge, 375 Eleventh Street, SF
Get advance tickets or wait in long line on day of show!
Suggested contribution:Â Â $10 and up. No one turned away due to lack of funds.
Twenty-one and over.
For ticketing information and full line-up see: