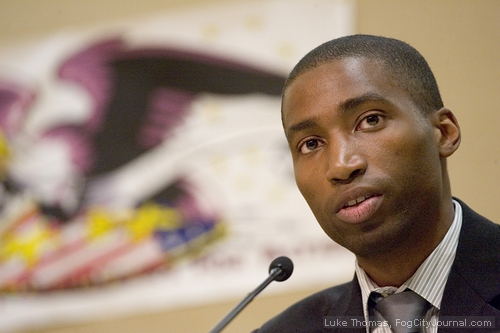 Anthony Woods
Photos by Luke Thomas
By Luke Thomas
August 18, 2009
Though he fully expects to win the special election race to replace Rep. Ellen Tauscher in the 10th Congressional District, decorated Iraq war veteran Anthony Woods has a bright future ahead in public service should he lose.
Openly gay, Woods was discharged from the US military in December 2008 after he challenged the Pentagon's 'Don't Ask, Don't Tell' policy, an ignominious slap in the face for a man who put his life on the line in service of his country.
Always the reserved diplomat, Wood's called the 'Don't Ask, Don't Tell' policy "wrong-headed" and "misguided."
If he wins the special election, Woods would become the first black gay man to be elected to Congress, and the first openly gay member of Congress to have served in the US military.
Born at Travis Air Force Base and raised by his single mother in Fairfield and Vacaville, Woods, 29, developed a keen sense of discipline and public service at an early age. Following his graduation with honors from Vanden High School, Woods attended West Point Military Academy graduating with the standard rank of Lieutenant before being posted to Iraq in 2004 where he led a platoon of 81 soldiers under his command.
He proudly tells Fog City Journal all of the soldiers under his command returned home safely following several combat missions and roadside bomb attacks. He was awarded the Bronze Star for his service.
Following his two tours in Iraq, Woods attended Harvard's Kennedy School of Government in 2006 where he received his master's degree in public policy. He majored in economics and political science with a minor in computer science. Shortly after graduating, Woods revealed to his military superiors he is homosexual which led to his honorable discharge.
Following his discharge, Woods retrained his focus on seeking public office where he hopes to have an impact on a number of important issues facing the nation.
"It's time to send leaders to Washington with the courage to stand up and fight for their convictions," Woods said.
Fog City Journal conducted a recent telephone interview with Woods to discuss his convictions, his candidacy and his campaign platform. The following is representative of his political beliefs and the issues that are important to CA-10.
Inspiration for running for public office
"I was really looking forward to continuing my career in the military and I'm really big on public service – that's always been something on my mind for a very long time and whatever form that would be, I hadn't given a lot of thought to," Woods said.
"I always knew I wanted to come back to the District where I grew up to get involved – whether in community service work, or working in government, or elected office."
"It's really about the frustration, the nature of, the tendency we have of sending the same people who aren't going to bring new ideas, who aren't going to bring new energy or different perspectives, and I think we're realizing time and time again that that's so ineffective."
"We're very frustrated with the results we get, but we keep on doing the same thing, and I saw this is a chance to step up and provide voters with a very real alternative."
His said his top three platform issues are healthcare reform, economic recovery and job creation, and national security and veterans issues "because we send so few veterans to Congress."
Wars in Iraq and Afghanistan
"I didn't agree with the war. I thought it was a rush to judgment. We planned it extremely poorly."
"I would not support continued funding for the war in Afghanistan if it did not include a clear timetable for withdrawal, a clear mission, clear goals, and clear benchmarks. I was extremely frustrated to see that the latest war supplemental did not include that. It is very, very clear that we have not learned the very painful lesson that I have learned – and our country hopefully has learned in Iraq – and I think we need to really recognize that we are in the very real potential of continuing to go down a path that is very, very scary for our country, and our military is going to pay the price for this."
"We also need to recognize that the military is not the only solution to solving our problems overseas. The problems in Afghanistan are just as much about security as they are about economics. We need an approach that doesn't solely rely on the military."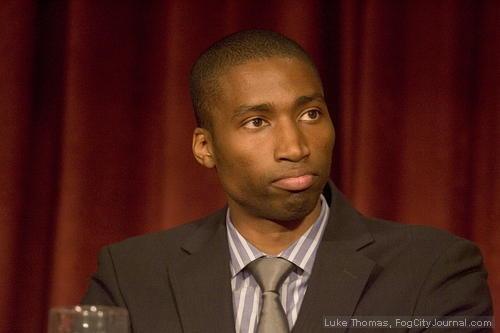 Energy independence

Woods said the US must focus on energy independence to avoid "meddling in the affairs of foreign countries."
"We have to be concerned with foreign sources of oil and the stability of those countries because we are so closely dependent on getting those, whether it's oil or other resources. We need to find ways to power ourselves and fuel ourselves right here in this country."
Recognizing that CA-10's climate creates an opportunity for the mass development and deployment of wind and solar energy generation, Woods said the District is well positioned to be a leader in the research, manufacture and distribution of wind turbines and solar panels.
He said he supports nuclear energy production as long as research develops a solution to deal with toxic nuclear waste.
He also supports dirty energy tariffs and renewable energy subsidies, policies that have resulted in the highest deployment and saturation per capita of solar energy production in Germany.
"I support ideas like that," he said. "We need to find environmentally sustainable ways to power ourselves and fuel ourselves, and we need to incentivize that."
Though Woods does not support a government takeover of private energy production monopolies, he said he supports government playing a legislative role in incentivizing mass-renewable energy deployment.
"It's something that cannot be left simply to the private market to solve," he said.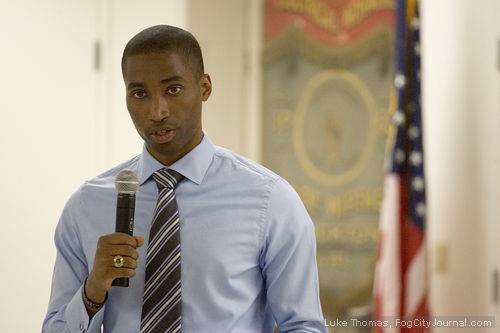 Healthcare reform
We've previously asked Woods about his position on single-payer healthcare as a comprehensive and cost-effective solution to the nation's healthcare crisis. In several debates, unlike his fellow Democratic challengers, Woods has not enthusiastically embraced HR 676, a federal single-payer bill that would expand Medicare coverage to all Americans.
"We should have started the debate at single-payer," he said during this interview, "because it has a lot of merit and a lot of value. I would love to vote for a single-payer system. However, I recognize that we're going to have to compromise and a public option at least preserves the idea of choice and having real competition that helps to drive down costs and preserves quality of care."
"I support the President but I think the strategy has been wrong. I think we really, really, should have started this debate at single-payer and we should have recognized that we're going to have to negotiate – and the furthest I would allow myself to go on that sector is to a public option. Anything less than [a public option], I'm not going to vote to support it."
Mass-transportation
CA-10 is a vast geographical District that encompasses Contra Costa, Solano, Alameda and Sacramento counties. It is currently serviced by BART, which connects three lines to San Francisco. However, interconnectability within the District via light rail systems does not exist, a typical problem that American suburbs must address to avoid a mass exodus from the hinterlands to urban areas when oil prices return to unaffordable levels.
He said there's a very real need to expand regional light rail and high-speed rail to help deal with the onset of peak oil, the point in time when the maximum rate of global petroleum extraction is reached, after which the rate of production enters terminal decline.
Woods said building more freeways is not forward thinking and would create "a bigger parking lot."
"We need to get out of the mindset of our transportation issues being solved just by laying more pavement," he said.
Immigration reform
Among voters Wood has talked to, he said there's "real concern about immigration challenges."
If elected, Woods would support securing the US borders and would address deficiencies in the US immigration system.
"First and foremost, we need to secure the border," he said, adding that he would address the problem of employers exploiting undocumented workers as well as fix the broken immigration and visa system, "allowing the 12 million or so illegal immigrants who are in this country to be on a path to earn legal status."
The Sacramento-San Joaquin River Delta system
"If we don't take the environment and climate change seriously," Woods said, "we are going to have a serious disaster; California's not going to have a clean source of water anymore."
He said the cost of a potential disaster, similar to Katrina in New Orleans, "would far outweigh the investment to rebuild the levees."
The cost of increasing the height of the hundreds of miles of levees in the Delta is estimated at $100 million per inch.
His campaign
"The sad reality is, campaigning is extremely expensive but we're getting our message to voters in every way possible way that we can," he said.
Woods said he's proud to have raised $105,000, as of the last quarter, mostly from small donations.
"One of the things I'm most proud about in this race is the simple fact that the average contribution I have received is $50."
"Some of my opponents have an average contribution of around $1000 which is a very different set of people who are supporting your campaign," he said.
"My goal is to be as open and transparent and accountable to the voters who sent me [to Congress] and I'm trying to run my campaign in a way that's reflective of that desire."
"I'm really, really, really big on directly connecting with voters and I want to be very big on directly communicating with constituents as their representative," adding that he would use town hall-styled meetings to regularly communicate with his constituents.
He said his message to voters is that they have "alternatives to the Sacramento choices."
"This is my home. This is where I grew up," he said. "We've got a lot of problems to solve and we need people who are willing to solve them and I'm certainly willing to help out in every way that I possibly can."
Epilogue
Woods is young, ambitious, accomplished, articulate, well educated, amiable and approachable. His ideas, like many of his line-towing Democratic Party contemporaries, appear to be in lock step with the Obama administration. He said his platform is similar to those of his fellow Democratic challengers, but stressed that his approach to solving problems, coupled with his military experience, is what separates him from the pack.
He is a new generation politician motivated by a sense of purpose and duty to address the myriad of problems facing the US as it struggles to reinvent itself after eight disastrous years under the former neoconservative regime headed by President George W. Bush and Vice President Dick Cheney.
Though it is unlikely he will prevail in the CA-10 open primary on September 1, Woods is expected to eventually find a race he can win, perhaps at the local or State levels.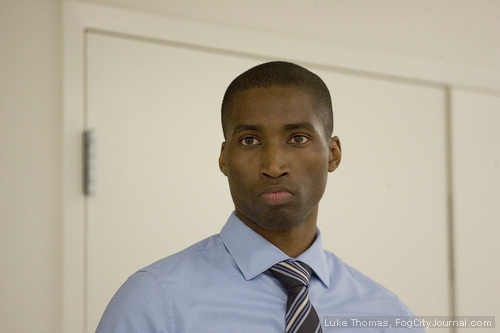 More Info
Anthony Woods for Congress