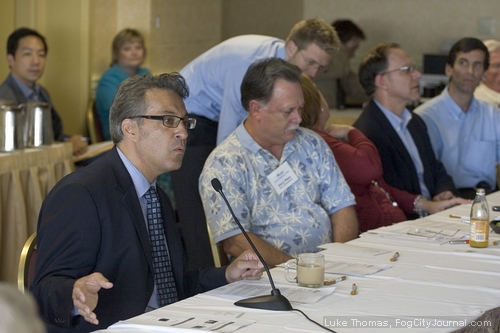 Supervisor Ross Mirkarimi was a guest speaker
at the annual meeting of the Northern California Power Agency yesterday.
He warned its members of a 2010 PG&E-sponsored statewide ballot initiative
that is aimed at protecting its monopoly against public power advances.
Photos by Luke Thomas
By Luke Thomas
September 24, 2009
San Francisco Supervisor Ross Mirkarimi rang alarm bells yesterday on a 2010 statewide Pacific Gas & Electric-sponsored ballot initiative that would "decapitate" efforts to implement municipal public power initiatives in California.
Attending the annual convocation of Northern California Power Agency members at the Claremont Hotel in Berkeley, Mirkarimi warned the NCPA that PG&E is attempting to "kill any interest of Community Choice Aggregation being contemplated by municipalities in the State of California," to protect its monopoly.
The ballot initiative, deceptively dubbed "The Taxpayers Right to Vote Act" would, if passed by a simple majority of voters, amend the California constitution and require the assent of two-thirds of voters to "expand electric delivery service to a new territory or new customers, or to implement a plan to become an aggregate electricity provider," according to the measure's statement of purpose.
"It's absurd and an affront to our democracy," Mirkarimi said, referring to the two-thirds requirement. "What this does is exactly what it's intended to do – to annihilate competition."
Mirkarimi said it is imperative that municipalities begin a coordinated campaign to educate voters against being duped into voting for the measure.
Though the NCPA is prohibited from campaign advocacy, several members expressed concerns with the ballot measure and raised questions on how best to build a winning strategy to defeat it.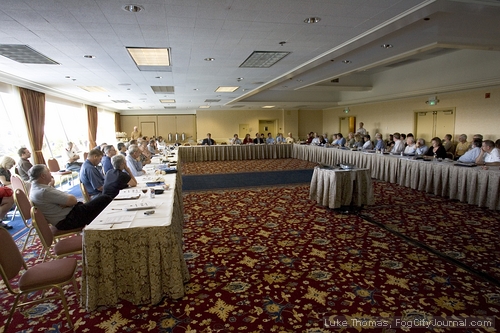 More Info
Stopping PG&E's fraudulent initiative
PG&E Doubles Down Again vs. Local Energy Choice
PG&E pushes vote to limit public power