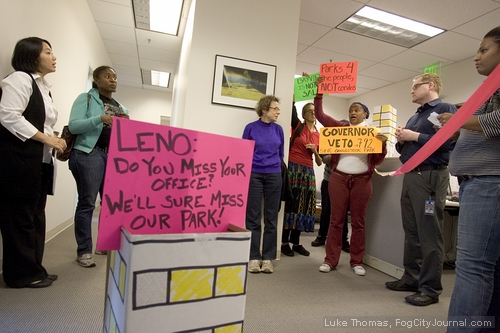 Activists representing POWER entered the San Francisco offices of Senator Mark Leno yesterday
to protest legislation he authored that would transfer State parkland to a private developer.
Photos by Luke Thomas
By Luke Thomas
October 10, 2009
One of several activists was arrested for trespassing yesterday during a protest of legislation authored by Senator Mark Leno that would transfer portions of Candlestick Point State Recreation Area to the Lennar Corporation.
Carrying placards that read "Bayview Not for Sale," "Parks for the People," and "Governor, Veto SB 792 – Save Candlestick Park," the activists entered Mr. Leno's San Francisco district offices and erected makeshift condominium towers topped with a sign that read "Leno: Do you miss your office? We'll sure miss our park."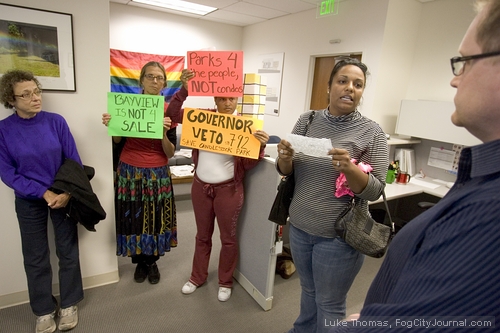 "Bayview community organizations and residents are outraged Senator Mark Leno is pushing to sell one of the only parks in Bayview and the only State Park in all of San Francisco to Lennar Corporation to expand a controversial condominium development in the neighborhood," a statement released by People Organized to Win Employment Rights (POWER) states.
As part of the protest action, the activists taped off portions of Leno's office and symbolically offered it for sale for private condominium development, "to see how Leno would feel to lose a similar part of his own area, to illustrate the impact of losing such a large portion of something precious."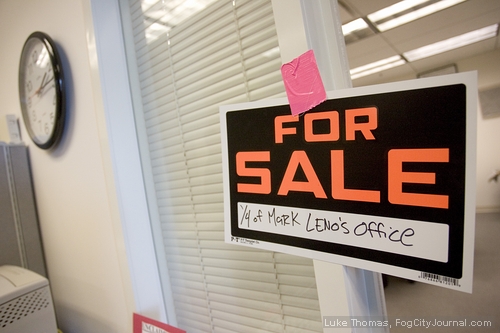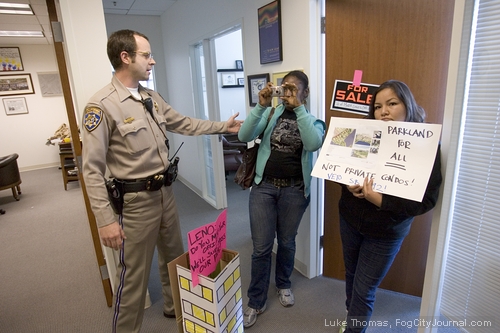 The legislation is controversial largely because Florida based Lennar Corporation, which was levied a $515 thousand fine by the Bay Area Quality Management District in October 2008 for its failure to monitor and control the release of naturally occurring asbestos dust into the surrounding neighborhoods, is expected to develop a mixture of mid-rise and high-rise market rate condominiums as well as luxury family homes on prime waterfront parcels, further gentrifying a once predominantly African-American low-income district in San Francisco.
Following months of negotiations with Leno, the Sierra Club, Arc Ecology and Friends of Candlestick upgraded its opposition of SB 792 to neutral.
According to Leno, the legislation would transfer 20.5 acres of mostly "dirt and rubble parking lot and 2 acres of grassland" for the sum of $50 million, monies that would be used to double the size of the park's usable recreational area as well as provide a $600 thousand annual annuity "in perpetuity for operations and maintenance of the park."

Aerial view of Candlestick Point State Recreation Area
showing existing boundary line (magenta) and SB 792 proposed boundary line (blue) .
(Click here for original PDF file).
"Currently, about 40 acres are used for recreation," Leno said. "As a result of $40 million of investment in bike paths, bike trails and hiking paths, habitat restoration, habitat protection, planting, construction of piers so there can be more water recreation, will double the current 40 acres of use, which will remain untouched, to 80 acres of use."
"We're going to double the use of the park," Leno added.
Leno said legislation amendments negotiated by former Mayor Art Agnos and Friends of Candlestick requires proceeds derived from the 23-acre land transfer to be used solely to improve the park.
"The language says that (the proceeds) can only be spent for the improvement of the State park," he said.
The City of San Francisco will initially take ownership of the transferred land from the State, but Lennar is the City's intended recipient. It is uncertain, however, if the subsequent housing will be subject to a 35 percent affordable housing requirement as set forth by the passage of Proposition G. Proposition G, passed by voters in November 2007, precedes SB 792 and there is no expressed language in SB 792 that mandates a 35 percent affordable housing requirement.
Leno, however, said all the housing developed by Lennar under Proposition G and SB 792 is subject to a 35 percent affordability requirement.
"The exact height of the buildings, I can't tell you," Leno said, "but the development requires 35 percent to be affordable housing."
"The bottom line," Leno added, "this bill will save the State park because it is otherwise on the chopping block. It is perennially on a list of State park closures and there will be park closures because of our budget crisis."
Reacting to POWER's protest action, Leno said: "It's been a little frustrating. There just isn't an interest in hearing the facts and acknowledging the facts, so this idea that our State park is being sold off to a developer? No. Twenty acres of dirt will be sold, and the benefit is going to be extraordinary."
Leno rebuffed criticism of SB 792 being an example of disaster capitalism in which private interests exploit economic or natural disasters to privatize public assets at depressed values.
"Quite honestly, respectfully, that's just rhetoric," Leno said. "Look at the facts. You've got a park that's underfunded, under-utilized and about to be closed by the State. We're getting $50 million to improve it, to sustain it in perpetuity."
SB 792 has the support of District 10 Supervisor Sophie Maxwell, the San Francisco Labor Council, San Francisco Chamber of Commerce, Pastor Arelious Walker, Bayview Merchants Association, Bayview Hunters Point Multipurpose Senior Center, Alice Griffith Tenants Association, Asian Pacific Democratic Club and the San Francisco Housing Action Coalition. It is opposed by Assemblymember Tom Ammiano, Senator Leland Yee, Supervisors John Avalos, David Campos, Ross Mirkarimi, Chris Daly, and Eric Mar, and over 1000 Bayview residents who signed a petition opposing SB 792.
Asked whether he has, or will, personally benefit from carrying SB 792 for Lennar, Leno said: "It is a very reasonable question and the answer is absolutely no. I've never taken a penny from Lennar. I will never take a penny from Lennar. I've never had a conversation with (Lennar) directly. All of our negotiations have been with the City and the City has done the negotiations with Lennar."

California District 3 Senator Mark Leno
Though SB 792 has been passed by the State Senate and Assembly, it awaits being signed into law or vetoed by Governor  Arnold Schwarzenegger.
Update, 10/11/09:Â  Governor Arnold Schwarzenegger today signed SB 792 into law.