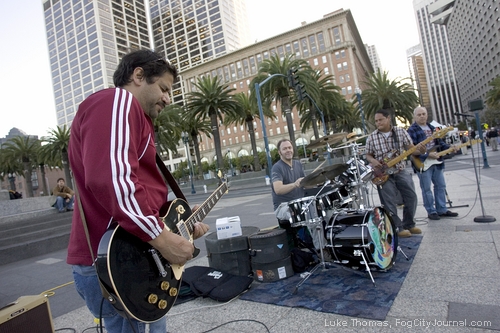 A "Blitz Busking" Los Diablos de Amor played an hour-long set of Latin Grooves,
Blues, Reggae and Funk on the Embarcadero last week.
Photos by Luke Thomas
By Luke Thomas
October 28, 2009
There's never a dull in moment on the streets of San Francisco. Just ask any out-of-towner about their experience in this fair city by the Bay and invariably you'll hear good things said.
And so it was Friday when musical virtuosos Los Diablos de Amor played a "Blitz Busking" hour-long set of Latin Grooves, Blues, Reggae and Funk music on the Embarcadero, wowing passersby, tourists, street photographers, and spent downtown office workers returning home for a much needed restful weekend.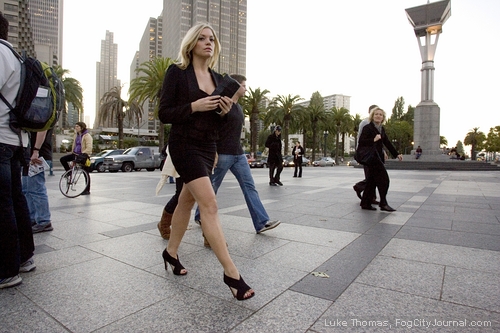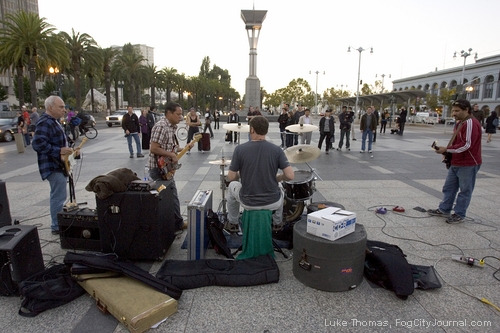 "Even the cops like our music so they leave us alone for the most part," said Los Diablos de Amor founder and lead guitarist Michael Miranda, who looks and plays like Carlos Santana. "We have to pack up and move on when someone complains, but rarely does anyone complain."
It's not hard to see or hear why anyone would complain: Swelling crowds of music aficionados, old and young, begin dancing with abandon as a glorious autumnal day gives way to a resplendent azure twilight. The irresistible foot tapping and dancing is a testament to the band's infectious rhythms and guitar interplay between Miranda, fellow guitarist Mike Shapiro and bassist Edgar San Gabriel.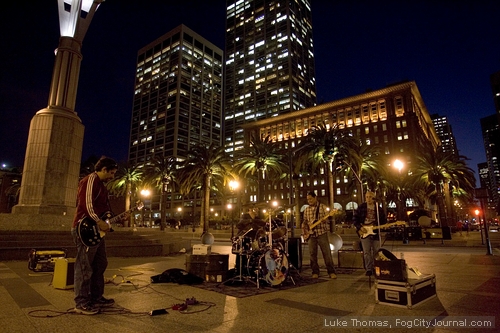 As the set winds down dollars are beginning to overflow a coffee can-sized collection receptacle after drummer, actor, and political debater, Joachim Karl Greve, completes a riveting drum solo showcasing his sublime talent, discipline and experience. He's also a district finalist in Guitar Center's Drum-Off '09 competition – to be held November 5 in San Jose – where $25 thousand is up for grabs.
"I'm going to go out on a limb and predict you'll win," I tell Greve. He smiles but assumes nothing and asks if I've heard of Cogers Debating Society, the world's oldest speech forum since 1755 located in the City of London where he's a lifetime member.
What's really fascinating about this band is that its members are not your typical full-time musicians, hard to believe considering the breadth and enormity of their combined talent and musicianship. If it wasn't for the recession, which has forced these well-kept secrets onto the streets to supplement their incomes, San Franciscans may never be the wiser to this San Franciscan treasure.
"It's working out great," Miranda, an out of work construction worker, said. "We can now afford to put food on the table for our families."
Los Diablos de Amor is a regular fixture at The Condor Club in North Beach, playing from 3-6 pm on Saturdays and Sundays. They also have weekly gigs lined up at Lou's Pier 47 starting in January. They're available for all events political and social and they're guaranteed to blow your funking minds.
Update, 10:32 pm: This just in.  Los Diablos have today secured a gig tomorrow (Thursday at 9:30 pm) at Johnny Foley's Irish House (243 O'Farrell at Cyril Magnin).
More Info
Los Diablos de Amor on Myspace.com
Joachim Karl Greve on MySpace.com