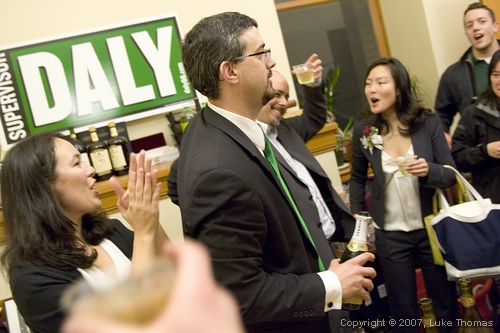 Supervisor Chris Daly will host a holiday party Thursday
benefiting the Coalition on Homelessness.
File photo by Luke Thomas 
By Luke Thomas
December 16, 2009
A festive party to benefit homeless San Franciscans will be hosted Thursday by District 6 Supervisor Chris Daly.
"The Coalition on Homelessness has been on the front lines advocating for justice for San Francisco's homeless population since 1987," Daly said of the worthy cause. "Never shy to speak truth to power, the Coalition has actively challenged the misguided policies of the Newsom Administration. In retaliation, the Newsom Administration has severely cut into the Coalition's funding base."
Daly, who is no stranger to bar-tending having served thousands of music lovers at The Independent prior to his election to the Board in 2000, said he will be tending bar at the event. A full spread of appetizers will be provided.
"We're asking you to bring a $10+ for the Coalition," Daly said. Non-attendees may contribute to the cause online.
Event Details
Thursday, December 17, 2009, 5:00pm – 7:00pm
Office of Supervisor Chris Daly; City Hall, Room 273