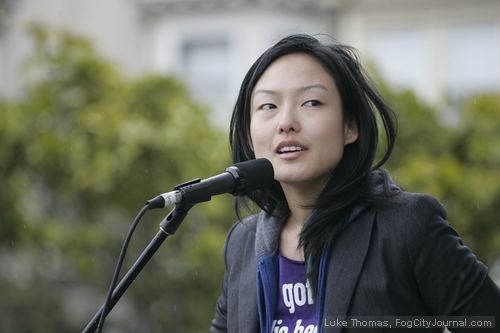 San Francisco Board of Education President Jane Kim
today announced her candidacy in the 2010 race for District 6 Supervisor.
Photo by Luke Thomas
By Luke Thomas
January 19, 2010
Ending months of speculation and rumor, San Francisco Board of Education President Jane Kim today confirmed her candidacy in the 2010 race for District 6 Supervisor.
In a statement released to FCJ, Kim, a Progressive, said, "I am proud to be running as a candidate to represent the residents of District 6 on the Board or Supervisors. I look forward to discussing the issues important to the community, making our streets safer, creating long-term affordable housing and ushering in a renewed focus on anti-poverty work."
Kim filed papers with the San Francisco Ethics Commission on Thursday to open an exploratory committee, to legally begin a fundraising campaign ahead of today's official announcement.
Responding to FCJ inquiry, Kim said she will tap the same donor base that aided her election to the San Francisco School Board in 2006. In that election, Kim placed first among voters in District 6, having garnered over 1,000 more votes than her closest competitor.
She said she expects to qualify for public campaign financing up to the maximum allowed ($143,000).
Kim is the only elected official running for the seat to succeed Supervisor Chris Daly who will be termed out of office in January, 2011.
"She is a formidable campaigner and typically generates a good amount of grassroots energy," said Daly, who has yet to formally endorse his successor.
Kim, who moved to District 6 in January 2009, said her work as a community organizer – working with families and immigrant communities – will help to establish her candidacy.
With 17 candidates already declared, the District 6 race is expected to become contentious and more crowded.  Kim pledged to work with the frontrunner candidacies of Jim Meko and Debra Walker, to ensure a progressive candidate retains the District 6 seat.
"I am really hoping that we can work together and support one another," Kim said.  "One of us is more likely to win if all three of us are working together and working really hard to support one another."