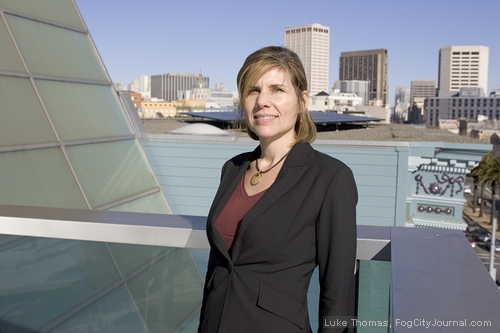 Hope Johnson
Photo by Luke Thomas
By Luke Thomas
February 16, 2010
San Francisco political analyst, small business owner and FCJ contributor, Hope Johnson, today announced her intention to run for public office.
In a statement released to FCJ, Johnson said she will file her declarations of intent later today at the San Francisco Department of Elections to run for trustee membership on the San Francisco Community College Board, as well as membership on the Democratic County Central Committee (DCCC) in Assembly District 13.
"I will bring concerns of San Francisco residents to the forefront and will not be swayed by special interests or big money agendas," Johnson said. "It's time to elect proven advocates with the political savvy and courage to directly hold long-term incumbents accountable for their actions."
A Bay Area native, Johnson is best known for her progressive and outspoken Stay Tuned column in FCJ. She regularly covers DCCC meetings and analyzes local political issues. She first gained recognition and attention when she won SF Usual Suspects' Best Political Mind Contest in 2008, accurately predicting first-round votes in the seven Board of Supervisor elections with a less than five percent error rate.
"Complete cancellation of City College's summer session this year combined with allegations of misuse of public funds by administrators sends the wrong message to those seeking affordable education," Johnson said of her intent to seek election to the San Francisco Community College Board. "Women account for 57 percent of college students, but only two of the seven trustees on the College Board are women. The Board needs the benefit of adding more local and diverse experience to its idea pool."
Johnson attended public schools and community colleges before earning a Bachelor's Degree in Psychology from UCLA.  She resides in the North of Panhandle (NOPA) neighborhood and recently started her own contract paralegal business. She is active in the community having volunteered for Democratic Party events, the SFSPCA, political campaigns and the NERT safety program. She also co-founded FixSanFrancisco.org, an animal rights group.