By Sue Vaughan
February 28, 2010
San Francisco Chronicle columnist C.W. Nevius jumped onto the "blame the drivers for Muni's woes" bandwagon, Thursday, writing, "Riders have already seen fare hikes and service cuts and they may face them again thanks to Muni operators who rejected a proposal for a package of concessions that would have saved the agency $15 million over two years."
Thanks to Muni operators?
Muni drivers have incredibly hard jobs.  They sit in the same position for hours and take all kinds of abuse from the public.  They deserve to be paid well.  At the same time, they are not completely blameless.  Perhaps the work rules do need to be tightened up, but the general public should be clear: changing operator work rules will bring back some money to the agency – but $15 million is not enough.
The San Francisco Municipal Transportation Agency (SFMTA) is facing a 14.2 percent combined shortfall in its $772.8 annual budget, $12.1 million in the current fiscal year and a projected $97.7 million in the next two fiscal years (FY 2011-12). Â  The reasons for the deficit can be broken down into some rather broad categories that include:
Capitalism Run Amok and Americans Maxing Out on Natural Resources Credit Cards
Few question that after three Milton Friedmanesque decades of little-to-no regulation of the financial industry, and after 60, 70, 80, or more decades of living on a hydrocarbon high, the Great Recession repo man is at the door.  And yet, we are up against vested interests and lifestyles that are hard to change.
Freeway Fondness, Lobbyists, and Capital Projects
Our system of national highways, which moves over 200 million vehicles in the US, is the largest public works project in the history of the world, with 70 percent of the funding coming from user fees and tolls (primarily the 18 cent per gallon gas tax) and the rest coming from bonds, property taxes and other revenue-generating measures.  In an age of dwindling liquid fuels, global climate change, and global war, there is a question about the sustainability of this transportation system.
Nonetheless, according to the Center for Public Integrity, transportation lobbyists spent over $45 million during the first half of 2009 in efforts to influence the shape of federal transportation bills.  Perhaps as a result, highway projects received the bulk of the $51.2 million dedicated to transportation in last year's $787 billion stimulus bill – the American Reinvestment and Recovery Act (ARRA) – $27.5 billion.  In the Bay Area alone, the fourth bore of the Caldecott Tunnel (which now carries 160,000 vehicles daily) was one of the largest recipients of the ARRA nationally: $197.5 million.  The replacement of Doyle Drive with the controversial Presidio Parkway – estimated to cost $1.045 billion – got $168 million.
Only $100 million of the stimulus was made available to public transportation systems – and all that was supposed to be spent on capital projects, not day-to-day operations (although, due to imploding urban transit systems, a small percentage has been released for operations).
Other gigantic capital projects are also getting huge infusions of federal and/or regional and local money. They include the $4.2 billion Transbay Terminal and the $2 billion Central Subway.  Local activists are concerned the Central Subway in particular will undermine the ability of Muni to pay for its more mundane bus and light rail operations.
There are signs that President Barack Obama is trying to redirect transportation funding in his recent $3.8 billion FY 2011 budget proposal.  He has dedicated $6.7 billon of that proposal to transportation.  One billion dollars is for high speed rail ($1 billion out of a $5 billion annual investment on top of the $8 billion in the stimulus) and another $527 million has been set aside for the creation of sustainable communities through a joint project of the US Department of Transportation, the US Environmental Protection Agency, and the US Department of Housing and Urban Development.
We can only hope that some of that money will go into public transportation operations, as Smart Growth America has produced a study showing that by investing in public transportation you get a two-for-one bang for your buck in terms of jobs creation and retention, but …
At the State Level Our Hummer Driving Governor …
… has yanked the State Transit Assistance (STA) funding, $3.5 billion in state gas tax money dedicated to transportation.  For the SFMTA that has amounted to a loss of $179 million over three years, according to Executive Director Nat Ford, at the Tuesday, February 23 meeting of the San Francisco County Transportation Authority.  Recall that the SFMTA budget used to be over $800 million annually – so the $60 million annual loss from the STA is significant.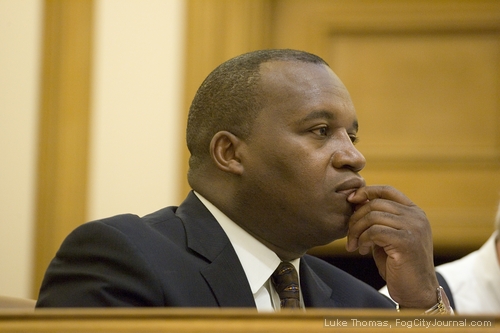 SFMTA Executive Director Nathaniel Ford.
Additionally, Arnold Schwarzenegger originally ran for governor during the 2003 recall partly on a platform of repealing the state car tax, or vehicle license fee (VLF). He did that almost immediately after being elected.  But in October 2009 he signed SB 83, allowing municipalities to put measures on their local ballots to collect $10 VLFs.  If such a measure gets put on the November San Francisco ballot and it passes, it will raise around $5 million to help pay for transportation-related projects.
Unfortunately, the governor and state lawmakers are now considering eliminating the state sales tax on gasoline and replacing it with an excise tax.  State gasoline taxes are in part dedicated to transit.  Excise taxes have no mandates.
On top of our national penchant for capital projects and our Grover-Norquistian governor, there is …
An Absence of Political Will at the Local Level
According to the 1999 charter amendment, Proposition E, the seven members of the SFMTA Board of Directors – all mayoral appointees – are mandated to seek new sources of revenue and are empowered to put revenue-raising measures on the ballot.  But they never have.
In addition, last year, when the agency faced a $128.9 million deficit, they voted to declare a fiscal emergency in order to waive a California Environmental Quality Act review of proposed service cuts and fare hikes – but then they amended their budget at the last minute to eliminate a proposal to expand the hours of parking meter operation (which is projected to raise $9 million annually) and replace it with a 90-day study.
That study is now complete — showing that pedestrians and transit riders spend more money per month in purchases than do drivers, and that in North Beach and the Marina, 85 percent of customers arrive on foot, by taxis or on transit, and that in West Portal 59 percent of customers arrive on foot — but expanded hours of parking meter operation remain merely a 'ghost' proposal.
And yet, the seven directors — a fairly anonymous unelected lot — must be hearing rumors about proposed charter amendments for the November ballot that would distribute the power of appointment to the board away from the mayor.  Different ideas are floating around, and they include distributing appointment power to the Board of Supervisors, the Board of Education, the City College trustees, the Commission on Aging, the Mayor, and/or the Mayor's Commission on Disability.  And one former president of the SF Board of Supervisors, who shall remain nameless, recently made the tongue-in-cheek suggestion to distribute the power like this: three from the mayor, two from the Board of Supervisors, and two from the commissioners for the San Francisco County Transportation Authority.
Perhaps because of the rumors, the current directors have begun to give lip service to expanding the hours of parking meter operation and other measures.
"The Board is clearly moving in the direction of supporting parking meters on Sunday," said Chairman Tom Nolan at a packed meeting on February 26 to vote on proposed service reductions and other deficit closing measures.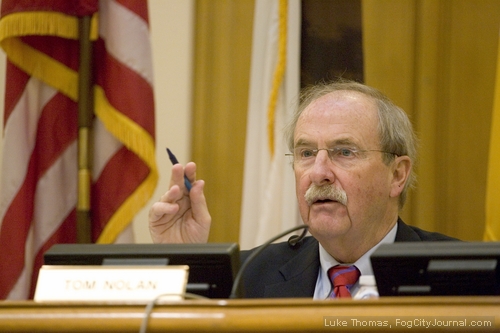 SFMTA Board Chair Tom Nolan.
"I'm disappointed by the vote of the TWU not to accept relatively modest concessions, [but] it's incumbent that we immediately start implementing a pilot project for extending the hours of parking meter operation to Sunday in four or five business communities," said Director Malcolm Heinicke.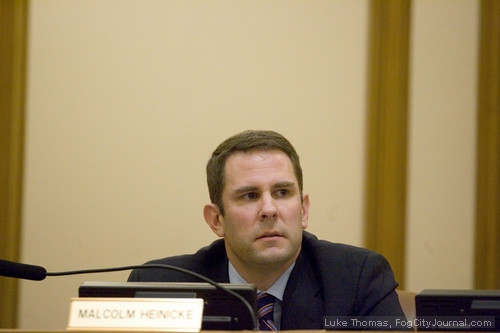 SFMTA Director Malcolm Heinicke.
Still, when they finally got down to voting on an item to create express route and cable car premium passes that will cost $70 a month, and another item to cut service across the board by 10 percent, both items passed four to three (Ayes: Malcolm Heinicke, Shirley Breyer Black, Bruce Oka, and Tom Nolan; nos: Cameron Beech, Jerry Lee, and James McCray).  Not one of the directors proposed amending the budget to expand the hours of parking meter operation.
So are the drivers completely to blame?  No, they aren't.
And I haven't even gotten to the police and the work orders yet …
On February 26, the SFMTA Board of Directors also voted to eliminate free parking for supervisor aides and commissioners in city-owned garages and to increase the annual cost of a residential parking permit from $76 to $96.  But they did not adjourn their meeting.  Instead, they recessed the meeting, which will give them an opportunity to revisit their votes when they meet next on Tuesday, March 2 at 12 noon in Room 400, City Hall.