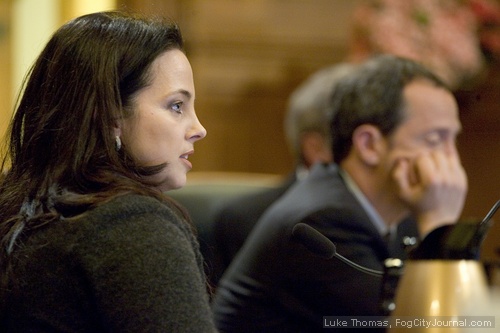 Supervisor Michela Alioto-Pier's efforts to repeal a 2006 voter mandate
requiring the mayor of San Francisco attend Board of Supervisors meetings,
was effectively killed yesterday.
Photos by Luke Thomas
By Nicholas Olczak
March 12, 2008
The Board of Supervisors yesterday dismissed Supervisor Michela Alioto-Pier's proposal to withdraw a Board rule which allocates the Mayor a monthly appearance at Board of Supervisors meetings.
A ballot measure, supported by 56 percent of San Francisco voters in 2006, requires that the Board's calendar for the third Tuesday of the month include an item for the Mayor to appear before the Board to "engage in formal policy discussions."
Mayor Gavin Newsom has refused to attend the meetings stating his appearance would lead to "political theater."
Yesterday's ruling does not compel the Mayor to attend the Board meeting but will continue to highlight Newsom's reluctance to be held accountable to his policies in open chambers.
Newsom ally Alioto-Pier has opposed the policy from the outset calling it a "political ploy that will create more divisive politics."
Because Newsom has chosen not to attend any of the Board of Supervisors meetings during his term, whether or not the item appears on the agenda might appear arbitrary. However, observers point to the symbolic value of calling for Newsom to attend meetings as a reminder to voters that Newsom obfuscates his obligation to answer to the will of the electorate.
"Excessive tension"
His appearance would help to mend tensions between Newsom and the Board according to Supervisor Ross Mirkarimi.
An "excessive tension exists between the executive branch and the legislative branch of government," Mirkarimi said.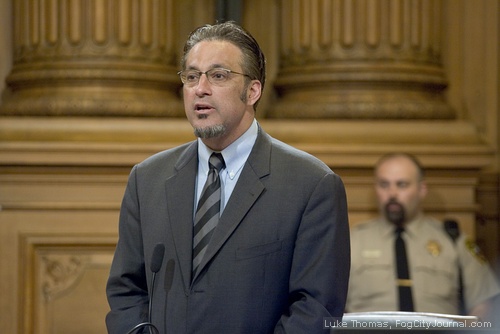 Supervisor Ross Mirkarimi
Mirkarimi and Supervisor Chris Daly co-sponsored Proposition E in 2007, a charter amendment ballot measure which would have compelled the Mayor to attend Board meetings. The measure was defeated by a slim 1.4 percent margin after Newsom raised $258,000 to defeat the measure.
Daly said Newsom's effort to defeat the measure was financed by corporations friendly to Newsom under the banner Let's Really Work Together Coalition.
"Proposition E drew the ire, I think, of some special interests in San Francisco… to narrowly defeat Propostion E," Daly said.
Daly listed PG&E, Committee on Jobs, Los Angeles-based Aecom Technology Corp, Warren Hellman, Bank of America, political consulting group Barnes Mosher and Whitehurst, and Bechtel Corporation as co-contributors for the campaign to defeat Proposition E.
"A measure that fails to pass on the ballot is not as significant as a measure that passes on the ballot," Daly contended. "Far fewer people voted against the charter amendment than voted for the policy statement."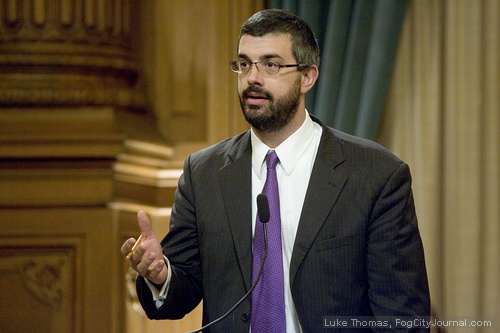 Supervisor Chris Daly
Supervisor Alioto-Pier contested Daly's conclusion.
"The move for a charter amendment was ultimately not supported by the people of San Francisco," Alioto-Pier said, adding that politicians could not just discredit election results they do not like.
The voters have clearly shown they wish to preserve the separation of legislative and executive powers throughout American Government, she argued.
Alioto-Pier declined to respond to Fog City Journal inquiry when asked if her position would be different if Board President Aaron Peskin, with whom she has clashed over political differences, was Mayor.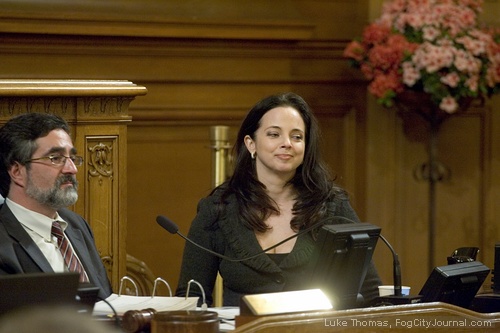 Board President Aaron Peskin and Supervisor Michela Alioto-Pier
"Maelstrom"
Yesterday's debate – inadvertently described as a 'male storm' by Alioto Pier – looked likely to spiral into a broader examination of Mayor and supervisor interaction until Supervisor Bevan Dufty proposed that the rule be left unchanged.
"This is a situation in which we could let sleeping dogs lie," Dufty said.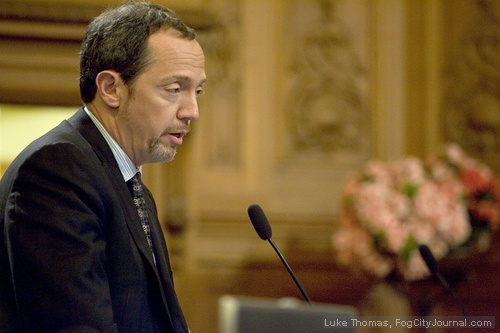 Letting sleeping dogs lie, Supervisor Bevan Dufty.
Supervisor Tom Ammiano supported Dufty's notion but made a more moderate bid for "opening up the dialogue" between the Newsom and the Supervisors, describing this as particularly important during the current budget crisis.
"It's never too late," Ammiano said.

Supervisor Tom Ammiano
Luke Thomas contributed to this report.