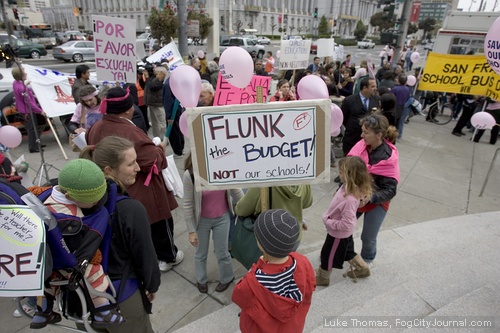 Teachers, families, union leaders and elected officials held a rally yesterday in San Francisco
to protest education budget cuts proposed by Governor Arnold Schwarzenegger.
Photos by Luke Thomas
By John Han
March 12, 2008
The California State Assembly is expected to vote today on a bill to place a 6 percent severance tax on every barrel of oil produced in the state.
If passed, the bill would be used to mitigate Governor Arnold Schwarzenegger's budget proposal to slash nearly $5 billion in education this year.
Those cuts come as part of a 10 percent reduction in spending statewide, in light of a $14.5 billion budget deficit looming over California's economy.
Hundreds of Bay Area teachers joined parents, elected officials, and labor leaders yesterday at a rally in San Francisco to protest the cuts that includes 535 layoffs in the San Francisco Unified School District as well as $40 million in slashed funds.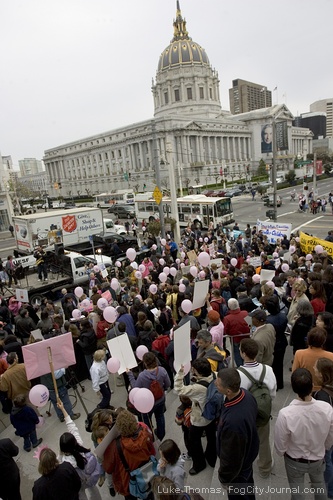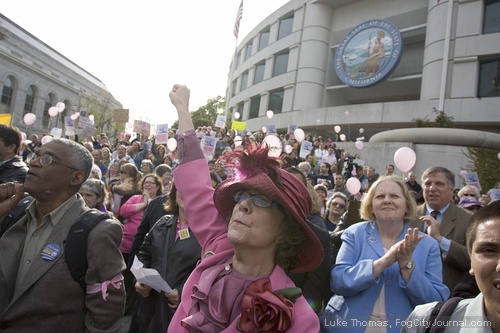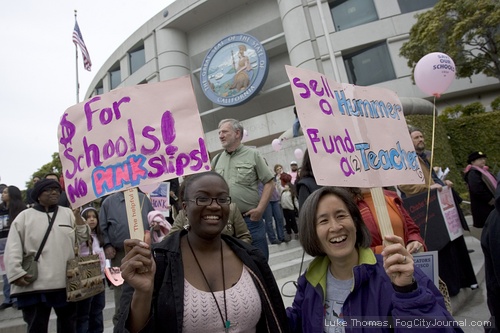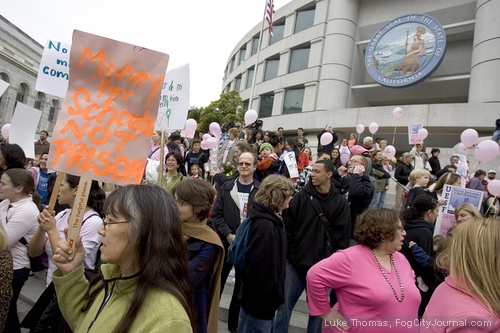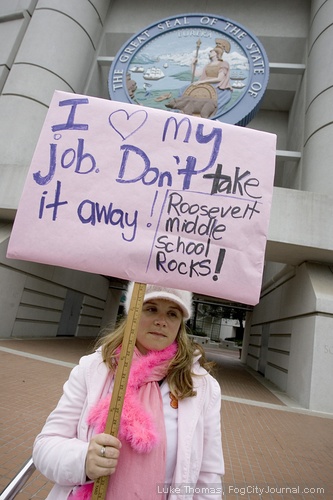 The California Teachers Association says that more than 8000 teachers have received pink slips statewide.
According to Assemblyman Mark Leno, California is the only state out of 22 oil-producing states in the U.S. that does not have a severance tax. He says the bill could generate as much $1 billion in annual revenues.
He said Democrats in the Assembly will propose a 2 percent windfall profit tax on the oil companies.
"We're going to put that money directly to mitigate teacher layoffs and save public education," Leno said to teachers and families attending yesterday's rally. "Our kids are too important, our teachers are too important."

California Assemblymember Mark Leno
Dennis Kelly, President of the United Educators of San Francisco, says Schwarzenegger's fiscal crisis is nothing short of what the governor himself has single-handedly created.
Kelly and other elected Democrats blame the Republican Governor's budget deficit on his repeal of the Vehicle License Fee in 2003. The law, a 2 percent sales tax on the purchase price of automobiles, has been in place for over 50 years. But Schwarzenegger, who, according to Kelly ran his campaign on rescinding the Vehicle License Fee, rescinded the tax in his first Executive Order as Governor. California, since then, has been paying money from the general fund to its local governments for lost revenues.
"He has created by eliminating the Vehicle License Fee, a deficit that is around $12 billion dollars," Kelly said. "We should not be making cuts in education and social services because of his ambition, and what he wanted to do to run for governor."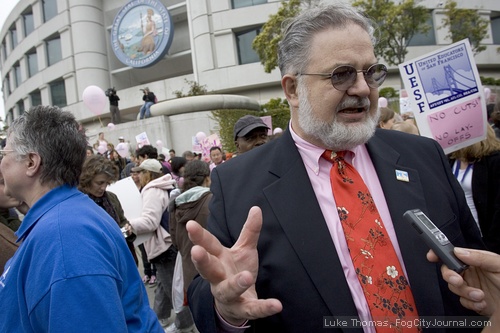 United Educators of San Francisco President Dennis Kelly
In addition to the severance tax, a proposal introduced by San Francisco Supervisor Tom Ammiano, has been included in the mayor's budget. The 'Rainy Day Fund' would put $31 million dollars of the city's general fund towards San Francisco schools to ameliorate the governor's cuts. Mayor Gavin Newsom praised Ammiano for his foresight and said the money will be used to help protect San Francisco teachers and schools.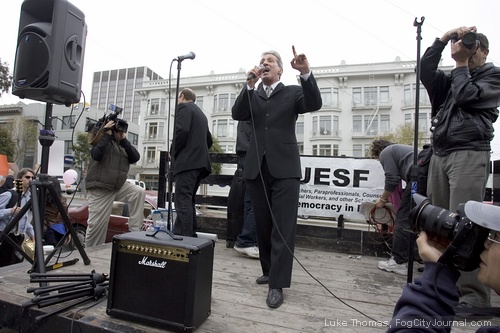 Supervisor Tom Ammiano
"This city is not going to sit back and wait for a solution from the state," Newsom said "So for those teachers out there that are worried about their jobs, know that that money exists and we're committed to sending it over to the school district."
He added, "But make no mistake. We should not have to do that, Governor Schwarzenegger. We should not be forced to be in a position where we've got to set our city money over to deal with the public schools."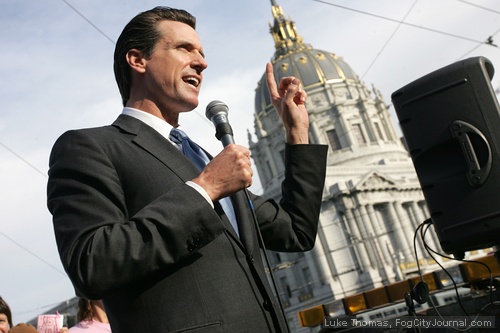 Mayor Gavin Newsom
Newsom told reporters that he feels certain there will be significant cuts at the state-level, but he said he doesn't expect the California Assembly to agree to the $4.8 billion cuts proposed by Schwarzenegger. He said that the governor, in the end, might likely agree to new taxes to offset the state's budget shortfall.
That could come as a relief to Danielle Munson, a Language Arts teacher at Rooftop Elementary School in San Francisco. She heard on the night before the rally that she was going to be issued a pink slip. Munson says that even before the governor's proposed cuts, her school has been under-funded.
"All of us are still going to work just as hard as we always have. But sometimes when you're putting in twelve to thirteen hour days, and you don't feel like you're going to have a job next year, it's really demoralizing and depressing," Munson said. "And I have a mortgage to pay. I may just have to leave, and that would be really sad."
California currently ranks 46th in the country in per-pupil annual expenditures, spending less than $7,100 per student, according to an Education Coalition report. Should the state assembly agree to Schwarzenegger's cuts, California would fall to last place.