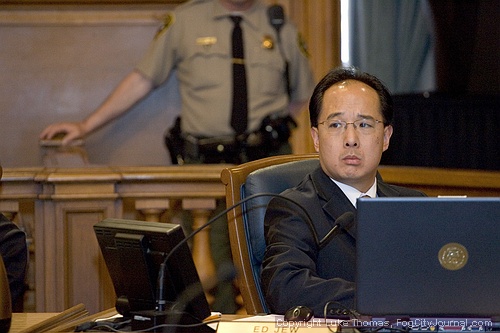 Prosecutors asked a federal judge Tuesday to reject a bid
by former San Francisco Supervisor Ed Jew – who resigned his post amid allegations of corruption –
for an evidentiary hearing into possible misconduct in Jew's extortion case.
Photos by Luke Thomas
By Julia Cheever
March 12, 2008
U.S. prosecutors asked a federal judge yesterday to reject a bid by former San Francisco Supervisor Ed Jew for an evidentiary hearing into possible government misconduct in Jew's pending extortion case.
Prosecutors said in a brief filed with U.S. District Judge Susan Illston in San Francisco that there was no misconduct related to a possible conflict of interest on the part of Jew's former defense lawyer.
The federal attorneys wrote, "Jew's factual assumptions are demonstrably false."
Illston will hold a hearing on March 21 on Jew's request for an evidentiary hearing.
Jew, 47, faces five counts of bribery, mail fraud and extortion for allegedly trying to extort $84,000 from the owners of tapioca drink stores and a dessert cafe in exchange for help in obtaining city permits. His trial date has not yet been set.
Jew resigned from his supervisor post in January.
Jew argued in a motion filed last month that prosecutors should have more thoroughly investigated a possible conflict of interest on the part of Jew's former defense attorney, Steven Gruel. He said the possible misconduct could be grounds for seeking dismissal of the indictment.
The federal probe of Jew began after Gruel at the request of state Sen. Leland Yee, D-San Francisco/San Mateo, told the FBI of allegations of the extortion effort. Gruel was acquainted with FBI agents because he was a former federal prosecutor. After being asked by Jew to be his defense attorney, Gruel obtained a waiver from Jew of any conflict of interest.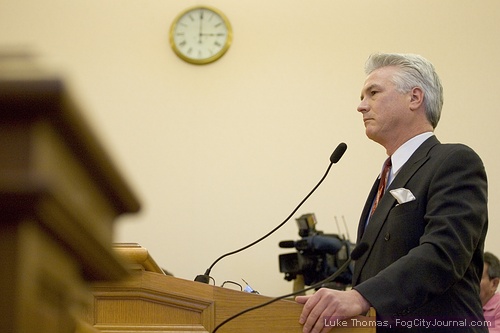 Attorney Steven Gruel
Jew's new attorney, Stuart Hanlon, alleged in last month's filing that Yee was a "known political opponent" of Jew. Hanlon said Gruel may have had an attorney-client relationship with Yee and charged that the case may have been "a calculated attack on Jew" that was "clouded by political backstabbing."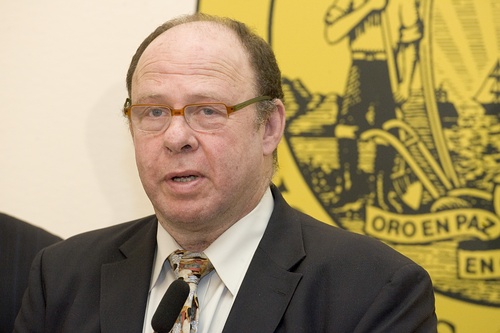 Attorney Stuart Hanlon
Jew's brief argued that prosecutors' failure to look into those allegations may have been misconduct.
Prosecutors said in Tuesday's filing the alleged conflict is "non-existent." They said Yee played no role in the case other than passing on the information and will not be a trial witness and that Gruel was never Yee's attorney.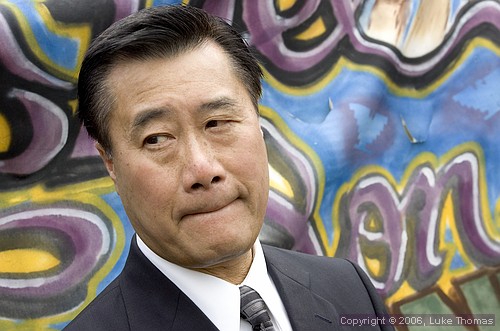 Senator Leland Yee
The prosecution brief contends Jew's motion is "long on speculation and short on . . . legal theory" and says there is no basis for seeking dismissal of the charges.
In addition to the federal charges, Jew faces separate state criminal charges of lying about his residence when he allegedly lived in Burlingame rather than San Francisco when running for office in 2006.
More info
Declaration of Attorney Steven Gruel
Declaration of Senator Leland Yee
Declaration of Special Agent J. Christopher McDonough
Declaration of U.S. Assistant United States Attorney Michael Li-Ming Wang