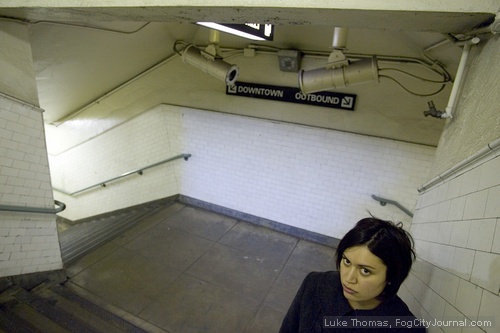 Elaine Santore
Photo by Luke Thomas
By Elaine Santore
March 14, 2008
Spitzer escort becomes the latest notorious nobody
Whenever my dad visits his family in upstate New York, they always ask him, "So, how's your governor?"
I guess Dad will be asking them the same question this summer, but that won't make California Gov. Arnold Schwarzenegger any less embarrassing.
Years from now I'll be asked where I was at the exact moment I found out New York Gov. Eliot Spitzer, client #9, was caught soliciting prostitutes. Maybe by then I'll remember.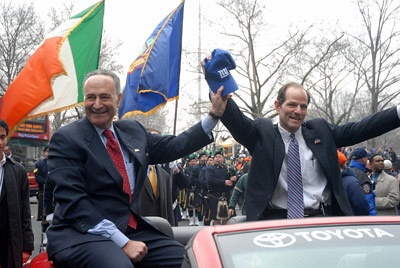 Sen. Charles Schumer and New York Gov. Eliot Spitzer
at the New York Giants Super Bowl victory parade in February.
You had your parade, Spitzer, and they can't take that away from you!
Photo courtesy WireImage.com
But Spitzer isn't the big story anymore. His alleged escort "Kristen," aka 22-year-old aspiring singer Ashley Alexandra Dupre, has become quite the internet celebrity.
The New York Times discovered Dupre's MySpace profile. She also has a Facebook profile, and there are several fake Facebook profiles with her name and likeness. There's even a fake Tumblr dedicated to her.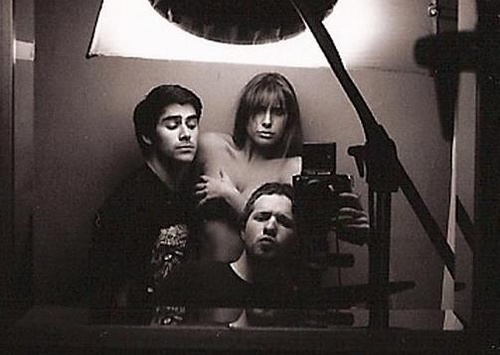 Ashley Alexandra Dupre (center).
Photo via MySpace.
The glare of the spotlight apparently became too much for Dupre who fled her New York apartment this morning. But I have a feeling that won't be the last we've seen of her.
The lesson here, kittens: set your Myspace profiles to "private." (Even though this doesn't actually protect you.) Or just don't have a Facebook profile at all, as it takes quite a bit of effort to erase one.
And for SF politicos, don't get caught with your pants down with any hookers. Duh.
I guess this is the point in the column where I find some sort of local angle. But that's not really necessary.
I'm talking about the race, but you want to talk about race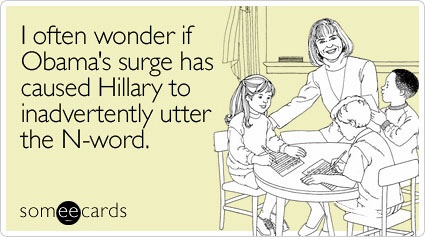 Image via someecards.com
Everybody's talking about black people. And for once Kanye West is not involved.
First, Sen. Hillary Clinton fundraiser Geraldine Ferraro started talking about Senator Barack Obama's race. Then a YouTube of Obama's pastor and spiritual advisor, retired Rev. Jeremiah Wright, began circulating which included a sermon about race.
This put the mainstream media in a bind: they don't want to talk about race, but they don't want to not talk about somebody else talking about race.
It's all very complicated.
As a mixed race person, only a certain percentage of me can speak on this topic. But the other percentage doesn't want to look racist.