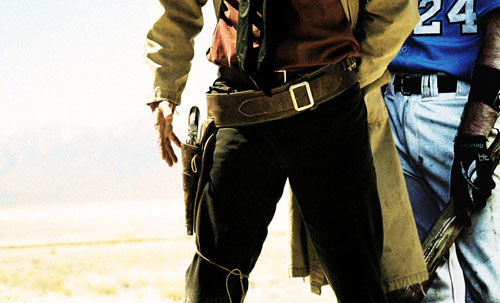 Promo photo courtesy www.theshowdownmovie.com
By Luke Thomas
April 16, 2008
A resolution introduced by Mayor Gavin Newsom yesterday is headed for a political showdown, Fog City Journal has learned.
The resolution, if passed by a simple majority of the Board of Supervisors, would make it official city policy to restrict the allocation of general funds for specific uses.
"The proposed legislation would make it the official policy of the City and County of San Francisco," Newsom wrote in a statement, "that no new set-asides or other mandatory appropriations be added to the City Charter unless the measure also identifies or provides a specific, adequate new source of funds."
The earmark restriction is necessary, according to Newsom, because set-asides limit "the ability of both the Mayor and [the] Board of Supervisors to effectively respond to budget deficits, and has led to reductions in important public services due to the declining portion of the budget available for discretionary spending."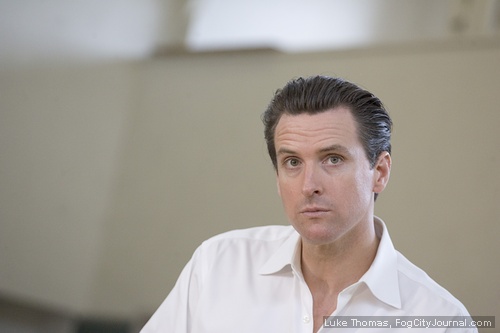 Mayor Gavin Newsom
In other words, Newsom, who has never opposed set-asides until now – and has authored two of his own – is now attempting to consolidate executive power over the Board of Supervisors by dictating how best to spend taxpayer dollars, all the while being wholly responsible for the current $330 million budget deficit.
Newsom's action, once again, reeks of duplicity and hypocrisy.
Responding to Newsom's resolution, Supervisor Chris Daly wrote in an email to Fog City Journal, "Gavin Newsom has authored two set-asides (MTA and Open Space) and actively supported nearly every other set-aside on the books, totaling over $500 million per year."
Daly continued, "Newsom has never opposed a set-aside. During the 2003 Mayor's race, he made a significant issue of Matt Gonzalez's opposition to the Public Education Fund."
Reached for comment, former Board of Supervisors President Matt Gonzalez criticized Newsom's resolution. "This is pretty disingenuous coming from Newsom given that he's supported set-asides his entire political career," Gonzalez said.
"It's classic Newsom simply flipping his position to fight back against Daly's affordable housing set-aside," Gonzalez added.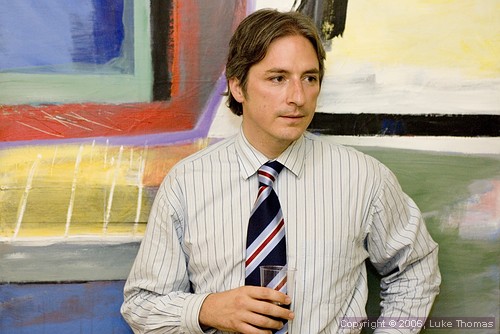 Former Board of Supervisors President Matt Gonzalez.
But here's where the rubber will meet the road. Upon learning of Newsom's resolution, Board of Supervisors President Aaron Peskin assigned the resolution to be heard in the Rules Committee, a committee Peskin assigned Daly committee chair.
"President Peskin informed me that he's referring Newsom's resolution to the Rules Committee," Daly wrote. "As Rules Chair, I am committed to calendaring the item to accommodate Gavin Newsom's personal appearance."
"I am interested to understand the impetus for Newsom's newfound position," Daly continued. "Further, I am interested to find out the Mayor's position on statements of policy, generally speaking."
Mayor Gavin Newsom was not immediately available for comment. Stay tuned for further updates.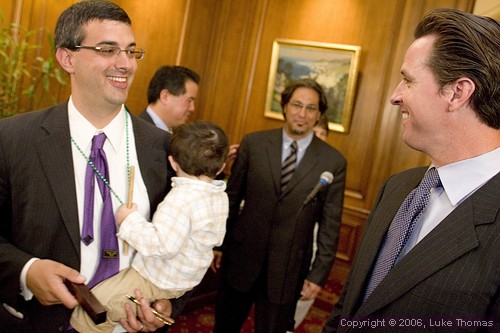 Supervisor Chris Daly and Mayor Gavin Newsom.