Harry Britt speaks at the Harvey Milk Club dinner on June 17, 2008.
Photos by Luke Thomas
By Elaine Santore and Luke Thomas

June 18, 2008
Fog City Journal attended the Harvey Milk Democratic Club annual buzzfest yesterday to celebrate the club's 30th anniversary and to celebrate a historic victory for civil rights.
Sean Penn, who plays Harvey Milk in the upcoming and highly anticipated movie Milk, attended the spirited soirée with his equally attractive wife, Robin Wright Penn. Milk screenwriter Lance Black, director Gus Van Sant, and Penn, combined to provide the evening's keynote speeches.
Awardees included Supervisor Tom Ammiano, City Attorney Dennis Herrera, Roma Guy, and POWER (People Organized to Win Employment Rights).
Watch more interviews, speeches, and outtakes on FCJ's YouTube Channel. The outtakes include Supervisor Ross Mirkarimi discussing organic farming and the importance of moving San Francisco towards a self-sustainable eco-model in a post-peak oil world. Green Party candidate for Congress Barry Hermanson discusses the US military budget, and Tony Gantner discusses his emergence as a progressive frontrunner candidate in the race for district 3 supervisor. Oh, and just for kicks, Chris Daly and Ross Mirkarimi discuss "flying Persian."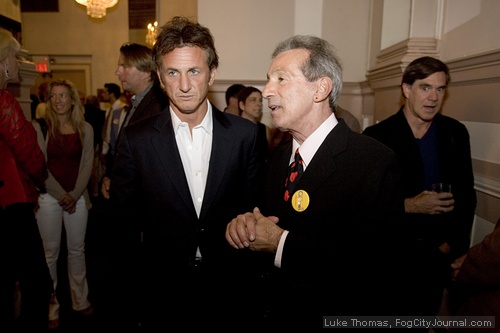 Sean Penn, Supervisor Tom Ammiano, and director Gus Van Sant.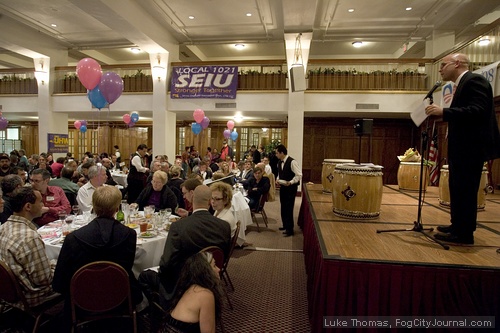 Harvey Milk Club President Rafael Mandelman.


Harry Britt watches archival footage of himself.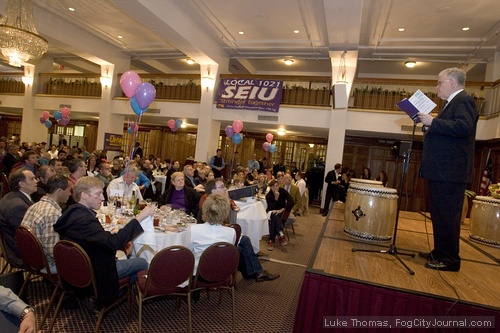 Harry Britt described 1978, the year of Harvey Milk's death,
as "The worst of years and the best of years."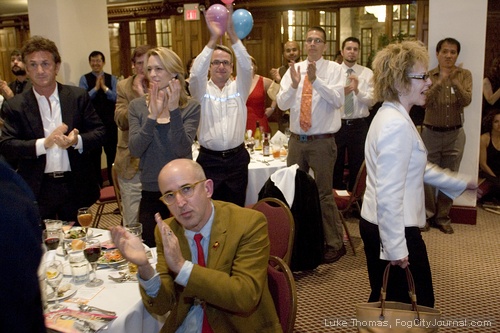 Sean Penn, Robin Wright Penn, Brian Basinger,
and State Senator Carole Migden.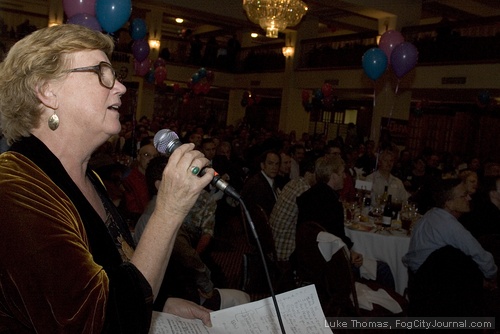 Holly Near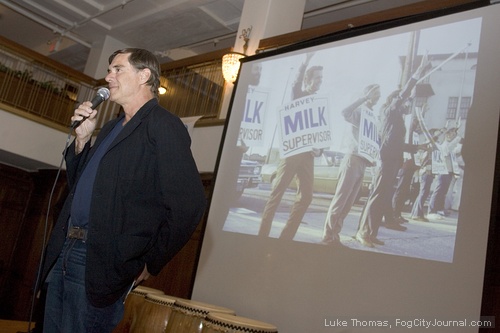 "Milk" director Gus Van Sant.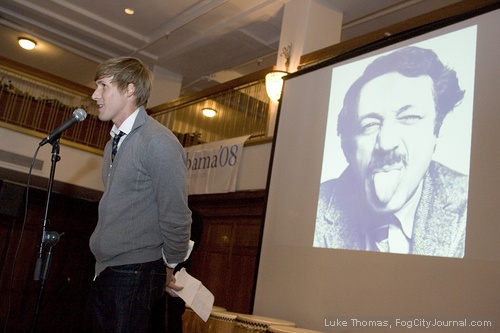 "Milk" screenwriter Lance Black.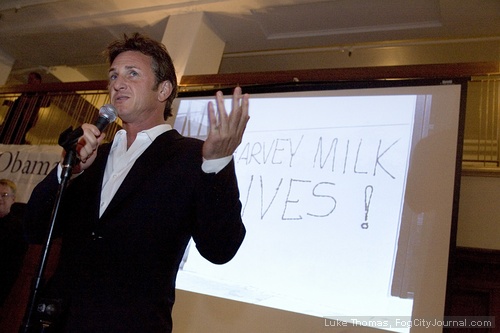 Actor Sean Penn: "…it could only have been Gus Van Sant and Lance Black
and Cleve Jones to bring out my inner gay man. My wife's still looking for it!"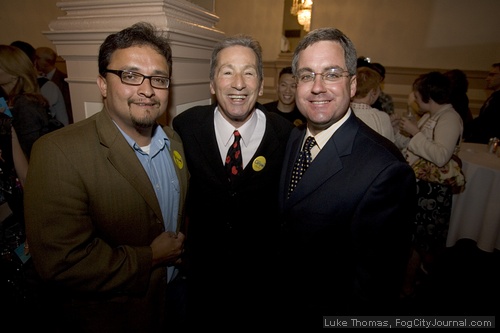 District 9 supervisor candidate David Campos, Supervisor Tom Ammiano,
and City Attorney Dennis Herrera.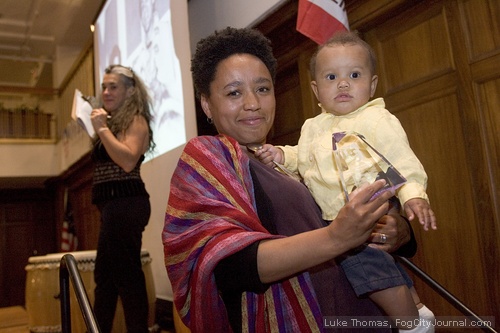 Harvey Milk Community Service Award Winner N'Tanya Lee
of Coleman Advocates.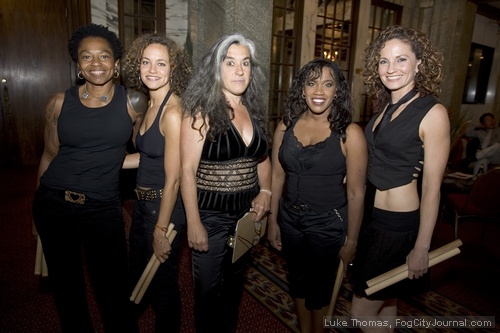 Maiden of ceremonies Krissy Keefer (center) and Dance Brigade.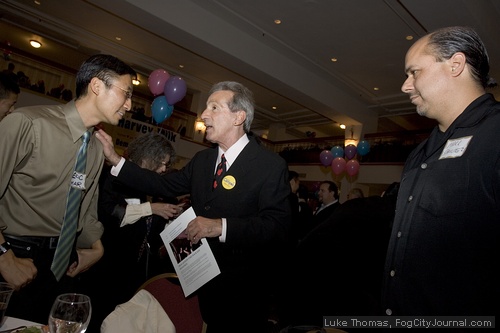 Board of Education member and District 1 supervisor candidate Eric Mar,
Supervisor Tom Ammiano, Board of Education President
and District 9 supervisor candidate Mark Sanchez.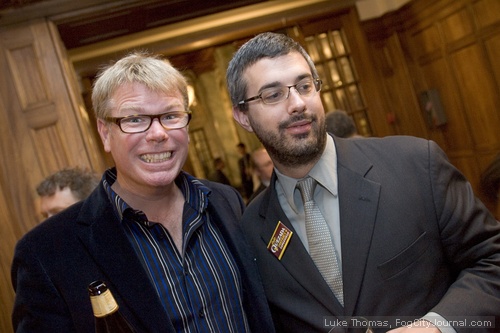 SF Party Party's Ted Strawser and Supervisor Chris Daly.
Learn the story about Ted's site getting hacked here.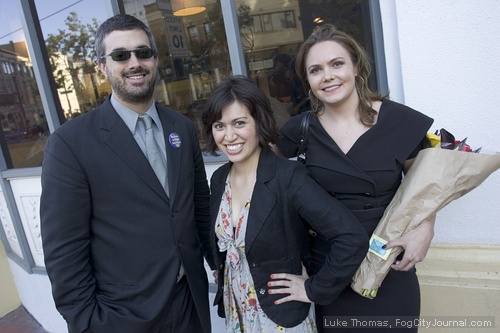 Supervisor Chris Daly, Elaine Santore,
and Obama Regional Pride Director Tanene Allison.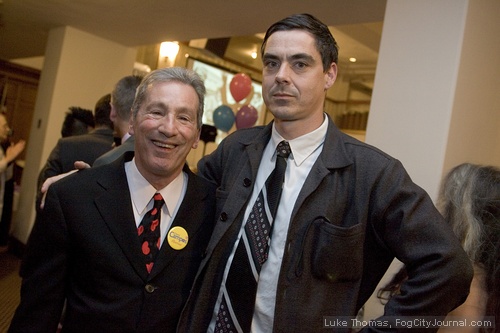 Supervisor Tom Ammiano and Whatshisname from Ross' Office doing The Pose.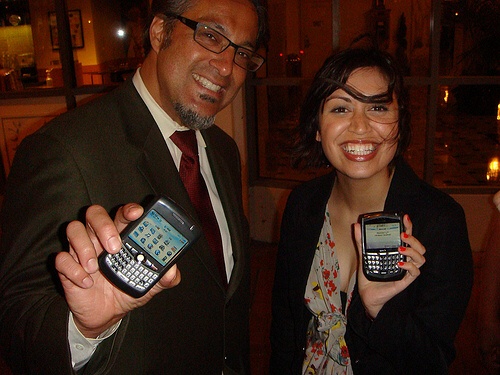 Supervisor Ross Mirkarimi and Elaine Santore with their CrackBerries.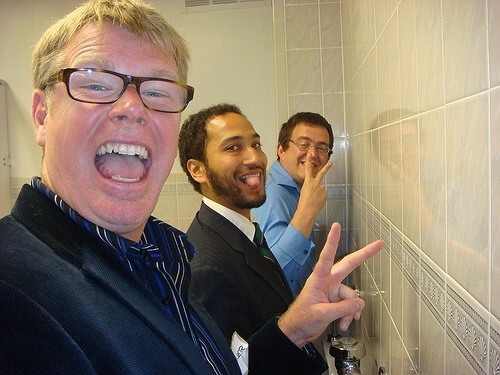 Fog City Urinal lives.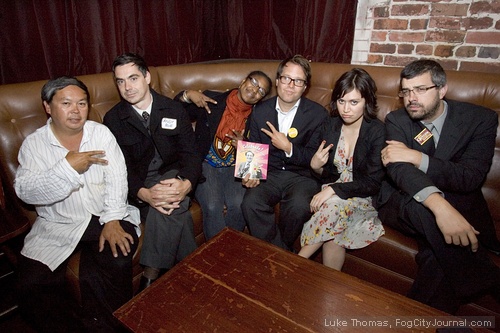 The after party: Frank Chu, Whatisname from Ross' Office, POWER's Alicia Schwartz,
Andy Blue, Elaine Santore, and Supervisor Chris Daly stopped by Mr. Smith's.