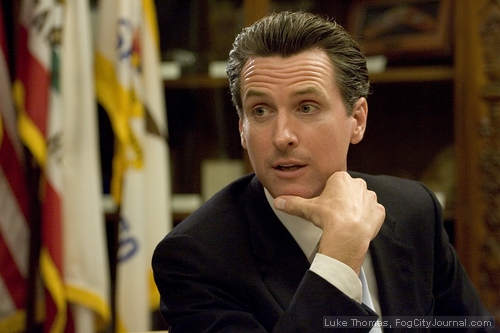 San Francisco Mayor Gavin Newsom's proposal to auction taxi medallions
to help close a $576 million budget fiasco will cause more harm than good.
Photo by Luke Thomas
By Veena Dubal
April 8, 2009
"I drove you to Harris' Steak House once. Do you know that I have never eaten there? The best I can do is McDonald's. And you want to take the happy meals out of the mouths of my children to make yourselves happy!"
– Taxi driver to a SFMTA Board Member during the Taxi Charter Reform Meeting.
A few months ago, via the San Francisco Chronicle, Mayor Gavin Newsom announced a scheme that would fix part of the City's $576 million budget crisis. The City would take medallions (permits that give taxis the right to be on the road) away from working drivers and put them on auction. This, Newsom surmised, would generate millions of dollars for the City and improve service.
Mayor Newsom has since been called on his bluff.
Interests from across this deeply divided industry – including some companies, medallion holders, non-medallion holders, the United Taxi Workers, and the Asian Law Caucus – have come together to oppose this plan and to make it known that this will have a detrimental impact on service and on the lives of the 7000 working drivers in this City.
The plan would put thousands of drivers who cannot afford medallions on the streets and place others in massive debt. San Francisco would lose its experienced core of drivers who stay in the industry because of the dream of owning a medallion. Those who can own a medallion would have little incentive to drive and therefore little incentive to keep their cars in good working condition. The intense debt that medallion-holders would incur would also likely be passed on to both the driver (lease increase) and the public (meter increase). These concerns gave way to the formation of the Coalition to Protect Proposition K (which made medallions non-transferable).
The widespread public outcry from the taxi industry culminated yesterday at the SFMTA board meeting. Medallion and non-medallion holding drivers came out in droves to speak during public comment and tell the board what kind of impact medallion privatization would have on their lives. Officers ushered the masses of drivers out of Room 400 into two overflow rooms. Threatening rumblings of a taxi strike brought massive applause and support from attending drivers.
The testimony was extremely moving. One driver, a single immigrant mother, spoke about how hard it has been to raise her three children as a taxi driver and what stealing her opportunity for a medallion would mean.
"As a professional cab driver, I invested my time toward the goal of owning my own medallion; not only as an investment but as a way to insure my older future with dignity. Selling the medallions will rob me and some 3000 other drivers of this opportunity, keep us in poverty and driving too many hours."
Her testimony was followed by the touching testimony of her daughter.
Veteran taxi activist and driver Mark Gruberg told the SFMTA that they would be opening a "Pandora's Box" and pointed out that both Mayor Newsom and Director Nathaniel Ford had made public promises to respect and not alter the medallion system in San Francisco.
Another elderly driver pointed to his tooth and said, "See this! I can't even afford to fix it; I don't even have health care! And you want to take my medallion?"
The work of the Coalition to Protect Proposition K landed a story and video in the Wall Street Journal.
Next steps include a consumer campaign – and this means YOU can take action!
Make a quick call to Mayor Newsom's office and express your concern. This small effort will have a tremendous impact on the lives of thousands. The number is (415) 554-7111. You can also email him at gavin.newsom@sfgov.org.
Here is an example of what you can say:
"I am a citizen of San Francisco. I read about Mayor Newsom's plan to privatize medallions in the City. I think this is a terrible idea. The Mayor should not try to fix Muni's budget on the backs of hard-working immigrant workers. The plan will have a devastating long term impact on the taxi industry and service. I encourage the Mayor and the Municipal Transportation Agency to come up with alternate funding ideas."
Please encourage your friends to do the same — the more people who call the Mayor, the more effective we can be. I just did it — it took 30 seconds and was very satisfying.
Veena Dubal is an attorney and Berkeley Law Foundation Fellow at the Asian Law Caucus.  Veena's taxi project helps to address and remediate the labor conditions in San Francisco's largely immigrant taxi driver community.  She also focuses on issues of civil rights and national security.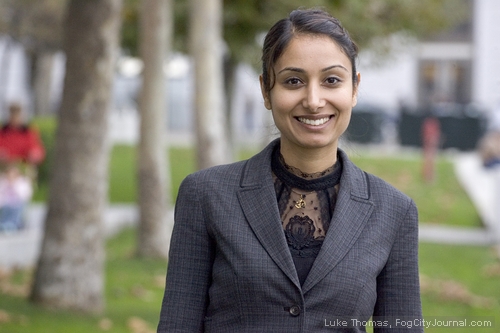 Veena Dubal