By Greg Kamin
June 17, 2011
Three candidates for San Francisco District Attorney presented their cases for why each of them should be elected to the job, speaking in a packed room at the LGBT Community Center, Wednesday, to an audience of mostly campaign workers and volunteers, media types, assorted politicos, and members of the sponsoring organizations, including the Alice B. Toklas LGBT Democratic Club, San Francisco Young Democrats, and the City Democratic Club. And, perhaps, a few people like myself who are none of the above, uncommitted to any candidate and just wanted to hear their views on the issues.
Given the makeup of the sponsoring clubs, I would have expected the audience to lean somewhat to the right.
But judging strictly by the applause-meter, the clear winner was David Onek, a criminal justice expert and former San Francisco Police Commissioner who is the founding executive director of the UC Berkeley Center for Criminal Justice. Onek is running as a reformer and an "outsider," yet he's no stranger to the halls of power. His father was once senior counsel to House Minority Leader Nancy Pelosi, and his father-in-law is Michael Dukakis, the former governor of Massachusetts and the 1988 Democratic nominee for president. He served in Mayor Newsom's Office of Criminal Justice before being appointed by Newsom to the Police Commission. Still, his message that only an outsider can reform the criminal justice system, seemed to resonate with the audience.
Running against him are current DA George Gascón, and Alameda County Assistant Prosecutor Sharmin Bock.
Gascón is a Republican-turned independent-apparently now turned Democrat (as of 2011) career cop, whose head-spinning party-switching over the course of the last two years is matched only by the swiftness of his promotions by his former boss Gavin Newsom. Gascón is a native of Cuba, having come here on one of the "freedom flights" during the wave of Cuban immigration that would eventually form the backbone of South Florida's right-wing Cuban American community. Eventually he settled in for a long career in the LAPD before taking a gig as a small-town police chief in Mesa, Arizona. Along the way he picked up a law degree at the non-ABA accredited Western State University School of Law. Then in 2009, his career really took off. Newsom plucked Gascón from obscurity and handed him the reigns of the SFPD, and then after barely a year on the job, appointed him District Attorney in an unexpected move to replace Kamala Harris, who had been elected California Attorney General. Gascón stressed his experience throughout the night. Incidentally, Western State did eventually receive its ABA accreditation in 2009, and Gascón is now in the school's Hall of Fame as its most famous alumni.
Sharmin Bock is the most recent entrant into the DA race. Her angle is that she's a 21-year career prosecutor, unlike the other candidates. She stressed that she has prosecuted every type of case during that time, but a definite running theme emerges in her resume, with a strong emphasis on sex crimes and trafficking. The Iranian-born Bock is also an avid equestrian and co-founded a business that sells horse treats, with a portion of the proceeds going to fund a safe house for young trafficking victims that she hopes to establish. She boasts a 96% conviction rate, which is pretty impressive, if not completely atypical, when you think about it. It means that either DAs are almost always right and defense attorneys are almost always wrong… or maybe there's something a little bit off kilter in a justice system where virtually everyone brought to trial is found guilty.
The candidates all did a good job of hammering away on their key campaign themes: reform for Onek; managerial experience for Gascón; and courtroom experience for Bock. But I think those who expected a vigorous debate on the issues were left a little disappointed. The short time limit, and the fact that the moderator asked different questions to different candidates, limited the possibility of too much debate. But part of the reason lies with the candidates' own choice of what to focus on.
All three know they're running in a progressive city, so they're aware of the consensus on a number of issues, and no candidate wanted to disturb that consensus. Bock stressed in her introduction that "all three candidates agree that San Francisco should be a sanctuary city… three strikes should be reserved for violent felons… and there should be more diversion programs."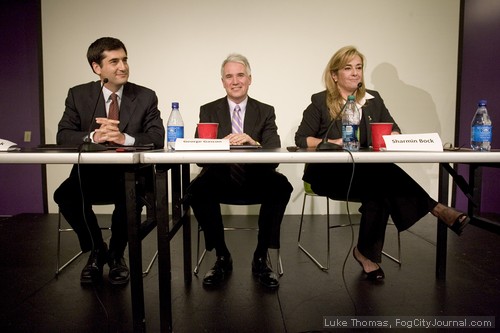 Gascón, who many see as close to San Francisco's conservative wing, notably softened his tone. He had been a major backer of the city's Sit/Lie ordinance, and had made a major early misstep by claiming that the Hall of Justice "is susceptible not just to an earthquake, but also to members of the city's Middle Eastern community parking a van in front of it and blowing it up." There was none of that last night. Instead, Gascón emphasized how he "took a strong stand against hate" during his stint in Arizona, and claimed to have lowered not just crime, but also incarceration. He even declined to defend Sit/Lie when Bock said, "both sides agree Sit/Lie hasn't worked."
Onek, for his part, emphasized the popular aspects of his tenure on the Police Commission, such as championing the Hot Spots Policing program, which he credits for a 50 percent drop in the homicide rate. He also emphasized his support for immigrant rights, though to a greater degree than Gascón , not only "taking a stand against hate," but saying that he would opt out of Secure Communities and taking a stand in support of Supervisor David Campos' due process legislation which mandates undocumented youth must first be convicted of an alleged crime in a court of law before being turned over to immigration authorities for deportation proceedings.
All three candidates also agreed that minor drug offenders shouldn't be incarcerated. Bock said "personal use [of drugs] belongs nowhere near a jail cell," and went on to emphasize restorative justice and addiction programs. Onek said much of his career has been focused on restorative justice, and he plans to introduce a pilot program. Even Gascón said that he didn't believe people should be incarcerated for personal use, that he believes marijuana should be decriminalized, adding,  "the reality is that here in San Francisco people are not being incarcerated and people are not being tried for personal use."
Neither of the other candidates challenged him on that assertion, and yet this is just one example of where rosy rhetoric runs up against reality. Reality is that it happens – all the time.
The only actual issue where the candidates discussed any difference at all between them was the death penalty. Understanding that the death penalty is political poison in progressive San Francisco, both Gascón and Bock claimed they are "personally opposed." But when pressed on whether they would rule out using it, both pointedly refused to do so. Onek was the only candidate who would rule out seeking the death penalty, and used this difference to illustrate the example of how neither Bock nor Gascón could make a clear commitment, because they are both part of the system he's trying to reform.
Still, I must admit that the whole thing left me somewhat underwhelmed. I wanted to hear what the candidates had to say on a whole number of issues that have nothing to do with street crime, including prosecuting political corruption, police reform and prosecuting brutality, corporate crime, prosecuting illegal evictions, labor law/sweatshops/minimum wage and working conditions violations by employers… this is all crime too, and some of it is far more damaging than most forms of street crime. Not a single word was said about any of this.
I wanted to see a reformer… a visionary, someone who would truly break with establishment politics. But for me at least, that candidate did not emerge last night.
George Gascón's rhetoric gave the impression that he's just the nicest, sweetest DA we've ever had. It's a real pity that neither of the other two candidates chose to challenge him on that rhetoric. He waxed poetic about punishing bad cops. And yet Public Defender Jeff Adachi recently released a tape showing gross police misconduct, perjury, and breaking into a Tenderloin apartment without a warrant. And what happened to those officers? Were they arrested and taken to jail? No, they're on "paid administrative leave," which means they're collecting paychecks of $2500 per week (give or take) for sitting at home. Given the record of prosecuting bad cops, there's virtually no chance they'll ever see a day in jail. Oh, and by the way, the tapes also show people being arrested for simple possession, something DA Gascón told us last night doesn't happen under his watch in San Francisco. And what about the crime lab scandal? What about cops spying for the FBI? What about cops who waged a war against DJs, busting parties and stealing laptops? All of these things were happening under his watch as Police Chief and DA, and yet neither of the other candidates took issue with any of it.
Sharmin Bock claims on her website that she has prosecuted "nearly every kind of crime." And yet, "nearly every kind of crime" apparently doesn't include any of the crimes I mentioned above. Maybe it would've been more accurate to say that she prosecuted nearly every kind of *street* crime there is. I certainly don't hold it against her if she hasn't prosecuted every single type of crime. But when corporate crime, political corruption, police abuse, and crimes against tenants and workers are so far off your radar map of what it is that a district attorney should even do, then is this really the kind of person to reform the DA's office?
I followed up with Bock's campaign to see if she had *ever* prosecuted any of these crimes. I also asked campaign manager John Gollinger if she has ever prosecuted someone for simple possession, given how strongly she came out against that kind of thing. He didn't immediately know the answers to my questions, but did offer that Bock heads the Public Integrity Unit in Alameda County. I said that's great, and asked him to name a political corruption case she's prosecuted as part of that unit. He didn't know of one, and said he'd get back to me. I'll post an update if I get one, but color me skeptical for now.
David Onek certainly talked the most about reform, and judging by audience reaction, he hit a lot of the right notes. He gets props for being the only one to even mention police abuses on his website. Yet, as Gascón pointed out, Onek is no stranger to positions of power that would have given him an opportunity at reforming the criminal justice system he says is broken. To underscore his point that Onek is not really an outsider, Gascón thanked Onek for being on the Police Commission, the very body that helped get Gascón his job as police chief and the DA job he has now. And how were Onek's votes while he was on the Commission? People who work closely with the police commission tell me that he mostly votes with the majority appointed by Gavin Newsom. One of the most egregious has been his vote for tasers in the wake of the Oscar Grant killing (which all three candidates support), something that virtually every police reform organization and community group recommended against. Again, a lot of what he is saying about restorative justice and reform sounds great, but will he follow through and carry it out?
Funny thing about this election, in the mayor's race, where we have a truly broad-based choice of candidates to represent every political view, you see all sorts of corporate media-covered astroturf campaigns clamoring for this or that candidate to jump in. One gets the sense that the people in power are really dissatisfied with the way the race is going. Either that, or afraid! But in the DA race, where all the candidates are tripping over each other to say how committed they are to reform without demonstrating much of anything concrete, you don't see any of that same urgency in the corporate press. Maybe the fact that none of the city's powerbrokers seem particularly uncomfortable about any of these candidates is the best reason of all for someone else to jump in. If no one does, then one of these three will be DA. But for now, this voter walked in uncommitted, and remains uncommitted after hearing what they had to say.