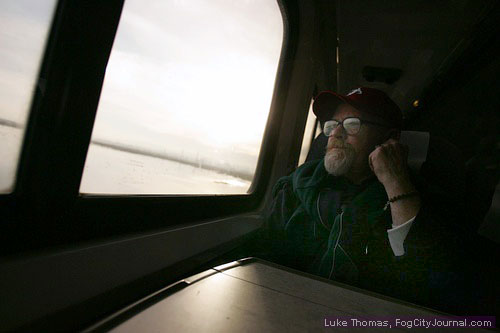 h. "Court Jester" brown.
Photo by Luke Thomas
By h. brown
March 25, 2008
"I didn't know you wanted me to do anything."
(PUC's Barbara Hale to Lafco)
For smug bureaucrats who love to rub it in, I rate Hale in a tie with Matt Franklin. I've watched them both for years – they delight in pretending not to understand anything the Board or anyone else says to them.
Experts at delay.
The statement above came when Supervisor Ross Mirkarimi asked Hale for the report on something or other they'd asked her to prepare, and she explained that when they told her to "Bring back a report," she thought they meant a verbal report so she hadn't bothered to write down all those numbers and things.
This is the lady that Supervisor Bevan Dufty accused PUC Commissioner Dick Sklar of "verbally abusing" over her shoddy work on a contract (his specialty), and I can certainly understand how she could frustrate the Dalai Lama.
Her normal dress is totally Goth and when a supe asked her about it one day she replied, "I didn't know today's color was blue." Touché!
If she appears today, it will be for Item # 8, yet another contract in which the crack staff at the PUC has farmed out – work that could have been done in-house – then allowed huge overruns. You can see Matt Franklin's smiling face when Item # 15 is heard.
So, here's today's Board agenda and my guesses as to which items will burn you the most and how they're linked to form the ongoing process of gentrification.
Bulletin: Just learned that Board President Aaron Peskin has done the noble thing and sent Supervisor Chris Daly's symbolic protest of the Chinese attacks in Tibet to the Rules Committee this Thursday. That's great news 'cause Daly chairs Rules and Supervisor Tom Ammiano is certainly sympathetic, Dufty, I don't know.
Full Board Agenda
Item # 4 Standards for care in Homeless Shelters
The Mayor's office was able to gut this one last week in conjunction with the City Attorney's office. The whole idea was for the Shelter Monitoring Committee to be able to write citations against shelters lacking basic supplies. The Mayor's Office had it changed to having the Director of the Health Department (Dr. Mitch Katz) and his people write the citations.
This means no citations will be written.
The Shelter Monitoring Committee exists because the Health Department didn't do their job monitoring these places in the first place. Their avowed goal is to get rid of all of the shelters (before providing other facilities) and making the system both hard to access and miserable to stay in – a good way to drive all the poor who are able to walk, out of town.
Item # 6 Emptying Laguna Honda of elderly poor people
This is the one where Peskin broke the law by not allowing Public Comment (Patrick Monnette-Shaw was not going to sing to him like Walter Paulson does). The City intentionally lost a law suit which was brought in conjunction with commercial nursing home interests – a real shady deal. Bottom line is that by losing the lawsuit, the City is able to remove 500 more seniors from Laguna Honda Hospital. What was 1,200 is down to 1,000, and with this lawsuit, it will be down to 500.
The City is getting out of the business of caring for the poor and the infirm. It's never been a big money maker.
I have a suspicion that this item is tied to Item # 15 which brings us back to Matt Franklin.
This is a request to let the Housing Director (that's Franklin) snag $38 million in mortgage revenue bonds (how's that work?) and spend it on a senior citizens place on Geary. Janet Tandy wrote and said she thought the Geary thing was on the up and up, but I just gotta tell you, I don't trust anything that people like Franklin and Barbara Hale are presenting. Their projects invariably cost way more than what they say at first, and they pollute the air and drive the poor out of town.
Item # 8 PUC gives 150 percent of contract bid to Olivia Chen Consultants
Could have easily done the work in-house but the PUC has always remained understaffed, intentionally, so they can let contracts which result in millions in legal campaign contributions and huge jobs for the person writing the contracts when they 'pursue other opportunities.' Who's the lady who worked in the Mayor's Office doing PR and then took same kind of job with PG&E and was just appointed to another commission where she'll study even more contracts?
As I said before, if Hale appears, it will be here. See if she's got her Gothic look on.
Item # 11 Sinking $12 million down the toilet in Golden Gate Park
I used to run in the park every day when I lived out that way. I watched Willie Brown let contracts for a nearly duplicate sprinkler system that ended up having sprinkler heads within inches of each other. I watched him install a duplicate lighting system that wasn't needed and kept both systems running for years.
The Swells run the parks and they always spend first on facilities for themselves. That's why you have a 5-star restaurant at the zoo while the starving zebras eat the wood off the sides of their dwellings. They'll piss this money away for something like a clubhouse next to the new stables they're building for their polo ponies.
Item # 13 Reserving funds for the million dollar ramp
I watched hearings on this thing. I watched one in front of the Mayor's Disability Council in which the members (all disabled) argued that it wasn't just about being able to have the legal 'reasonable accommodation' of access to podiums. They resented anyone sitting higher then them at all. One said that since no one sat up there anymore, that it was silly to waste money tearing up the Board Chambers and they should just put a velvet rope up with a little sign. Personally, I think the most sinister thing about this is the Newsom's threat to go ahead anyway (City Attorney told him he couldn't work in the chambers without the Board's OK).
I can see Gavin doing a Willie Brown and sending in a crew over the weekend to start tearing things up just so's he can evict the Board from City Hall. Is this all dumb shit, or what?
And, aren't you ashamed for just loving the hell out of it?
Item # 15 Give Matt Franklin $38 million dollars. See Item # 6 above.
Item # 16 Peskin's Historic Sign District Law
What does, "address amortization of nonconforming signs" mean? I hope this isn't payback to Clear Channel and CBS Outdoors for the big bucks they put into Prop A for Aaron.
Item # 22 Appointing Ben Rosenfield as Controller of San Francisco
You gotta see this guy. He might be 35, handles billions of dollars and blushes.He's married and has a family.
Item # 32 Condemning hate speech by Sally Kerns
I just love this one. First, Francisco Da Costa and now Sally Kerns.
Why in the hell can't anyone mount a campaign to condemn me? I can certainly use the publicity and it could lead to some kind of a job on crackpot radio. Lord knows I've certainly said more offensive things to even my best friends than Da Costa said to his enemies.
I want to form a caravan to Denver.