By Luke Thomas
August 31, 2010
San Francisco School Board Vice President Hydra Mendoza kicked off her re-election campaign Friday amid much fanfare and support.
First elected to the Board in 2006, Mendoza decided to run for re-election in large part because of the accomplishments the current Board has achieved, not least of which is a spirit of cooperation between Board members to achieve results, a stark contrast to previous Board compositions plagued by infighting.
"It took me a while to really come to that place where I was committed to doing this again," Mendoza, a single mother of two, said to her supporters at Coda in the Mission District. "This is really hard work. I want to do this again because the work we've done in the last four years has been incredible. It has been tremendous to work with people like Jane Kim and Jill Wynns and Mark Sanchez and Sandy Fewer and Rachel Norton and Norman Yee and Kim-Shree Maufus. This has been a team that has been really incredible."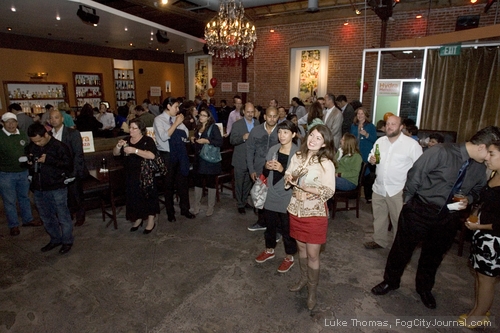 Mendoza's four-year tenure on the Board has earned support and respect from all sides of the political aisle, a rarity in the loyalty-driven, partisan mindset of San Francisco politics.
"She's unique in that respect," said Mayor Gavin Newsom when asked to comment on Mendoza's crossover support and appeal. "She just delivers. She's not a rhetorician. She's not an ideologue. She doesn't do what a weekly newspaper tells her to do, but that doesn't mean that she doesn't agree with what they believe, and that's what makes her unique. She's not in anyone's pocket. She believes in her mission. She believes her number one purpose is to take care of the kids. She has strong labor support, strong parent support, strong community support, strong support from businesses and the business community as well and she's someone who gets it done – and at the end of the day, ideology solves nothing. Practical application, someone that can manifest ideas, those are the folks that change the world and she's one of those and she knows how to get things done and that's why I'm supporting her."
Mendoza serves as Newsom's education liaison to the Board. Prior to her election to the Board, Mendoza served as Executive Director of Parents for Public Schools, a national organization committed to improving public education.
Referring to Mendoza as a "role model," a "friend and a sister," School Board President Jane Kim said she shares a special relationship with Mendoza.
"One thing that I'm very proud of on our Board of Education is that each member is deeply and genuinely rooted in public education… and Hydra is no exception," Kim said. "We developed not just an incredible collegiality, but a friendship over the last four years and Hydra has been one of the Board members that I have truly grown to respect, not just her passion for public education and promoting our public schools in our city, but her incredible dedication to bringing more resources (to the school district) and also her dedication to serving our children and our parents."
Mendoza is endorsed by the United Educators of San Francisco, Alice B. Toklas Democratic Club, Filipino Americans for Progress, African American Democratic Club, Richmond Democratic Club, Senator Mark Leno, Assemblymember Fiona Ma, Mayor Gavin Newsom, District Attorney Kamala Harris, Assessor Phil Ting, Treasurer Jose Cisneros, Board of Supervisors President David Chiu, Supervisors Bevan Dufty, Sean Elsbernd, Carmen Chu, School Board Commissioners Jane Kim, Sandra Lee Fewer, Rachel Norton, Jill Wynns, Norman Yee, former School Board President Mark Sanchez, College Board Trustees Steve Ngo and Lawrence Wong and others.
Three seats are up for re-election on the seven-member Board. Commissioners Mendoza and Maufus are seeking re-election. Commissioner Kim, who is running to succeed termed out District 6 Supervisor Chris Daly, is not seeking re-election to the Board.
Editor's Note: Luke Thomas is a resident and voter in District 6. In the interest of transparency, he has provided photography services to the campaigns for Hydra Mendoza and Natasha Hoehn