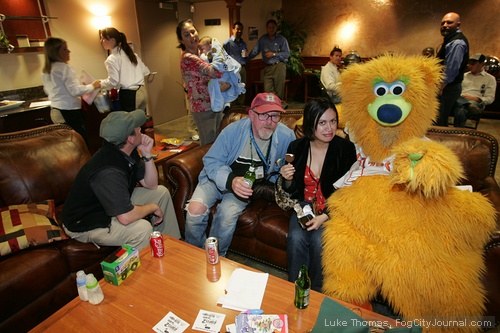 h. "Court Jester" brown with Elaine Santore and Parker,
a Giant Fresno Grizzly mascot.
Photos by Luke Thomas
By h. brown
March 31, 2008
"They're Baaaaaccckkk!!!"
(Bulldog voyeurs America's 'other' pastime)
Go Giants!
Go Grizzlies!
Go away, Bruce Jenkins!
Sometimes the best way to get a new idea as to how to approach a problem is to bring in someone who doesn't know shit about the operation and get their opinion. Kind of like asking 'Dear Abby' about kinky sex, or giving baseball game media credentials to a gossip columnist, a political hit-man and a British photojournalist.
What you get back might not actually be helpful, but it will certainly be interesting. We'll see what you think. This is an account of our Fog City Journal trip to Fresno to see the parent SF Giants play their top affiliate Fresno Grizzlies, March 26.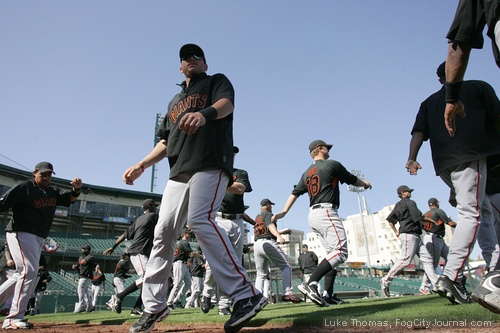 The owners come first
Modern sports franchises are generally too expensive to be owned by any one person, so you get the 'Managing Partner' title held by the San Francisco Giants' Peter McGowan and by the Fresno Grizzlies' Chris Cummings. They get along well and signed a 2-year extension of the partnership which keeps the Giant's triple-A franchise in Fresno. And, you can see why.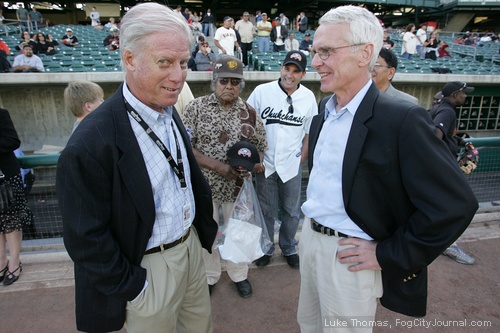 Giants MP Peter McGowan with Grizzlies MP Chris Cummings.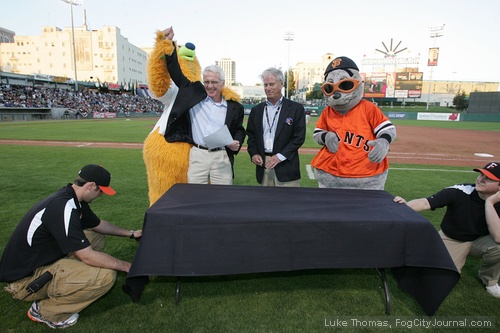 The Grizzlies' Chukchansi Stadium is like a junior model of the Giants' China Basin gem. Let me quote the Fresno Bee's Matt James writing the next day about the game:
"If you owned the Fresno Grizzlies, this is how you would imagine it. You'd burn up a dozen genies wishing for all this: Blue sky. Grass like a Hawaiian lawn. The closest 14,084 friends a guy could ask for, not too many, just the largest crowd your park has ever seen."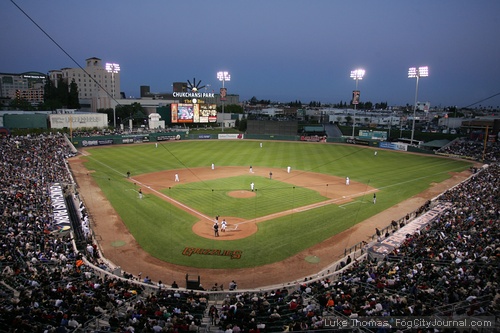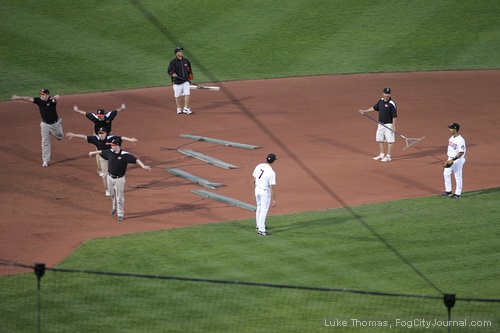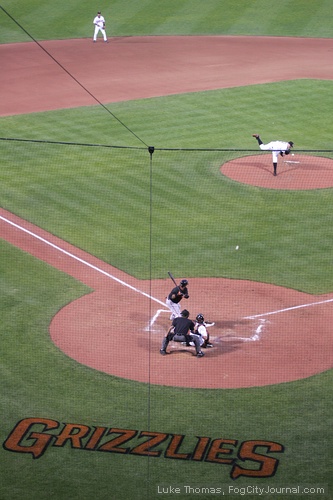 Fog City's Elaine Santore and I met James in the Press Box where we did our thing. She and the Bee sportswriter chatted about their college days in the Big Ten and I ranted at the other reporters and condemned their negativity. I do stuff like that a bunch. I have some clear ideas about the roles various elements in the grand scheme of SF baseball should be, and I'm never one to keep an opinion to myself. I mean, where would the world be without my advice? Anyway, it all starts with the Managing Partner and they hire pretty much everyone else and keep their investors informed and happy.
Onto some of the rest of the pecking order as I see it to be.
Brian Sabean is next
Senior Vice President and General Manager Brian Sabean has been the architect of the Giants teams of the last decade or so and I for one have loved them. The present team has gone from featuring power and experience to speed, defense and pitching – just like the teams I grew up watching in St. Louis long ago. For decades no one hit 30 homers, but we were always first or second in the National League. We ran, played defense and pitched.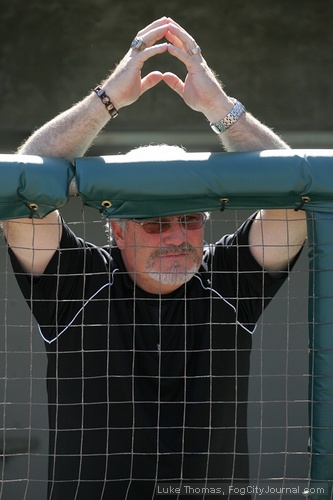 Brian Sabean
The Giants' guru remembered those days. I railed Sabean saying today's Giants pitching staff is the best I've seen since the '67 Cardinals which had 4 starters who eventually won the Cy Young Award (Gibson, Carlton, Sadecki and Torrez). Then, I told him that I'd been in his office and seen his giant magnetic talent tracking board, and that raised an eyebrow.
It was last year and I was on a tour and peeked into his office and was amazed to see the entire wall across from his desk filled with the names of every major league and Triple-A player in baseball, with a color-coded dot indicating the General Manager's evaluation of the player. I kind of do the same thing with poll numbers, primaries, political posters and the like. We both like to cover our walls and live inside data art that keeps us sharp.
Sabean chuckled when I calculated how many people he has to keep track of.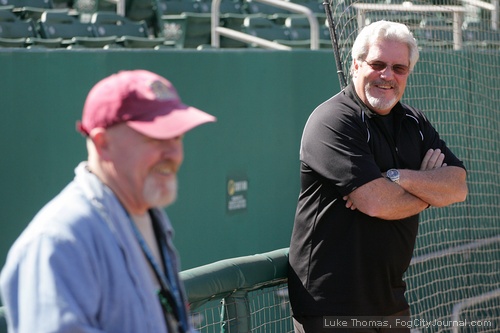 Court Jester chats up Brian Sabean and earns a chuckle.
There are 7 levels to the Giants' operation, from the Major League club on down to instructional leagues. That doesn't include the various Winter leagues where the team sends individual players. I quickly calculated that the entire organization probably has around 300 players under contract and, probably, that many coaches, scouts and front-office staff. This doesn't include vendors or security or clean-up crews.
Multiply that times 32 big league teams that Sabean also keeps tabs on and you get a baseball maven tracking 8 to 10 thousand people just to put 9 players on the field 162 times a year for regular season action, and 30 for pre-season play. More, if you're good enough to get into the playoffs.
Managers rule the field
The Giants' skipper is Bruce Bochy. The Grizzlies go into battle behind Dan Rohn. Both guys look like they were carved out of oak trees. Old oak trees.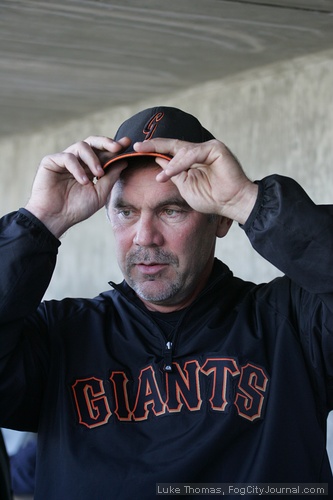 Giants manager Bruce Bochy.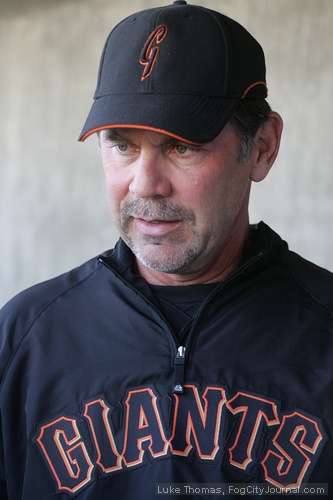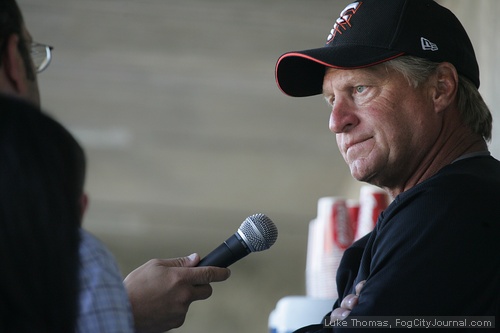 Grizzlies manager Dan Rohn.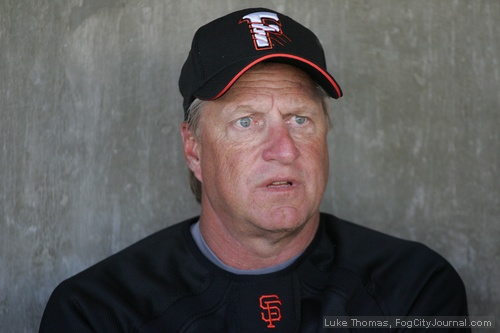 That was the first time I've been on a playing field with big league players and the first thing that struck me was their size and swagger. Prime athletes.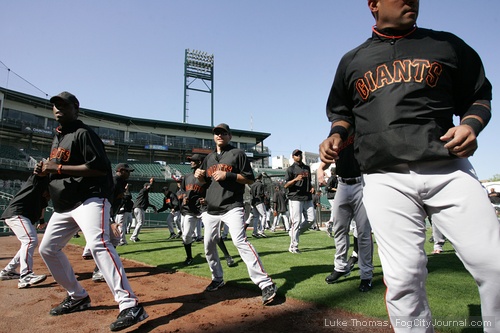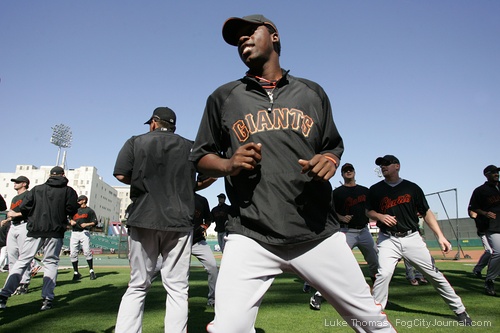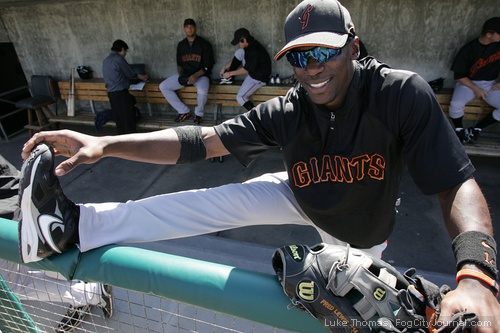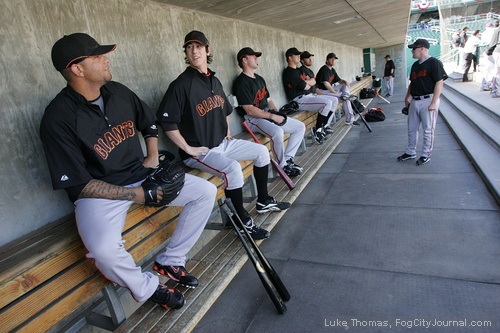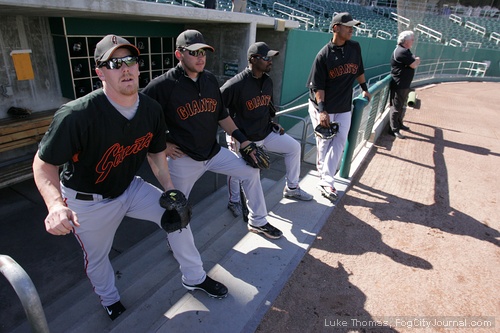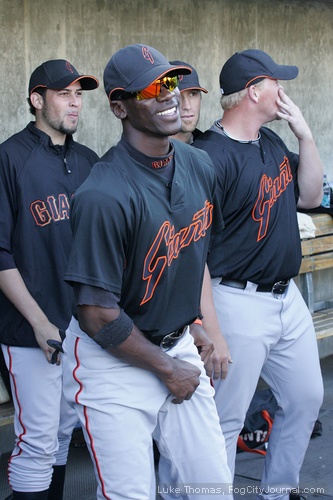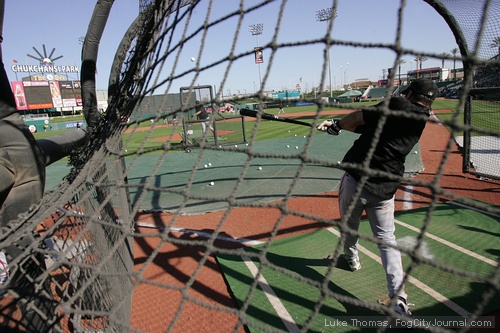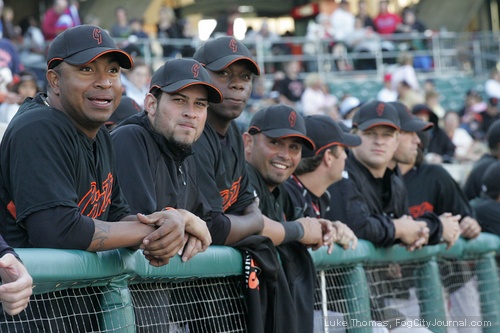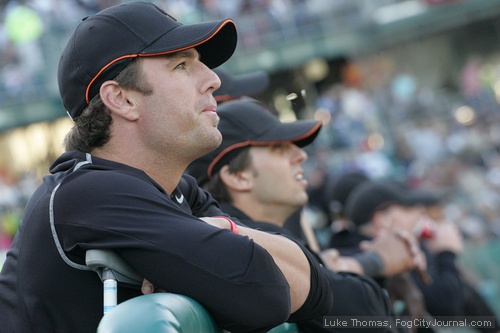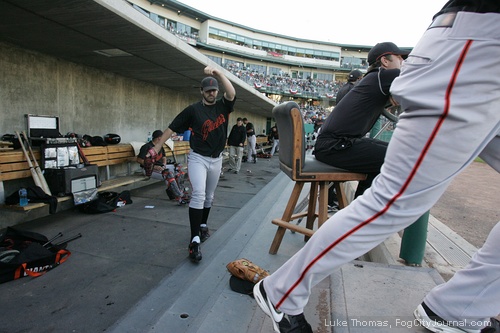 Of the millions who yearn to play in the 'bigs,' these guys are among the elite 750 who are actually doing it. But, you can't talk to them without permission from the Giants' media people and I really didn't want to anyway. I find people like Sabean and Bobby Evans more fascinating.
Player Development Director
He's the guy who keeps close physical track of the players Sabean watches on his big board.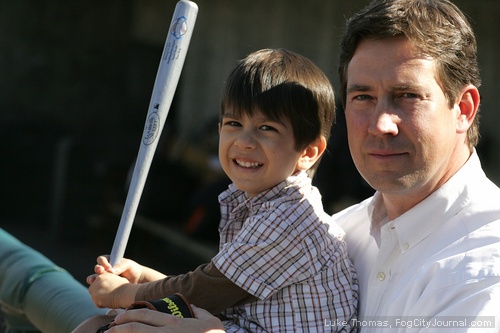 Bobby Evans and son Jonathan.

Bobby Evans with son Jonathon, Chris Cummings, Mona Brown and Tandiwe.
I met Evans on my tour last year and ended up sitting next to him in a field box for a Giants/Dodgers game. He's ain't old but he's very very savvy. His son was sick at home and divided his time between watching the ball game in front of us, conversing with his wife about their little boy. He's fine now. He and my granddaughter Tandiwe played in the Giants dugout before the Fresno game this time while Evans took calls from coaches and players throughout the entire Minor League system.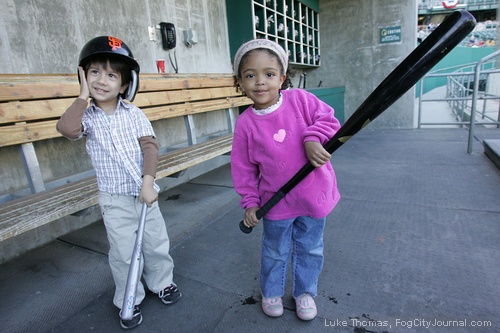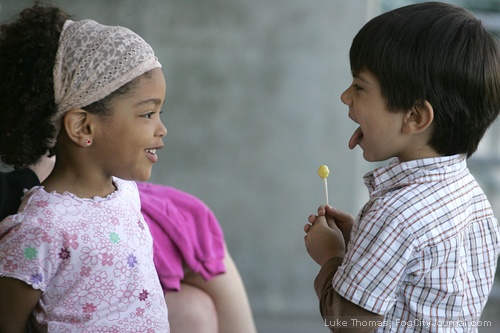 Evans left the big league game only to drive 100 miles to a minor league game. Never missed a beat. I enjoy watching efficient people. It always reminds me of when I was young. And, cared.
It's not just the people
It's about hosting a sell-out crowd and still having enough gleaming urinals and commodes and fresh paint and civil security. The food has to be good and the beer cold. You need luxury suites and a huge bar for the high rollers. Ya gotta have ambiance. Everyone who interacts with the public must be genuine and personable. And, you have to keep British photographers and their equipment off the field of play.
Oooops!
Yeah, Luke was taking pictures when an overthrow from the third baseman skipped toward the dugout only to be stopped by the Fog City Journal publisher's camera bag, all caught on TV.
Oh, it wasn't a big deal – a practice game that didn't count for anything but goodwill between two teams that are really one. They gave the runner his extra base and went on. I was almost party to a real tragedy though.
I was standing on the field in front of the dugout talking to Bobby Evans whose son was perched on the rail watching the warm-ups. I turned to head back through the dugout and some big guy ran into on the stairs and almost took a header into the wall.
He caught his balance and waved off my apology. I caught the name on the back of his jersey.
Jeeez, it was Matt Cain. Imagine if he'd been injured by a visiting blogger? I just know that I'm not going to stand in front of him when he's throwing fastballs.
Payback as someone once said, "can be a bitch." To her credit, Elaine Santore didn't hurt anyone or interfere with the game in any way.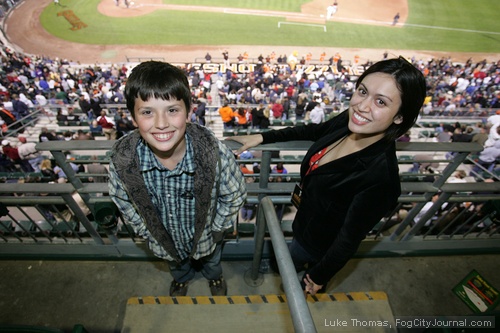 Elaine Santore and Luke Shanas.
Luke and I have family here
Luke Thomas' sister lives here with her new baby and her son 'Luke', named after our own FCJ wizard. My son and daughter live here with their kids. It's always a happy reunion. My daughter-in-law, Veronica, brought the youngest member of the clan – Damian "Doc" Ryder Brown – and told me that I misspoke in a piece I did for the Bay Guardian. I described Doc as my only white grandchild in a piece about how everyone is part of the new multi-racial and multi-cultural America. I was wrong: Veronica is half-Mexican making Doc multi-racial.
"h., you don't have any white grandchildren," she said.
That had everyone roaring with laughter and I loved it.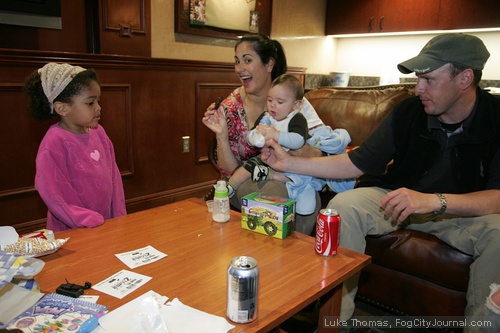 Veronica (center) with Doc, Doc's padre Alex Brown and Tandewe.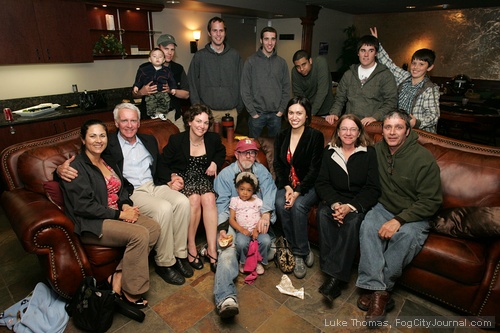 Charlotte Thomas with daugther Savannah.
Barack Obama for President!
The Game
The Grizzlies won 4-3 behind the inspired work of Pat Misch who shut down the parent club and fellow lefty Cy Young award winner, Barry Zito. Tell you the truth, I barely watched the game. I've seen lots of this team this Spring and I may be the only one outside of Giants management who expects a great season. Let me run it down.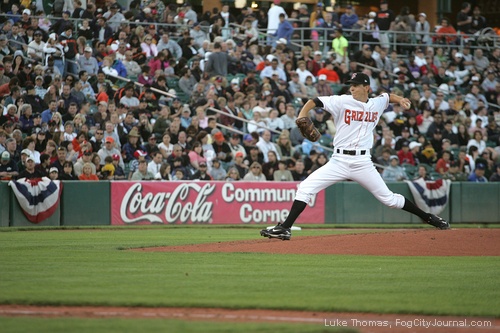 Grizzlies pitcher Pat Misch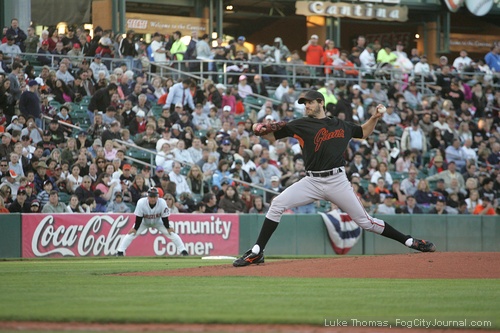 Giants pitcher Barry Zito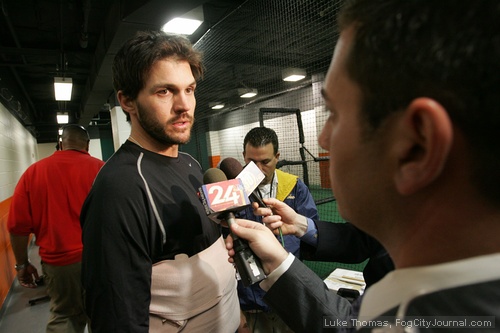 Strong up the middle
Giants catcher Bengie Molina may have the best arm of any catcher in baseball and the pitchers respect him. He'll hit near .300 for you and he keeps his head. But, let's be honest here, on a team of greyhounds, he couldn't outrun a dead cow.
That's OK, he's faster than Yogi Berra who doesn't have enough room on his mantle for all his World Series trophies.
Short-stop Omar Vizquel with strong back-up, Brian Bocock and – if memory serves me – the geezer in the rocking chair on first base (Rich Aurilla) has a gold glove at home for the position.
Second base should be the new kid Eugenio Velez's from the get-go. He's leading the majors in stolen bases for the Spring while Ray Durham is limping. Team Velez up with Vizquel at short and put Molina's gun behind the plate. Combine with Rich Aurilla's glove at first and Castillo's on third and you've got a solid defensive infield.
Fred Lewis will start in left and he's a deer. Aaron Rowand is a gold glover in center. Raj Davis can outrun Superman in right. It's a defensive ball club to be proud of and then you get to the pitching.
Screw everyone criticizing Barry Zito. He reminds me of Warren Spahn and Spahn's in the Hall of Fame. Keep the fastball down and he can be one of 3 or 4 in the National League to win 20 games this year.
This staff will throw at least two no hitters this year when you combine great pitching with great defense. Vizquel will save one of the no hitters with an impossible throw from deep in the hole at short. Raj Davis will save another running down an 8th inning shot in right-center around August.
Everyone knows Cain and Tim Lincecum are the best young pitchers in the game. I can easily see the Giants having the best ERA in the majors and Bruce Jenkins joining Lowell Cohn at a sports desk in Santa Rosa. Which brings me to my closing thoughts.
The reporters suck
"The 2008 Giants are so hopelessly destined for last place, the mind boggles at the utter certainty of it all."
(Chron's Bruce Jenkins)
"For all their faults, the Giants signing of Barry Zito will go down as the biggest blunder in the history of the franchise."
(Examiner's Tim Liotta)
Where I grew up, we back the home team. Win or lose. The local SF sports writers are a cabal of snarky bitches. Why, I'll swear, I never saw such a bunch of …
OK, these guys studied under Lowell Cohn, the punk racist who got run out of town for his comments about Hershel Walker. They aren't going to improve though and if I were the Giants, I wouldn't let them inside the locker room. They are a true cancer on the body of the organization.
Here's Jenkins sending his kid off to school in the morning:
Jenkins: "You're gonna lose today."
"You're a no talent idiot."
"Your teachers are incompetent."
"The School Superintendent and Board are no good."
"Now go out there and prove me right."
Yes, we can!
The first professional baseball team was the Cincinnati Red Stockings and their first year, they went 56-0 and won a game 77-46. As soon as the transcontinental railroad was completed, they came to San Francisco to play Alexander Cartwright's team.
That's cause Cartwright – not Doubleday – invented the game of modern baseball. In Manhattan in 1845 (see Historynet.com and search for piece by Hart and Lalire). The team was named 'The Knickerbocker Base Ball Club.'
In 1849, Cartwright came to California for the gold rush and taught the game to everyone interested. The game came into both armies in the Civil War (there's an account of an attack during a game in which everyone was able to run back to their trenches (dugouts) except the centerfielder who had the furthest to run and took one in the leg – think today's crowds are tough?)… so, Cartwright returned to San Francisco and was waiting when the Red Stockings got off the train. No one shot at them.
Close
It's gonna be a brutal year. The war will get worse and we're already in a recession. The murder rate is higher than it was last year which was the highest in 10 years. Everyone on the street says that your wife/husband/significant other is going to leave you. You're gonna need a distraction and the call of "Peanuts! Popcorn! Cracker Jacks! Beer!" could come to be the mantra of your secret place.
That would be Giants Park and the boys of Summer will kick things off there next Tuesday (April 7th). They've built you a racing machine that will make you forget the the world outside for 3 hours at a time, 162 times.
Be an interactive fan – get out there and cheer your ass off.