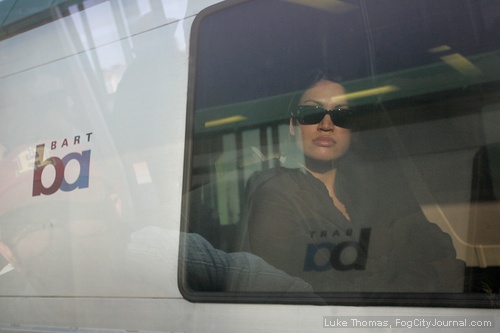 Elaine Santore
Photos by Luke Thomas
By Elaine Santore
April 7, 2008
The Olympic torch has, historically, commemorated Prometheus' theft of fire from Zeus. But the 2008 Olympic Torch Relay from Athens to Beijing has become an opportunity for citizens and politicians to compete for press and international attention on issues important to all humankind. One side views the torch as a symbol of pride, while the other side views the torch as a symbol of human rights abuses perpetrated by the Chinese government.
During today's relay in Paris, protesters reportedly managed to extinguish the Olympic torch five times forcing authorities to cancel the relay. London protesters made several attempts to steal the torch, but the flame just wouldn't die.
 

Pro-Tibet demonstrators in Paris during the Olympic Torch Relay.
Photo via WireImage
In the City of San Francisco, where the Olympic torch will make its only stop in the US, Mayor Gavin Newsom and Supervisor Chris Daly have engaged in a RealSpace flame war over the torch. Daly authored a non-binding resolution passed by the Board of Supervisors Tuesday, welcoming the Olympic torch with "alarm and protest." He also spoke at the Human Rights Freedom Torch Relay in Union Square Saturday; while on Friday, Newsom announced the names of Bay Area torchbearers who have been selected to participate in Wednesday's torch relay.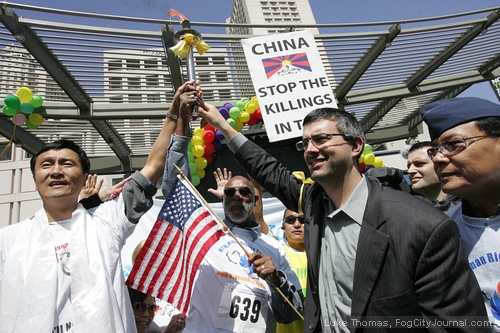 Supervisor Chris Daly at the Human Rights Freedom Torch rally.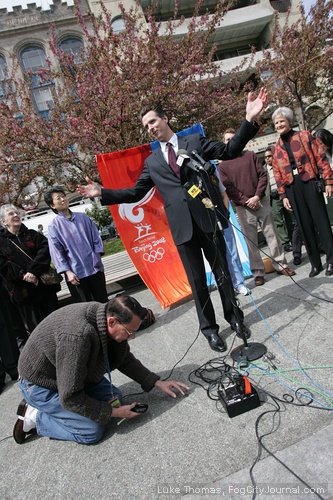 Mayor Gavin Newsom in the heart of Chinatown
announces the names of Bay Area residents who
have been selected to carry the Olympic torch
through San Francisco.
City officials re-routed the torch run with San Francisco's history of protests in mind. Several hundred police officers will be lining the streets. It's an extreme approach police are hoping will ward off protesters and encourage people to stay indoors. But that won't keep Fog City Journal away, or thousands of Bay Area activists and citizens who are taking the day off work to voice their condemnation of the Chinese government regime.
I hope that nobody on our illustrious staff gets manhandled by police this time, but I'll have to pack a crash helmet just in case.