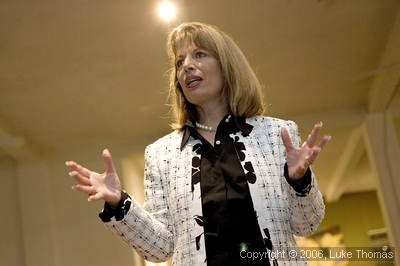 Jackie Speier
File photo by Luke Thomas
By Laura Dudnich and Caitlin Cassady
April 9, 2008
Former democratic state Sen. Jackie Speier comfortably won the special election Tuesday as representative in the 12th Congressional District and will serve the remainder of the late Tom Lantos' term through December.
Speier received 77.9 percent of the votes in San Francisco and San Mateo counties – well over the number of votes needed. If any of the five candidates in Tuesday's election did not receive more than 50 percent of the votes, a general election would have taken place in June for the term that ends in January 2009.
Lantos was diagnosed with esophageal cancer in late December, and had announced he would not seek re-election to the U.S. House of Representatives, but had committed to serving the rest of his 14th term through December.
Lantos endorsed Speier for the next congressional term before he died on Feb. 11 at the age of 80.