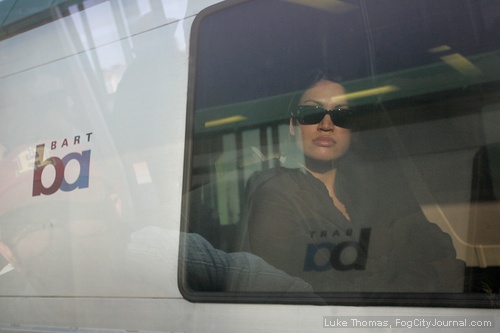 Elaine Santore
Photos by Luke Thomas
By Elaine Santore
April 10, 2008
Gavin Newsom sold his youth to the devil to become mayor, and he wants to ruin our youth, too.

Embarrassing.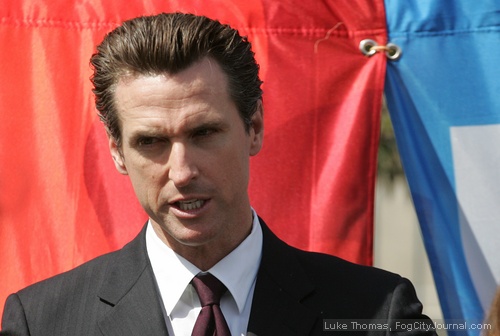 Somebody needs to buy Mayor Gavin Newsom a pack of Frownies.
Fog City Journal needs a bigger staff.
CrackBerry to Tanene Allison via Gmail: "Luke said, 'If I get arrested, my first call will be to you to bail me out.' Do they take credit cards?"
Protesters get hungry.
On my way back from Justin Herman Plaza, I got a request from my editor to pick up a bearclaw from Peet's.
"The protesters ate all of our pastries," the barrista said.
If Richard Gere can go from American Gigolo to Dalai Lama's BFF, you can do anything in America.
There is absolutely nothing phony or Hollywood about Richard Gere's passion for Tibetans. He really walks the talk. He's a fully self-actualized person and radiates a sense of inner peace and joy. And he can tap dance!
CrackBerry to BFF Aaron via Gmail: "Richard Gere set his Starbucks cup down on the stage, and Luke said to Gere: 'I'll make sure it's still here when you're done!' And Gere said: 'You can have whatever's left, I'm finished with it.' I had no idea Richard was talking to Luke (I was in a different spot in the crowd) and I shouted, 'Sell it on Ebay!'"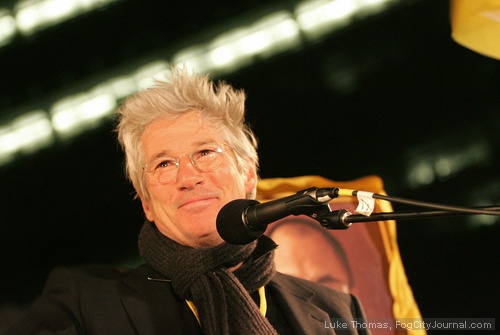 Richard Gere
Divas don't sweat in public.
Former San Francisco Mayor Willie Brown reportedly ran with the Olympic Torch, but I'm convinced he was using a stand-in. The real Willie Brown was probably in a towncar on his way to Wilkes Bashford. Divas don't sweat in public.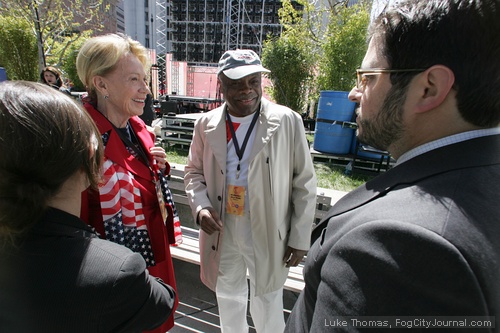 Former San Francisco Mayor and Olympic Torchbearer Willie Brown (center),
with Dame Charlotte Schulz.
Ross Mirkarimi probably shouldn't have called Chris Daly "The Daly Lama" in front of actual Tibetans. Awkward.
According to Karen Babbitt, the group of Tibetans standing next to her during Tuesday night's Tibetan Freedom Torch rally cringed. Nice speech, though, Ross!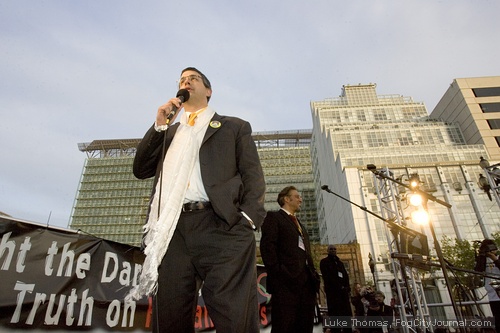 Supervisors Chris Daly and Ross Mirkarimi.
Sue Vaughan thinks Richard Blum is "Ick."
Sue Vaughan could not understand why Richard Blum was speaking at the Tibetan Freedom Torch rally. Here are her thoughts on Blum and his wife, Dianne Feinstein. Preach!
Protests should be more child-appropriate.
Chris and Sarah Daly brought their two children, Jack and Grace, to the Tibetan Freedom Torch rally, but the kiddies had to leave because it was too cold and windy. Shouldn't protests have special children areas, like they do in church? Just an idea.
Here are Jack, Sarah, and Grace Daly with Board President Aaron Peskin and Supervisor Ross Mirkarimi. And you might be able to spot a Vice Presidential candidate in the background.
Final Thoughts
CrackBerry: Gavin cancelled the closing ceremony. He wants the flame all to himself.
Jordan: Sadness. Better fly to Buenos Aires.