By Luke Thomas
October 31, 2011
With just 8 days to go before Election Day, the campaign to elect Supervisor John Avalos to the mayoralty of San Francisco executed another successful campaign visibility spectacle on Saturday traveling to several Halloween parties in a colorfully adorned, converted school bus named "Dodo."
"Saturday night was All Night for Avalos," said Avalos who wore a blonde wig as part of his Halloween costume. "We rode the Dodo bus to have a little fun and create a bit of spectacle and buzz for the campaign."
The Dodo bus is an internationally recognized art vehicle that has been written up and photographed for the New York Times and French Vogue magazine, said bus co-owner Aaron Selverston.  It is also a regular attraction at Burning Man.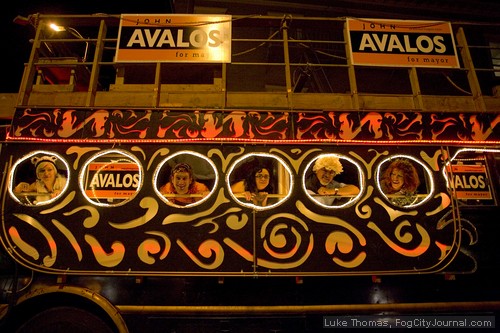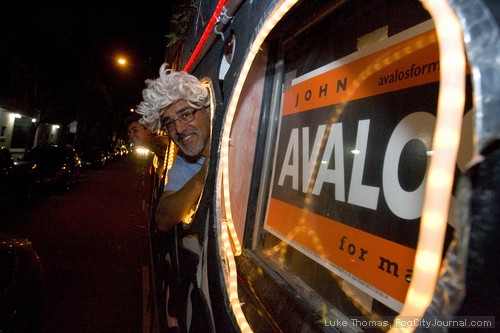 "The Dodo was inspired by an extinct bird from Mauritius that was celebrated for its uncanny wit, charm and intelligence but was bound ironically to the terrestrial plane with undersized wings," Selverston said. "What better way to shine a spotlight on a bright, creative mind then to drive John Avalos and campaign staff around in a radically-illuminated Burning Man bus?"
Starting off at Avalos campaign headquarters on Market Street around 7 pm, the Dodo, laden with high-spirited Avalos supporters and campaign volunteers, hit as many as six, in full-swing costume parties in the Excelsior, Mission, Lower Haight and Polk Street neighborhoods, handing out League of Young Voters voter guides as well as Avalos campaign literature, and completing the odyssey around 11pm at a fundraiser/Halloween party in Bernal Heights.
"The reaction was overwhelmingly positive," Avalos said. "Over the past several weeks my star has been rising and most everywhere we went on the bus we met folks who were warm to my candidacy. I also managed to flip quite a few voters with the exception of a Ron Paul supporter who would neither budge my way nor reveal his vote."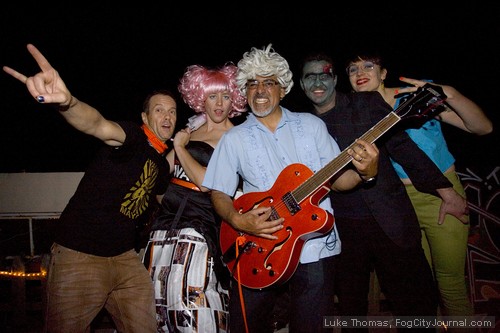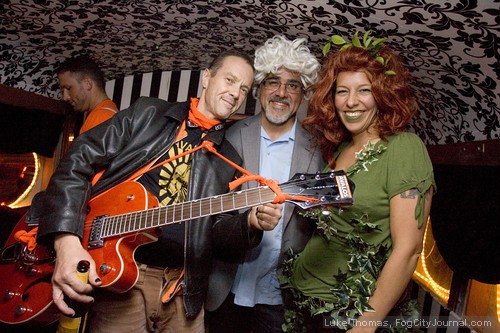 Stunt brainchild and Avalos campaign volunteer, Julian Davis, said, "John Avalos was able to do some very visible campaigning in a very fun way leading up to Election Day. We proved by far that we're the coolest campaign for Mayor in San Francisco."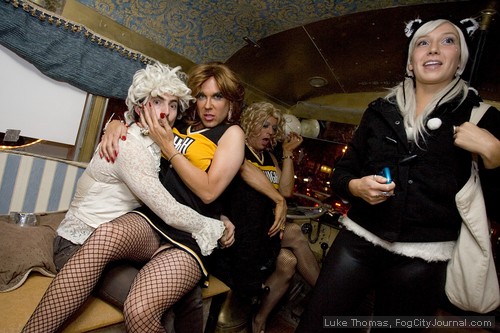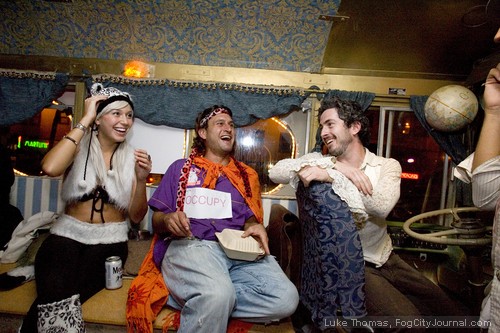 More Photos