By Kat Anderson
January 6, 2012
Cuban immigrant and high-school dropout George Gascón was inaugurated as San Francisco's first Latino and 12th elected District Attorney in a well-attended ceremony held last eve at Mission High School. The White Crane Lion Dancers opened the program with a display of acrobatics while the San Francisco Gay Men's Chorus sent guests on their way with a rendition of "I Left My Heart in San Francisco."
Gascón's presenters comprised the political elite. Lt. Governor Gavin Newsom, who appointed Gascón following former DA Kamala Harris' election to California Attorney General, introduced Mistress of Ceremonies, US Senator Dianne Feinstein.
DiFi acknowledged over 30 elected officials and judges from Los Angeles to Sonoma County including Senator Mark Leno, Mayor Ed Lee and Police Chief Greg Suhr. Harris introduced Spoken Word poet, Brandon Santiago. Each politico paid homage to former Mayor Willie Brown who introduced retired California Supreme Court Justice Carlos Moreno, who administered the oath of office. Gascon's wife, Fabiola, held the Bible when Gascón took oath.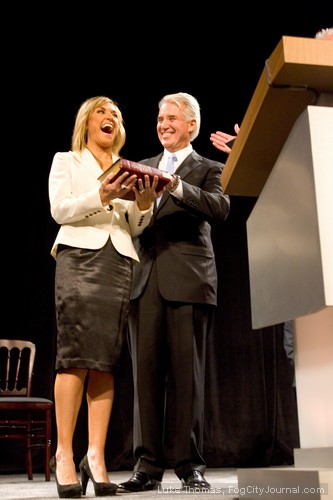 Clearly, a great investment has been made by some of San Francisco's political heavy-weights in the office of the District Attorney, generally, and in George Gascón, specifically. Willie Brown, tongue in cheek, discussed his personal ethic of "staying close" to the District Attorney because that was the smart thing to do. Kamala Harris talked about how Gascón's personal ethic to combine reforms with being smart on crime will make the San Francisco District Attorney's Office a "model for the rest of the State of California."
Each speaker referenced Gascón's humble beginnings.  He was born in Cuba. His father was persecuted and his uncle was imprisoned for 10 years for being critical of the Cuban socialist government. His parents escaped with their children to Florida and then to Los Angeles when he was 13. Gascón said it was hard to learn the language and his parents, uneducated and working hard, couldn't help him with his homework. His difficulties in school deepened and his grades slid. Discouraged, he dropped out of high school.
But that was not the end for Gascón. He served in the US Army and earned his high school diploma. He became interested in law enforcement. He graduated from Cal State Long Beach. Later, he obtained his law degree and passed the California Bar exam. He has been assistant police chief in Los Angeles; Mesa, Arizona; and Chief of Police in San Francisco. Gascón points to his history as an example that "absolutely anything is possible." He also shared, "My life experiences inform my vision."
That vision was evident throughout the program, particularly in the selection of the inaugural site. Mission High School, the oldest public school in San Francisco, educates the highest percentage of Latino students in the City.
"I identify with these kids," Gascón said.
Spoken Word poet, Brandon Santiago, was asked to present at Gascón's inauguration because he, too, is a high school dropout who has built his own success in a unique way.  Santiago's poem was a searing critique of the education system, which he described as "brown versus the Board of Education," and where "hallways become a permanent purgatory for failures."
"Special education is the new segregation," Santiago declared. Particularly powerful was Santiago's statement that "more money is spent on young people in incarceration than in school." He closed with a prayer: "Dear God, let us not forget that we are all sacred, but equal!"
Gascón promised to do what he can to invest in our young people. The DA's office is partnering with the Bayview-Hunter's Point YMCA in support of the Center for Academic Re-entry and Empowerment (CARE).
Acknowledging that the best way to fight crime is to provide youth with education and career opportunities, the DA's office will work with juveniles to help them succeed in programs such as the one at the YMCA. "We need to prevent children from ever entering the criminal justice system," Gascón said.
Gascón was clear that he intends to help make San Francisco the "safest large city in the country." He will not tolerate a justice system that moves too slowly in addressing violent crime or does not attend to the needs of its victims. One of his first commitments after he was appointed DA was to reverse the backlog in the homicide department, since reduced by 36 percent. Gascón said he will not hesitate to "incarcerate the violent," but acknowledges that "the majority of others can be worked with."
He also said that we cannot afford "to lock up the mentally ill in the name of safety." Gascón committed to aggressively prosecuting white collar crimes and those crimes "where public trust is violated by public officials." FCJ looks forward to that!
More Photos