By Ari Burack
April 24, 2008
An advisory committee organized by the San Francisco Mayor's Office of Criminal Justice Wednesday recommended a number of improvements to increase police visibility and build trust in the community.
In a presentation to the San Francisco Police Commission, the Community Policing Advisory Committee report made 30 recommendations in four areas: youth and families; public housing; language access and cultural competency; and the citywide community policing structure.
Both the Police Commission members and Police Chief Heather Fong welcomed the report.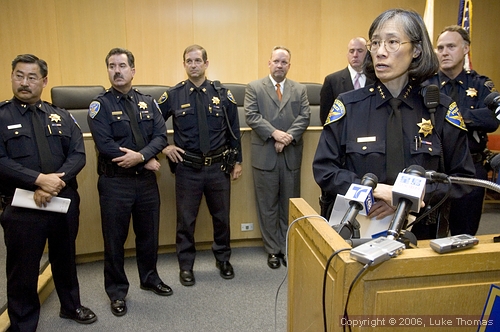 Police Chief Heather Fong
File photo by Luke Thomas
"A number of these recommendations, I think, are outstanding," said Fong. "Some," she added, may need "additional conversation."
The 27-member advisory committee was made up of community members from various neighborhoods throughout the city and developed the plan over eight months.
Specific proposals included increased access to technology for beat officers, such as individual cell phones and e-mail addresses; further development of youth outreach programs and the establishment of a youth "anti-'don't snitch'" campaign; well-staffed police units specifically assigned to public housing areas; and district stations staffed with bilingual officers representing each major language in that community.
Police Commission President Theresa Sparks noted that the police department is also already working on recommendations from foot patrol and police district boundary studies, among others. She asked that police set up a 90-day plan addressing how or if these specific community policing recommendations were being implemented.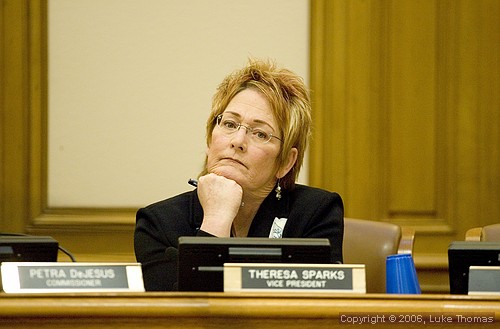 Commissioner Theresa Sparks
Fong noted that some of the recommendations were already "partially implemented" and said she would set up an implementation team, made up of representatives from the police department and outside groups, to begin immediate work.