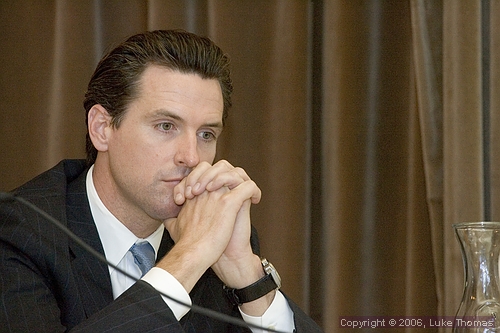 Mayor Gavin Newsom
Photo by Luke Thomas
By Luke Thomas
May 7, 2008
Citing budgetary constraints, Mayor Gavin Newsom announced Friday his veto of legislation that would expand City Hall transparency and sunshine.
"I support open government and believe the goal is laudable," Newsom wrote in a letter dated April 30 to Board of Supervisors Clerk Angela Calvillo. "However, it is extremely difficult to justify expanding our City Watch Services at this moment when I have directed other departments to make cuts to vital services and reductions in staff."
The letter conspicuously omits hefty pay raises gifted in January to inner-circle loyalists ahead of news reports highlighting Newsom's gubernatorial ambitions.
Authored by Supervisor Ross Mirkarimi and co-sponsored by Supervisors Tom Ammiano and Chris Daly, the legislation mandates all City Hall meetings to be video or audio recorded and made available on the City's website.
The cost of the program includes a one-time new equipment cost of $55,000 and a recurring annual labor/administrative cost of $76,000. According to Mirkarimi, the equipment cost would be funded by a capital grant already negotiated in the City's Cable Franchise Agreement with Comcast.
Commenting on Newsom's veto, Mirkarimi told Fog City Journal, "I think the veto is foolish and misguided. The mayor is not taking into account that for $76,000 a year we are offsetting potential litigation and the accusation that this government is not transparent or practices full disclosure."
"And here was a perfect remedy to advance our commitment to sunshine," Mirkarimi added.
On April 15 the Board of Supervisors voted 6-5 in support of the legislation. Supervisors Sophie Maxwell, Jake McGoldrick, Michela Alioto-Pier, Carmen Chu and Sean Elsbernd voted against the ordinance.
The following week, support for the legislation increased to 7-3 when Supervisor Maxwell changed her vote. Supervisor McGoldrick, who cited a need for budget items to go through the Budget and Finance Committee, was absent during the second and final vote.
"It's not a huge sum of money, but I wanted the item to go through the Budget Committee," McGoldrick explained to Fog City Journal yesterday.
As is customary, the Board of Supervisors will have an opportunity as soon as next Tuesday to vote up or down against Newsom's veto.
Eight votes are required to override a mayoral veto placing Supervisor McGoldrick in the unenviable position of deciding the legislation's fate.