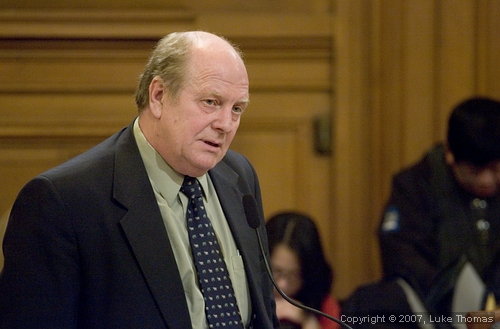 Supervisor Jake McGoldrick
Photo by Luke Thomas
By Joe Lynn
May 8, 2008
Mayor Gavin Newsom vetoed legislation sponsored by Supervisor Ross Mirkarimi that would put online audio or video recordings of all Commission meetings.
The legislation passed its first reading 6-5. Supervisors Maxwell, McGoldrick, Chu, Eslbernd and Alioto-Pier intially voted against the legislation. With McGoldrick absent on the second vote, Supervisor Maxwell switched sides for a final vote of 7-3. One more vote crossing over will defeat the veto.
My money is on Jake McGoldrick to change his first vote and stand with the proponents of good government. I'm asking folks to contact Supervisor McGoldrick and ask him to stand with good government reform as he has done so consistently in the past.
On its face, the legislation is hard to oppose. By posting online recordings of Commission meetings, Commissioners can be held accountable for their actions. This will encourage them to do their homework and vote as smartly as they can.
But the Mayor raises a budget argument against the $76,000 program, an argument that rests on false economies. In fact, posting these recordings will encourage public input from interested citizens, many of them experts who have an interest in Commission work, who can then give us the benefit of their expertise for free.
Posting the recordings will make the Commissions smarter and save the City money.
Too often the "expertise" imparted to a Commissioner comes only from a staff later recognized as out of touch because of inadequate support, political cronyism, or an undisclosed agenda. Nevertheless, it is Commission staff who will have the closest relationship to an uninformed Commissioner — of whom we have too many.
The easiest way to break the pernicious cycle is for knowledgeable members of the public to set the Commissioners straight. Putting Commissioner meetings online allows those valued members of the public to listen to Commission business at their convenience and to weigh in on decisions made.
These insights might be what's needed to effectuate our Commission form of government. Such reform comes cheap at a mere $76,000 per year. A strong argument can be made that better informed management will save the City much more.
A budget argument against this measure is myopic.
I consider this reform to rank with public financing as one of the most important improvements to local politics in the last eight years.
Supervisor McGoldrick has stood with us in bringing good government to San Francisco. I hope Fog City Journal readers will ask him to do so again.